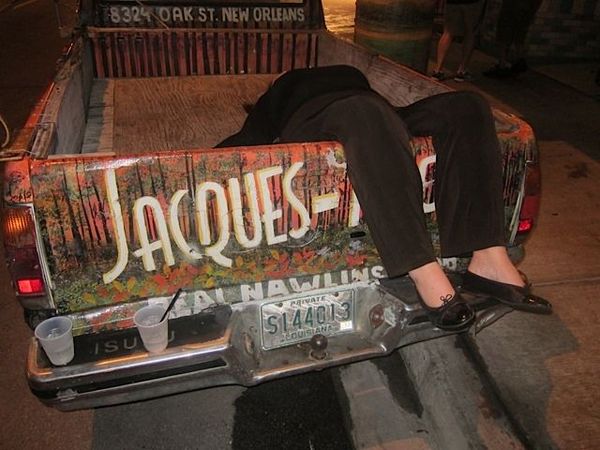 There is a roar in New Orleans that you just can't ignore: whether you're walking through the intoxicated, hurly-burly blur of Bourbon Street, or seeking a "quieter" restaurant in the Warehouse District (good luck!), you will be surrounded by people aggressively having a wild time. The fact is: they are there to have a wild time. New Orleans is a self-consciously joyous place that brings out the inner adolescent in us all... a six-pack-fueled hothouse where sin, in the very best way, always seems tantalizingly within one's grasp.
But there's another well-known, fundamental truth about New Orleans: it just happens to be, at the same time, one of the best food cities in the United States. Some would call it the best -- if the criterion is an indigenous, home-grown cuisine that has a high percentage of local residents deliriously in its thrall.
Happily -- very happily -- these two currents are far from antagonistic to each other. In fact, they connect perfectly in The Big Easy: if you do it right, dining well in New Orleans is simply a gastronomic extension of the crazy culture exploding all around you.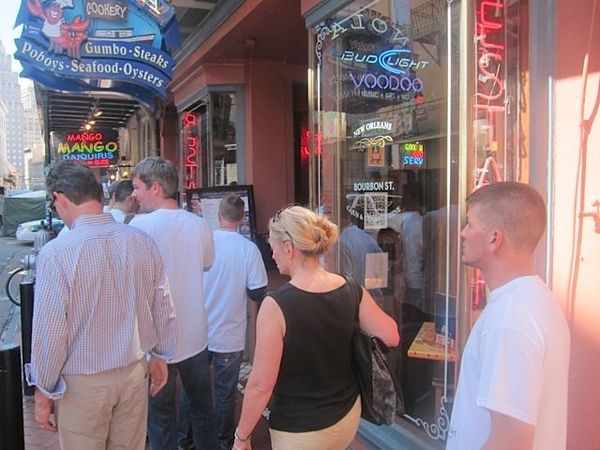 Just a quiet day on Bourbon Street
Here then is an up-to-date guide to doing it right -- the distillation of my recent Halloween weekend visit to New Orleans, where I wanted a good bite as desperately as I wanted a good time. To make things simple (and to kind of conform to what's humanly possible within a weekend!), I have divided the town, eatin'-wise, into eight of my culinary obsessions. In case you're wondering: yes, I did them all during last weekend's Thursday-to-Sunday binge!
1) THE OYSTER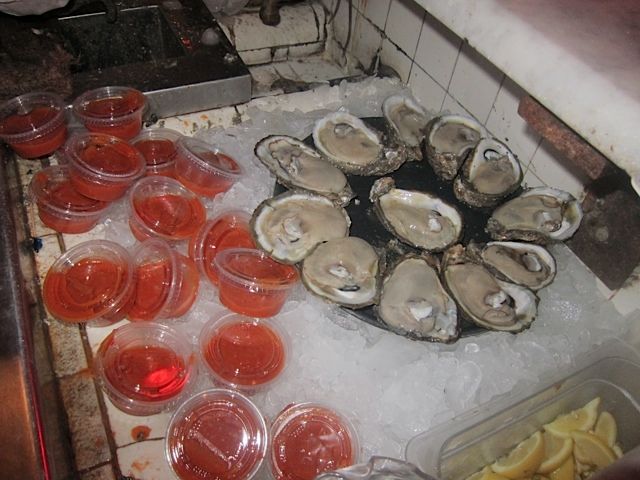 Raw Gulf oysters, ready to be served
Without doubt, New Orleans is the premier American city when it comes to oysters. Whether you like Gulf oysters or not -- and whether you're inclined or not to ignore the warnings and eat 'em raw (I was!) -- 15 million pounds of oysters are normally harvested every year in the Gulf near New Orleans. Oysters are deep, deep in this town's DNA -- and oyster bars are blessedly ubiquitous. Fortunately, for the raw-bivalve-wary, there are no health risks in eating cooked oysters -- and Creole and Cajun cuisines are rife with cooked-oyster dishes.
For 30 years now, my first destination when I hit the ground in New Orleans has been the Acme Oyster House, on Iberville St., in the heart of the French Quarter; I just don't feel like I'm in New Orleans until I get a whiff of this mollusk-mad, honky-tonk place. Let the good times begin!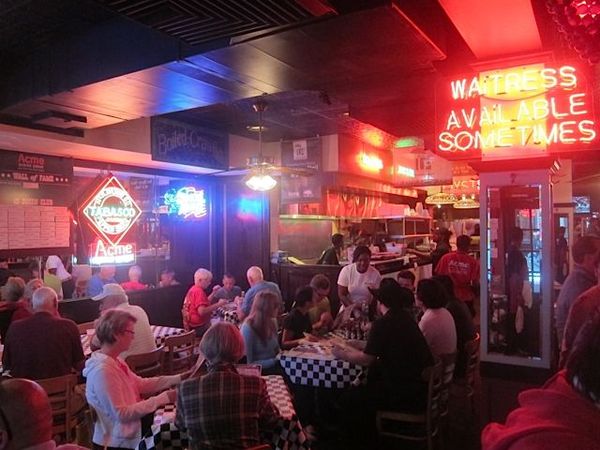 Interior glow of the Acme Oyster House at around 5PM
Come real early to Acme on your first evening in New Orleans; the line starts building up at around 4:45, which is when they get this party started. There are oysters available in many ways here -- but the heart of the place is the historic oyster bar, just to the right of the front door. Burlap bags at Acme hold thousands of Gulf oysters, and the shuckers open them right on top of the emptied bags. The oysters are the stars, of course. But Acme fans keep track of the shuckers too, as if they were professional athletes.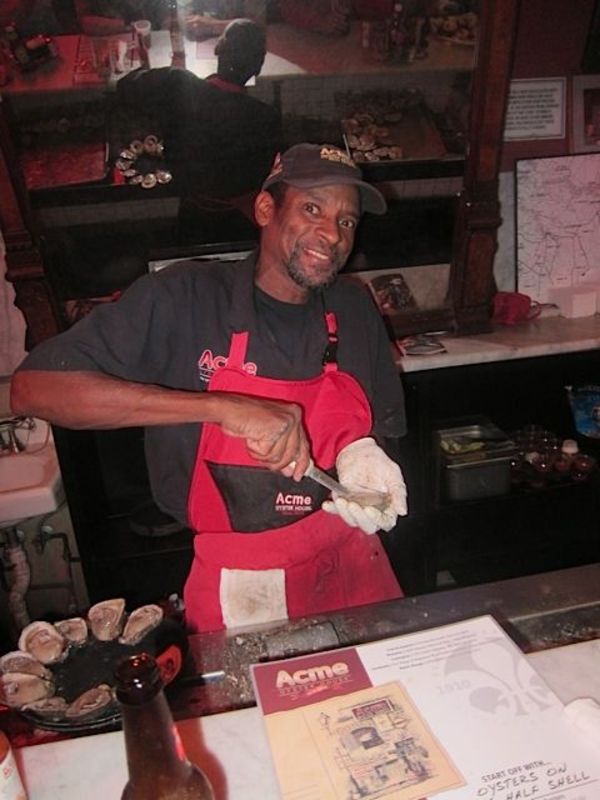 The veteran: Hollywood Broadway, pitching oysters at the bar for 34 years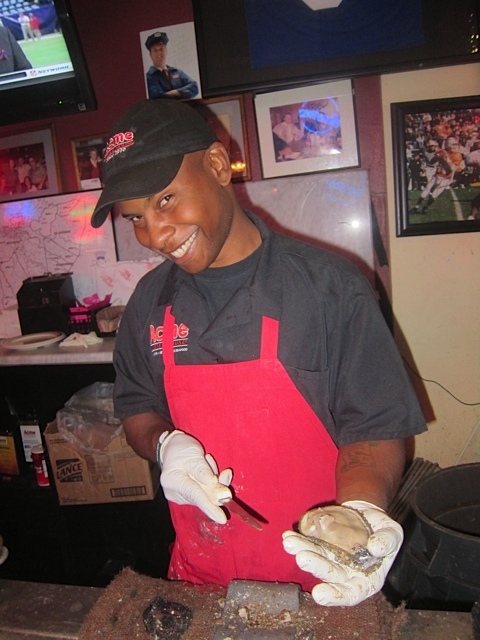 The rookie: Edward Barnes, rounding out his second season
Now, if it's cooked oysters you seek, I have decided that my favorite cooked-oyster dish in New Orleans is delightfully un-fried (fried oysters float most people's boats): the chargrilled oyster, invented in 1993 by the owner of Drago's restaurant in Metairie, near New Orleans (with an in-town branch at the Hilton).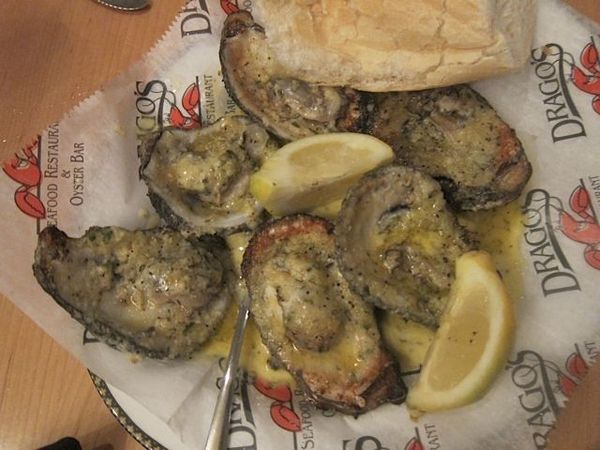 Chargrilled oysters at Drago's
This is a brilliant bit of cookery: oysters are splashed with garlic butter and grated cheese, then sent into a roaring inferno on the grill. The flame crusts the outside of the oysters, and they end up tasting like smoky wood, meaty juice and the salty waters from which they came. This is party food, for sure: a few dozen oysters, along with a bunch of Abita Ambers (the local beer), and you are on your way.
2) FRIED CHICKEN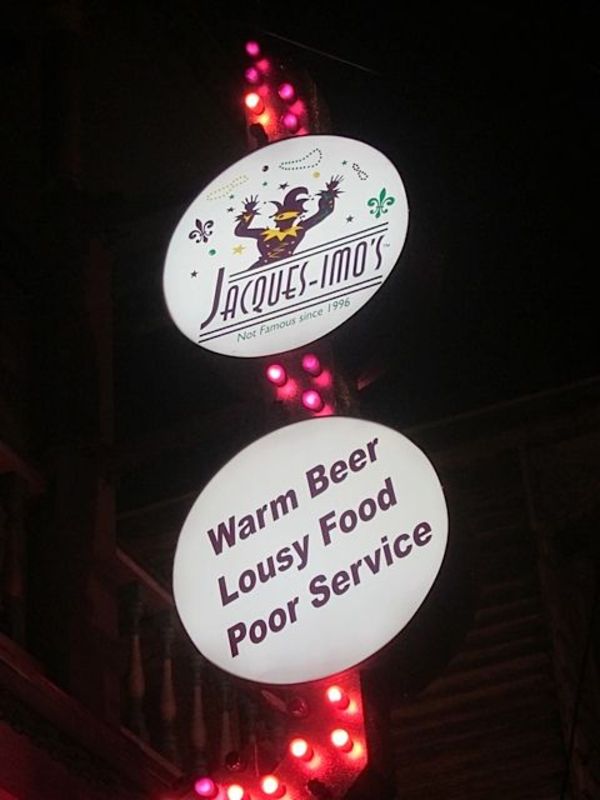 The front sign at Jacques-Imo's
I try to hit Jacques-Imo's next on my first day in New Orleans, around 10 p.m. at night, Uptown, in the neighborhood of Carrolton. And there are three reasons I do:
1) The party invariably heats up here; the college students from nearby Tulane and Loyola drive the energy, but everyone else joins in. if you're over 40, I GAR-RON-TEE you will take decades off your clock just by bellying up for a Sazerac.
2) Jacques-Imo's has the best fried chicken in New Orleans.
3) There are other Jacques-Imo's dishes you won't want to live without!
First, the party. Folks gather here in the early evening, ready to howl. As you wait up to two hours for a table (they will take your res if you're five or more), you can stand among the garish colors at the bar.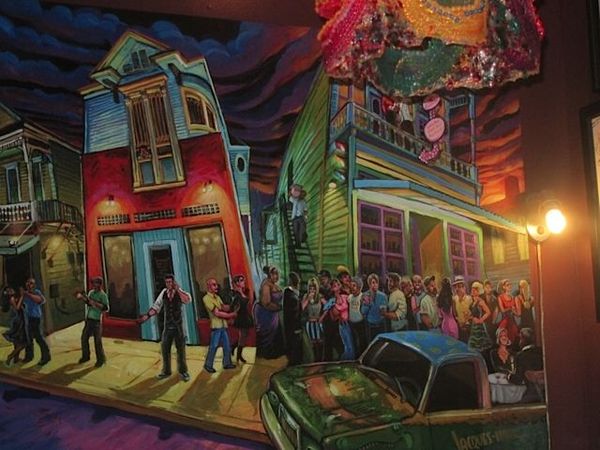 A painting of Jacques-Imo's in Jacques-Imo's bar that captures it all
Or you can wait on the street, drinks in hand, or you can try to snag the table on the pick-up truck in front of the restaurant.....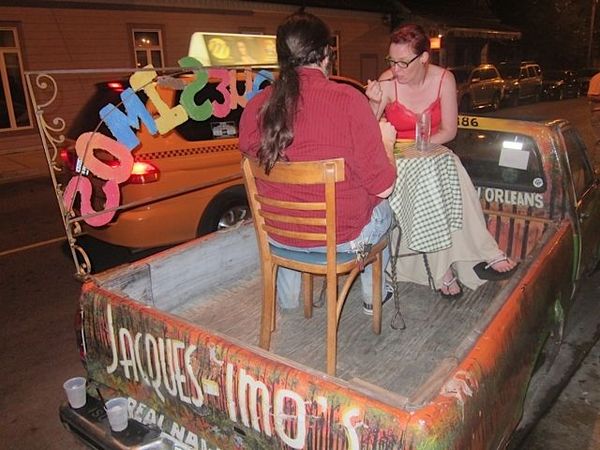 Dinner for two on Jacques-Imo's truck
Finally your breakthrough will come....at which point you'll walk up the stairs behind the reception stand, right through the crazy kitchen, en route to the rear dining rooms.
And then the real adventure will begin.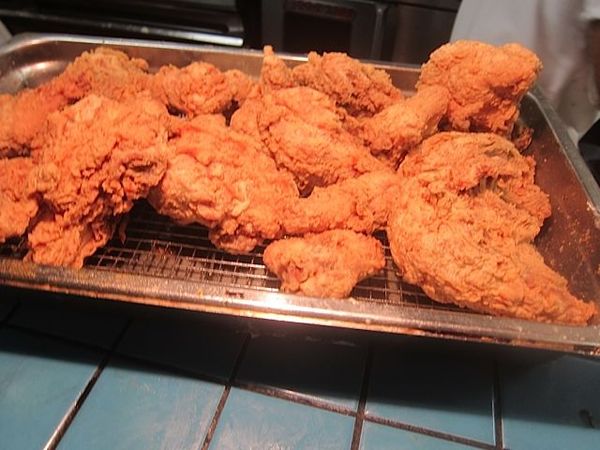 Fried chicken at Jacques-Imo's
Fried chicken is one of the town's secret specialties, covered over in all the Cajun-Creole chatter. But a town that takes its food as seriously as New Orleans does is obviously going to pay a lot of attention to one of the great southern specialties. One local company spiced up the batter, in 1972, and grew into the national mega-chain Popeye's (do not dare miss their chicken, and red beans and rice, when you're in the New Orleans area). More "serious" restaurants have "temple" status among fried-chicken aficionados; Dookie Chase is a New Orleans legend (though Leah Chase has stepped away from the stove after decades of frying), and most guidebooks tell you that the revered Willie Mae's Scotch House has the best fried chicken in town.
I vote for Jacques-Imo's.
About 10 years ago, Jack Leonardi, owner, hired one of the most famous local fried-chicken gurus, Austin Leslie, to head up the fried-chicken operation in his kitchen. Leslie's fried chicken, to me, is exactly what fried chicken oughtta be: a light, shatteringly crisp coating, thoroughly irregular, filled with wisps and curls that seem to grow organically out of the chicken below, which must be preternaturally juicy. Leslie died not long after Katrina roared through the city, but not without passing his secrets on to Jacques-Imo's staff -- which creates platters of Leslie tribute every night, to order.
But there's so much more from this great kitchen, which features smartly restrained twists on Cajun and Creole specialties. On my visit last week, the four dishes that stood out (other than the fried chicken!) were the fried grits with cheese, the shrimp and alligator cheesecake, the blackened redfish with a Creole sauce, and the mind-blowing Roast Beef Po' Boy, which has been dipped, against all odds, in batter and fried!
3) PO' BOYS
While we're on the subject.....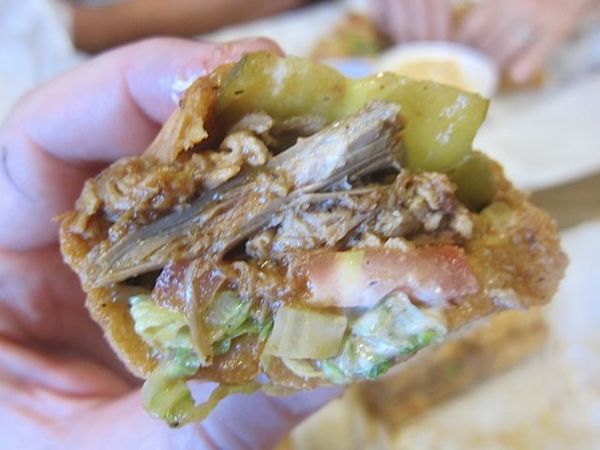 A typically drippy po' boy...so good!
You might be a little confused by po' boys if you're just discovering the genre. The uninitiated always want to know the secret that literally defines the po' boy, but there ain't no secret! A po' boy is just a sandwich in New Orleans, made on Italian-style hero bread. That's it! The sandwich fillings? As diverse as the New Orleans people.
When you delve a little deeper, however, you find the subtleties of the po' boy are the things that keep it alive.
The bread has a certain style: it is lightly crackling on the outside, extremely light and fluffy within. (Many top po' boy shops use the loaves baked by local star Leidenheimer's.) The major motif is: wet; sometimes this comes from the dressing within (almost always tomatoes, shredded lettuce and mayo), or, in the meaty ones, a hot juice on the underside of the sandwich. From these few factors, a blizzard of possibilities is spawned, and New Orleanians debate endlessly who has the best fillings, which po' boy frames the fillings best, which po' boys are the most satisfying, etc.
You're gonna have to start at one place, so it might as well be the famous Mother's, right near the French Quarter. The line down the street can be something of a party itself, especially if the staff is going around outside with Bloody Marys for sale to those waiting. But if you arrive at 4 p.m. or so, you might be able to saunter right up to the historic counter, and find the jacketed staff ready to serve you.
Mother's has a wide menu, but it is best known for its roast beef sandwiches and for the subsidiary sandwiches based on "debris" -- theoretically, the crumbs and shreds of beef that fall off the roast beef in the roasting pans. Sure, you can get the famous Ferdi Special, which is baked ham, roast beef, gravy and debris, but why not go all the way for the Debris Po' Boy?
Notice a few peculiarities. There's no tomato and lettuce, but there is cabbage -- a Mother's signature. Another thumbprint of Mother's is mustard on the po' boys. Lastly, the Mother's Debris Po' Boy is almost like a demi-French-dip, with a big pool of jus floating under the sandwich. You have to go to Mother's, of course -- but the debris on this particular Debris Po' Boy, last weekend, seemed more like stewed beef than debris.
I preferred the roast beef sandwich at everyone's favorite current po' boy mecca, Parkway Bakery and Tavern... though it is quite a ride from downtown, out towards the part of town devastated by Katrina.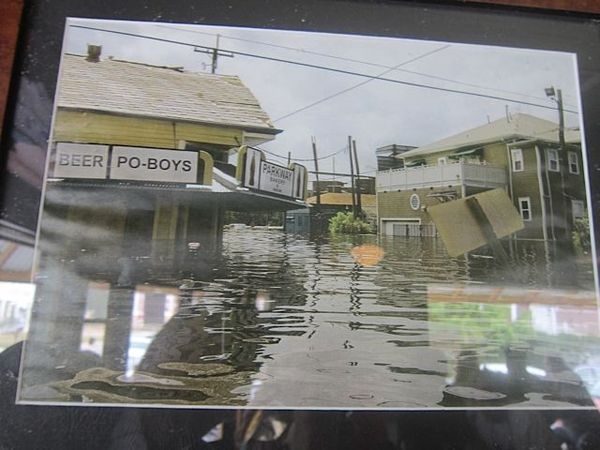 A framed photo of Parkway, just after Katrina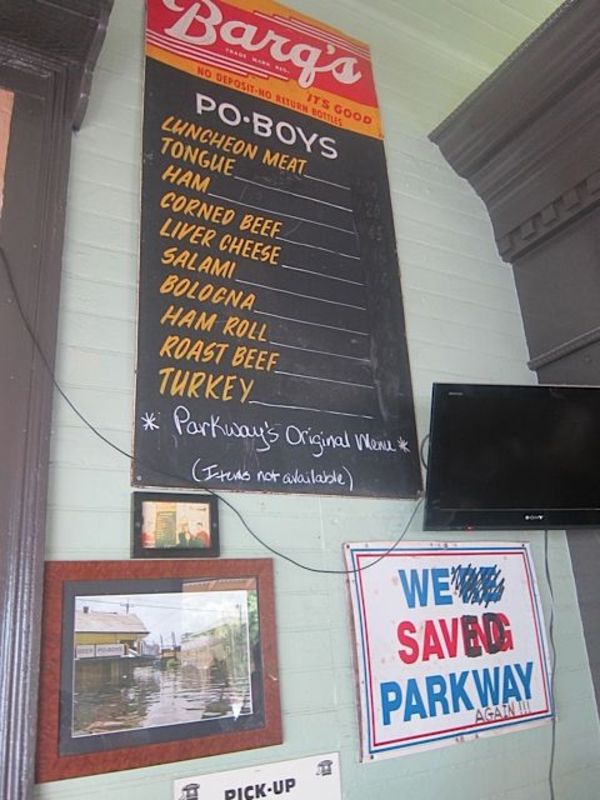 The optimistic sign "WE'RE SAVING PARKWAY" now transformed to "WE SAVED PARKWAY"
The ordering line at Parkways is always insane...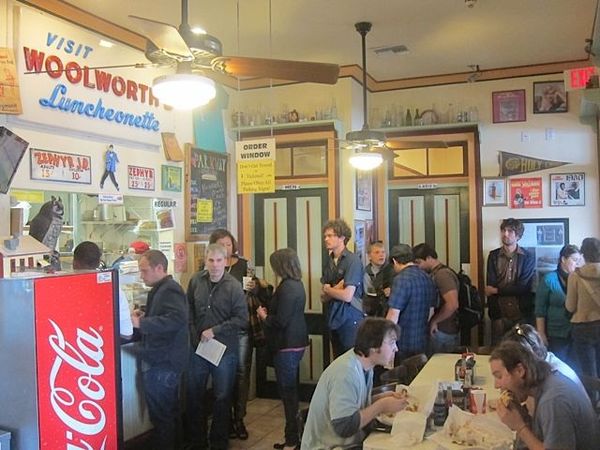 Ordering at Parkway, before a 20-minute wait for your name to be called
...but the beers are extra-icy here, and, in good weather, you can hear your announcement from a large patio outside.
I say Parkway is a must; no place is as likely to serve you a po' boy that is so classic in its style, so unfailing in its execution.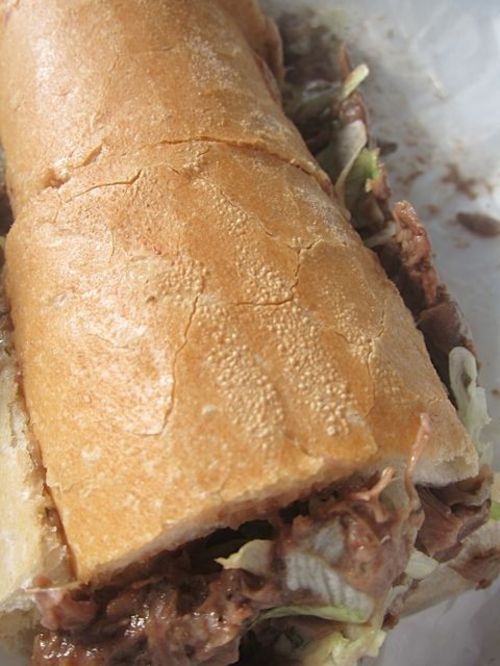 You can practically hear the crunch of this Parkway Hot Roast Beef with Gravy Po' Boy
The roast beef is more roast-beef-like than Mother's, and the wet undercoating here is in perfect ratio with that crunchy top. Last weekend, I also loved the Golden Fried Shrimp Po' Boy -- another type of po' boy that every place in town serves.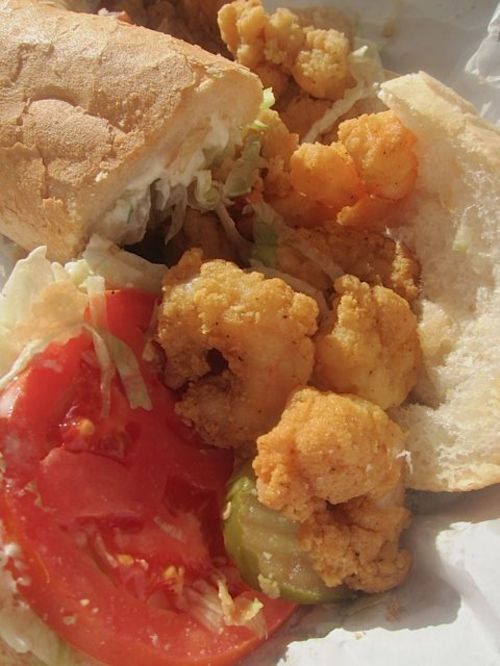 Parkway's Golden Fried Shrimp Po' Boy
Here, the shrimp are a little bit larger than most, deeply shrimp-y, seasoned beautifully.
But the very best po'boys of all in New Orleans may be at another slightly distant location: Crabby Jack's, in Metairie.
Now, Crabby Jack's just happens to be owned by the same guy who owns Jacques-Imo's, Jack Leonardi. You can see a similar color riot at the much more proletarian Crabby Jack's...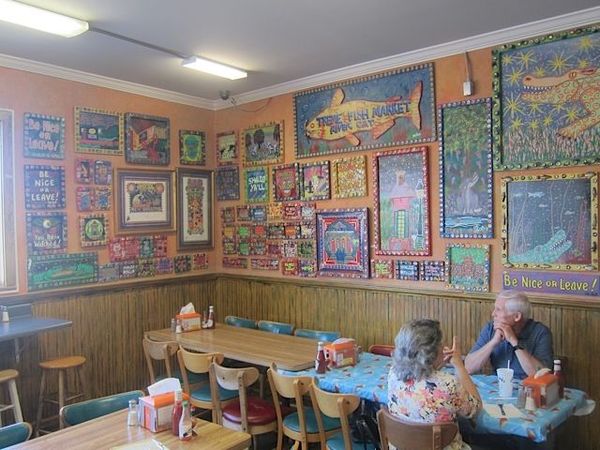 The lurid wall at Crabby Jack's
...and a similar desire to tweak gastronomic tradition just a little bit.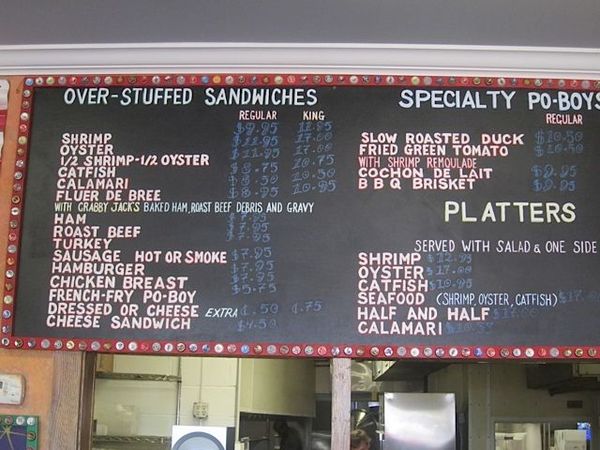 The blackboard menu at Crabby Jack's
Now, I have New Orleans friends who call this shrimp po'boy the greatest one in the city...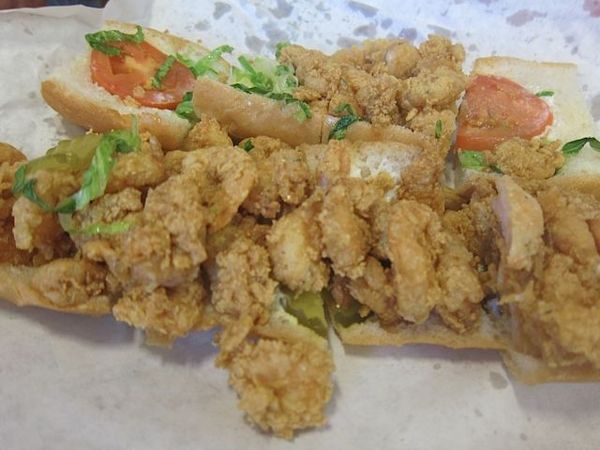 Shrimp Po' Boy at Crabby Jack's
...and I have no evidence that would allow me to disagree. The shrimp-spill that ruptures out of this sandwich is positively joyful, and the shrimp themselves are tight, sweet, perfectly salted. The traditional sandwich surroundings function beautifully here, giving this creation the golden ratio that defines po' boy perfection.
However, do not even think of leaving Crabby Jack's with out trying the Slow-Cooked Duck Po' Boy...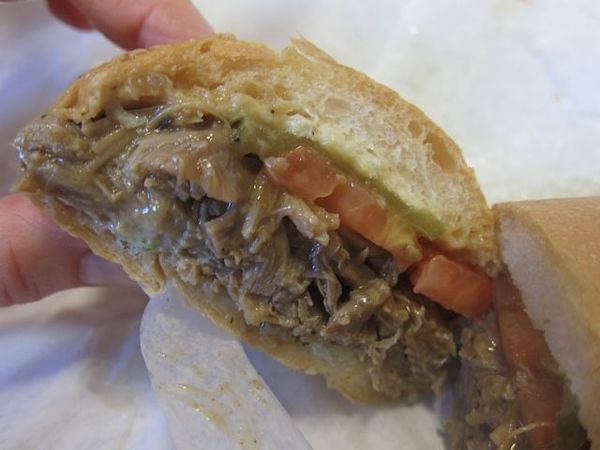 The Slow-Cooked Duck Po' Boy at Crabby Jack's
...oozing with ducky intensity, crossing the line even into the taste of long-cooked, dark-meat turkey. Positively a triumph of dripping-wet goodness.
Crabby Jack's closes at 3 p.m. on most days, so get here for a mid-afternoon lunch. But save room.
4) THE MUFFALETTA
Before you get out of Metairie, you must visit the home of the greatest muffaletta in New Orleans, Nor-Joe Import Company and Market Place.
I know. I know. Your book and everyone else says that you must go to the Central Grocery, a cramped deli right near the French Market in the French Quarter. The muffaletta (usually pronounced muff-a-LOTT-a) was supposedly invented here -- a big round loaf layered with Italian cold cuts and an olive spread. The Central Grocery, by acclamation of the un-curious, serves the best.
No.
Nor-Joe is a similar kind of store, but a lot more spacious, with better Italian imports. Moreover, they will take 10 minutes to hand-make your muffaletta here, from the very best ingredients -- ask for it warm! -- and those are the only 10 minutes you'll wait. The sandwich itself is miraculous.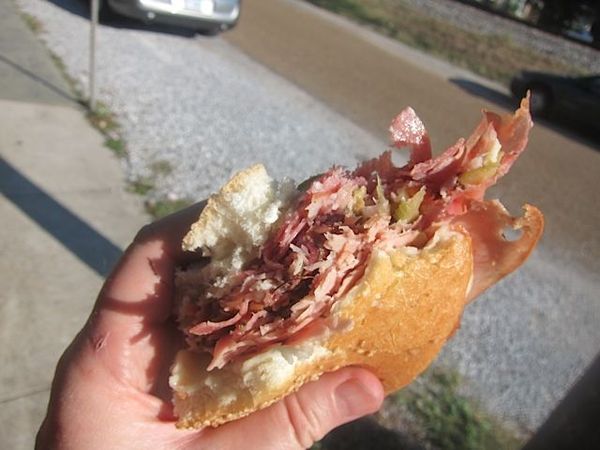 A small hunk of a muffaletta at Nor-Joe
Tender where it should be, melting where it should be, converting many muffaletta non-believers into rabid proselytes. There is only one caution: $12.95 brings you a full muffaletta, weighing in at about two pounds. You can hardly get your mouth around this thing.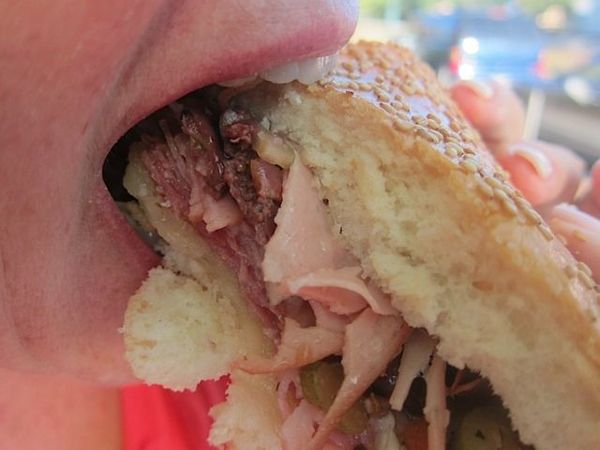 A great attempt at negotiating a Nor-Joe muffaletta
Make sure you come with three friends, all hungry, have the counterperson cut the monster in four sections, and retire to the picnic tables in front with plenty of time on your hands (to match the plenty of meat on your hands).
Yes, beer is sold.
5) GUMBO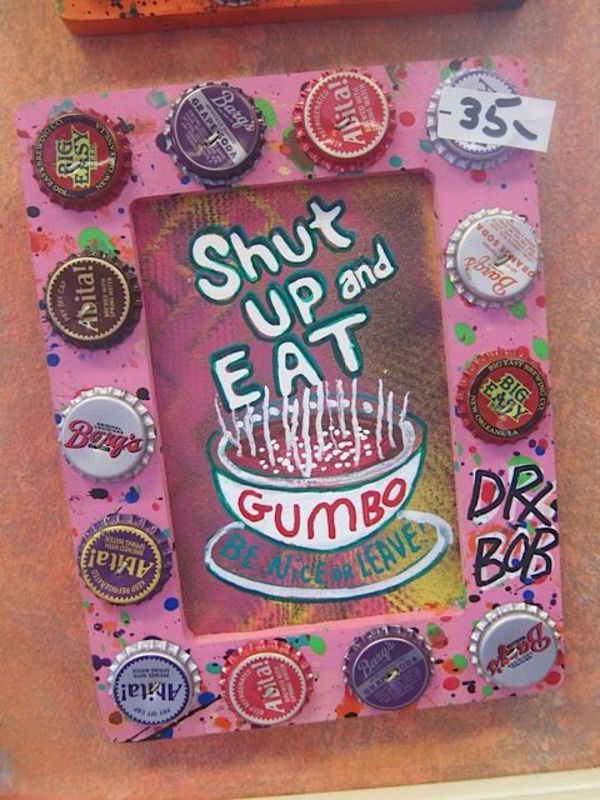 You simply cannot come to New Orleans without sampling gumbo, the most famous local dish of all. Except that you'll often find dreary versions of it, at a lot of touristy places. I have an exquisite paradox for you: my favorite gumbo is served right in the middle of the tourist crush, at a lovely restaurant one block from Bourbon Street, called Mr. B's Bistro. It starts with a dark, dark roux, slowly stirred for almost an hour, before the addition of the other flavorings -- plus chicken and andouille, the star protein performers. The finished product is medium-thin, smoky, with a wild country flavor that is easy to believe reflects the Cajun swamps.
You'll love the atmosphere here as well, particularly on a nice day, with a cheery crowd, and sun streaming in through the windows. I make sure to grab me a Cajun Bloody Mary or two, to get in the mood...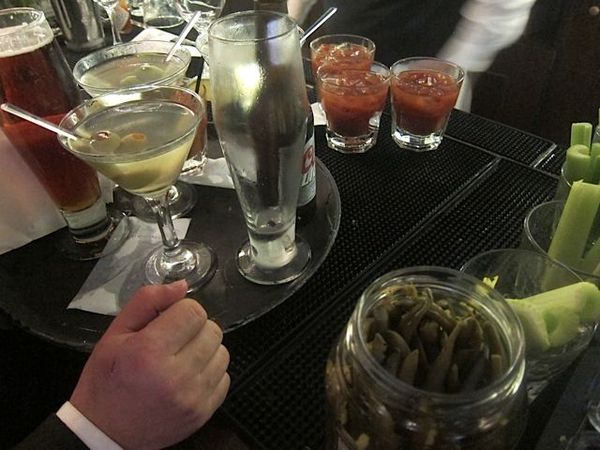 Mr. B's Bistro's Bloody Cajun, among other libations
...before moving on to one of the best BBQ Shrimp dishes in The Creation.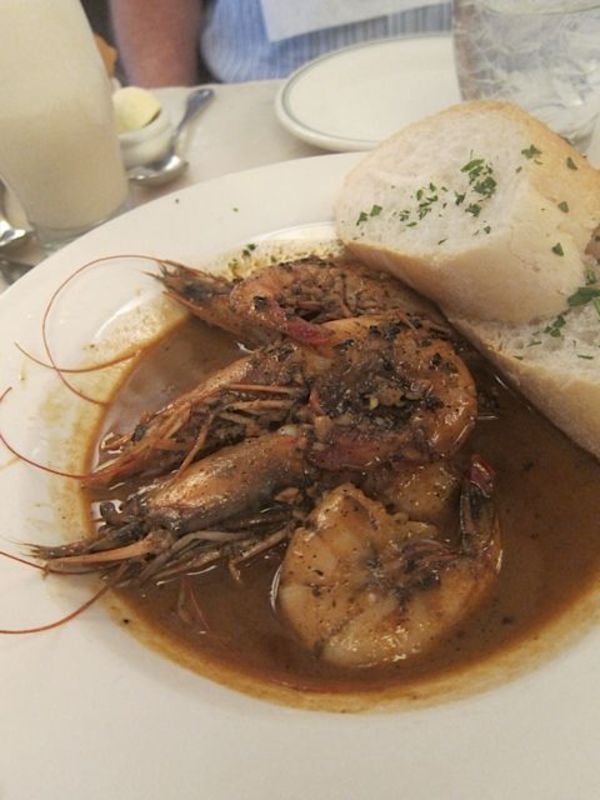 Manale's may have invented it, but Mr. B's has perfected BBQ Shrimp
All in all, a lunch at Mr. B's Bistro is a great way to sample New Orleans Cajun-derived restaurant fare, mostly classic.
6) THE CLASSIC CREOLE RESTAURANT
As early as 1718, the word "Creole" was used to name French and/or Spanish people who were born not in Europe, but in the New World of Louisiana. Over the centuries, the word has broadened in meaning to the point of meaninglessness -- but today, at least in food terms, it usually makes sense. "Creole cuisine" is a kind of New Orleans fancy food, derived from classic French (much hollandaise and bearnaise sauce, for example), as well as the flavors of Spain (the love for shellfish, sausage and the presence of bell peppers).
There are a number of fancy New Orleans restaurants as rich in this tradition as they are in calories: Arnaud's and Antoine's are among the very famous ones, with a little more creativity over the last few decades at Commander's Palace. You should unfailingly go to one of them on your visit, to get a real taste of an important side of New Orleans.
But, as this trip confirmed for me:
If ya gotta pick just one, make it Galatoire's.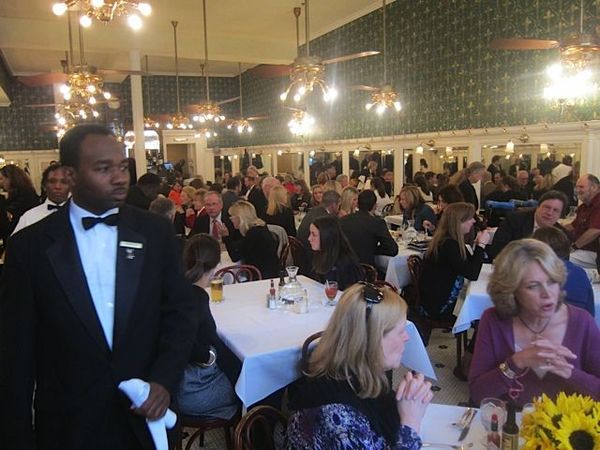 Saturday lunch at Galatoire's, in its historic mirrored room
Again, we have an insane location here: it is not near Bourbon Street, but on Bourbon Street, mere steps from the busiest spot. And yet, it breathes divine, rose-scented doses of the finest elegance New Orleans can hope to offer.
Galatoire's was established in 1905 by Jean Galatoire, an immigrant from the Basque southwest of France (near the city of Pau); today, there's another principal owner, but the Galatoire family is still heavily involved in the operation of the restaurant. What a century it has been; various generations of this family have presided over the social lives of New Orleans' crème de la crème, in the tradition-steeped downstairs dining room, as far back as anyone can remember. It is a thrill to walk into this atmosphere today -- watching your fellow diners, most of whom have celebrated births and birthdays, wedding coupes and business coups countless times, relaxing at their natural, public home. The spirits are so high, and so infectious, nothing makes you feel as if you have instant native status quite as much as Galatoire's. As long as you're wearing a jacket.
This is a dizzying version of the same old adolescent adrenaline of New Orleans, but now at the monied, country-club level.
If you could choose your time slot at Galatoire's downstairs, nothing could be finer than a lunch table on a Friday; it has long been "the" meal at Galatoire's, "the" meal where a toute Orléans turns out. But there are three Friday lunches in the year that are special beyond special: the Friday before Christmas, the Friday before Mardi Gras and the Friday before Halloween (in what is unquestionably America's best Halloween town). People start working on a table for these lunches a year in advance; some are allowed to wait in line and enter, but the line starts on the Tuesday before the Friday! Others hire line-standers, who hold places for them right up to the entry moment.
Me? I could never hope to arrange a table at the Halloween Friday lunch at Galatoire's; I don't have the heritage! But I got lucky last week: they allowed me in to take photos, then held a table for me the next day, which also has its glam.
Here's what the Halloween lunch looked like last Friday, as the revelers arrived: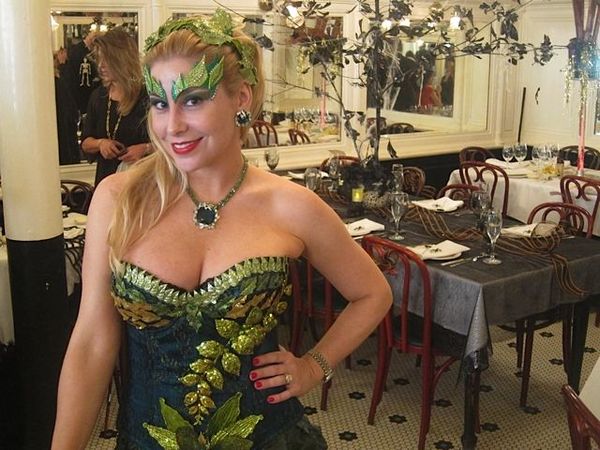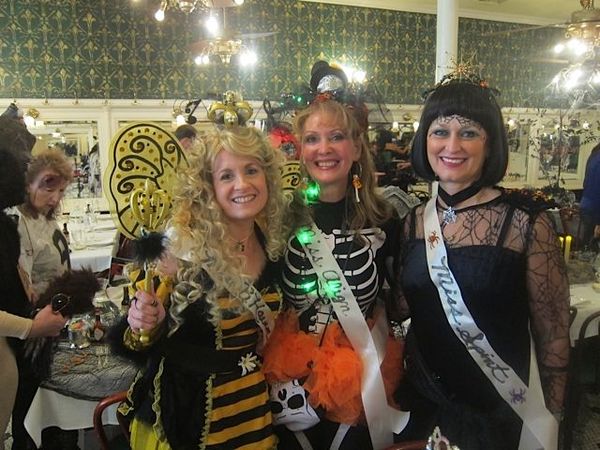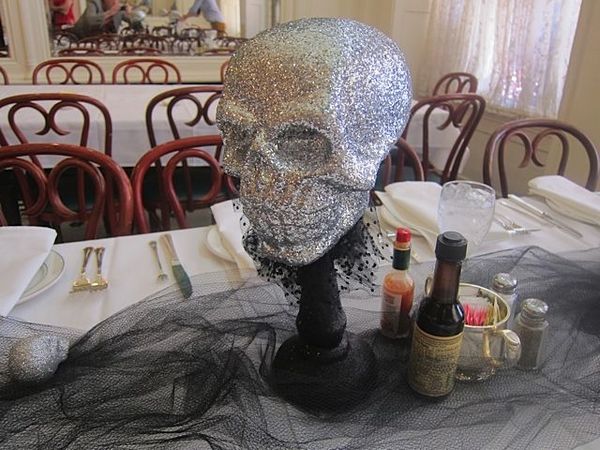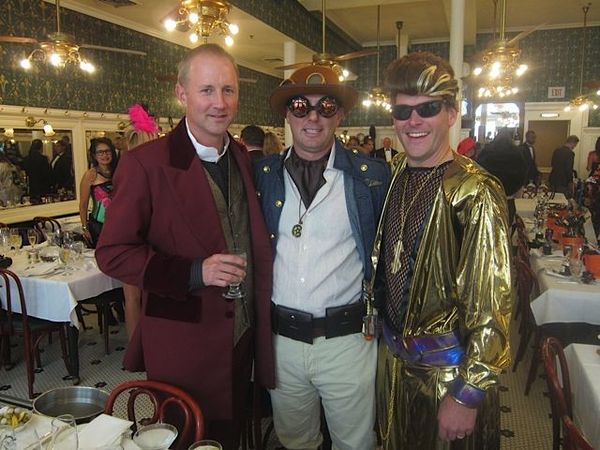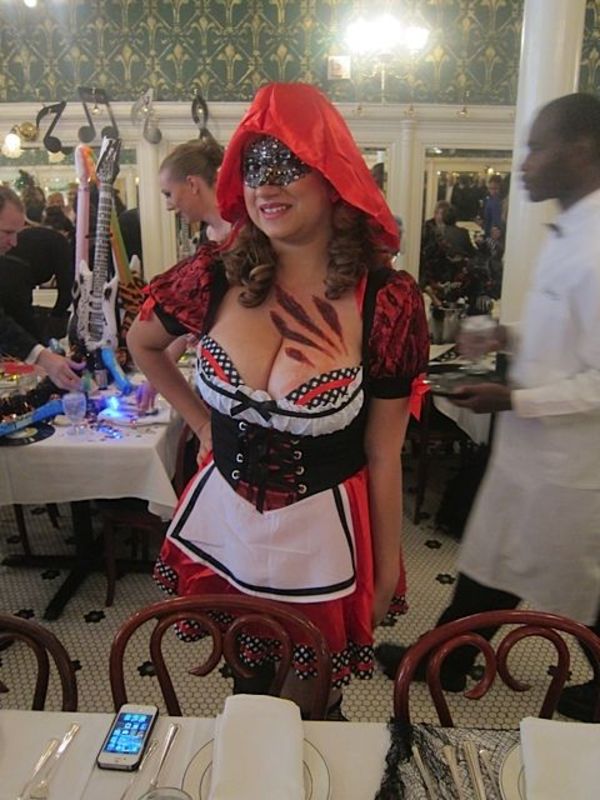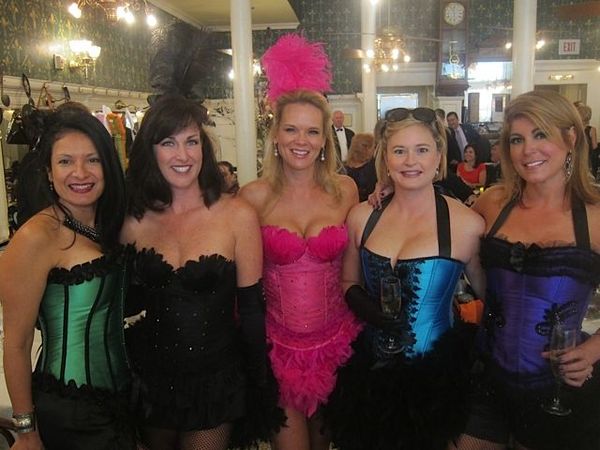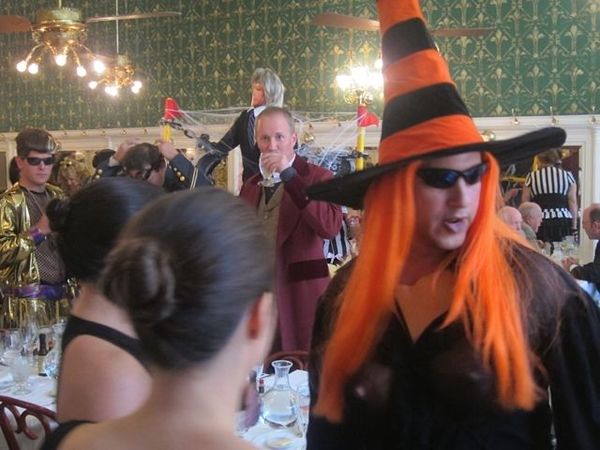 Just before sitting down to lunch
I returned for Saturday lunch, to the same menu, and confirmed my gastronomic intuition: do not come to New Orleans' most historic restaurant expecting anything like the food you'd get at a well-regarded modern high-end restaurant. It ain't like that here. Good! To me, that's a tremendous reason to come to Galatoire's; too many could-be-anywhere creative restaurants flood the planet as it is!
At Galatoire's, you'll be served traditional New Orleans food that probably seemed dated 30 years ago, but all of it cooked and served beautifully.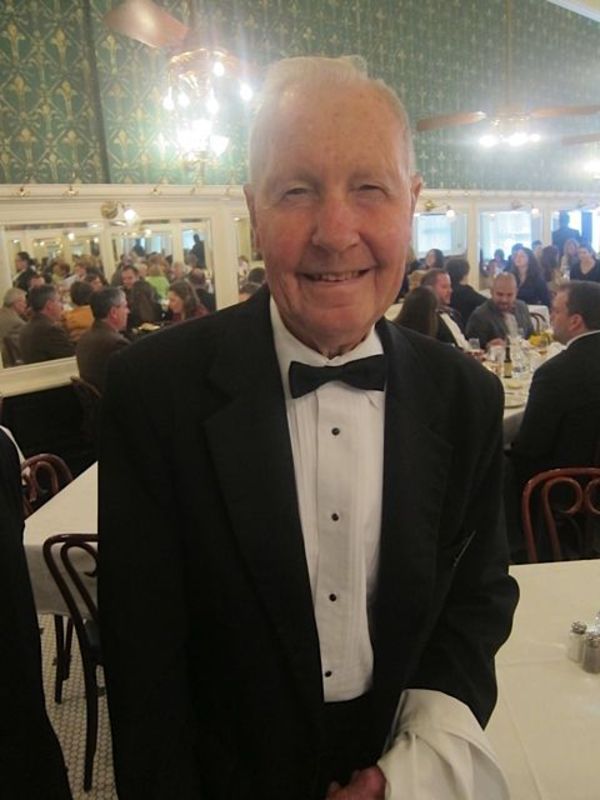 Mr. Dorris, who has been a Galatoire's waiter for 39 years
The first thing that rubbed me the right way was the bread and butter...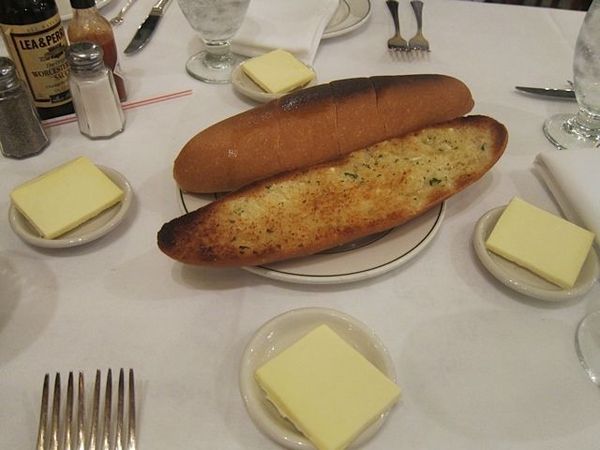 Opening the meal at Galatoire's
...great, crispy-light garlic bread, warm, with an individual dish of butter for each of the four diners! Uncommon graciousness.
Up next was an array of what modern restaurants would call "amuses"-- though I'm growing increasingly un-amused by specks of this or that in a dubious emulsion of that or this. Not at Galatoire's -- where the party kicks off with serious, copious, simple food. First come the famous, puffy pommes soufflés... with bearnaise sauce! They are accompanied by an extraordinary bite... long wands of fried eggplant, served with powdered sugar. If that's not weird enough for you, they instruct you to mix up the sugar with Tabasco, before dunking in the eggplant! I approached trepidatiously; I swallowed enthusiastically.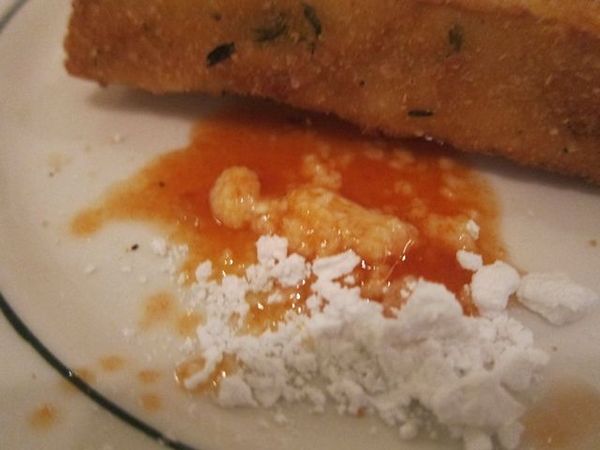 Confectioner's sugar mixed with Tabasco at Galatoire's
Then, if you have pre-meal room, go for the perfectly battered and fried pickles!
Next, don't fail to order the appetizer portions of cold shellfish specialties.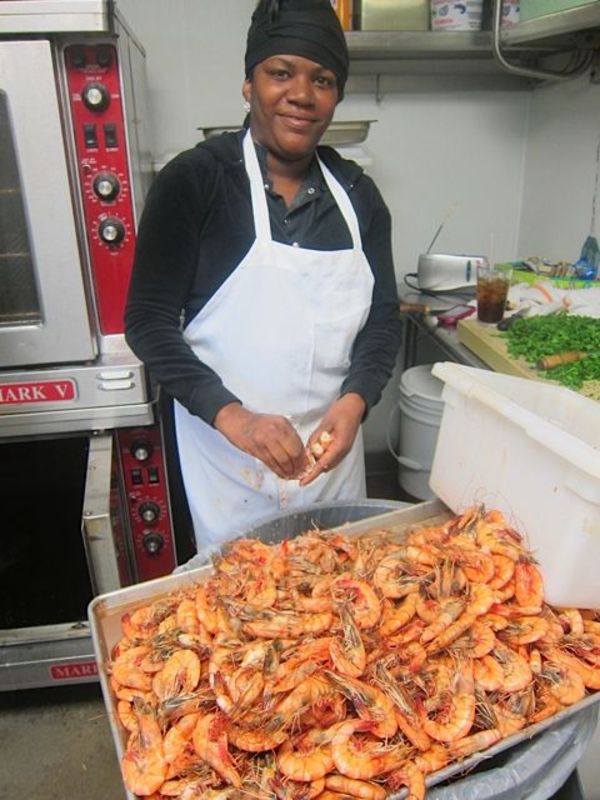 The head shrimp peeler at Galatoire's (100 lbs. a day of fresh Louisiana shrimp!)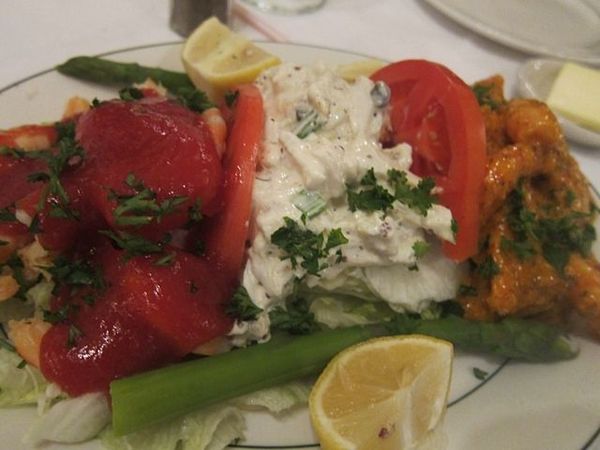 Delicious cold shellfish at Galatoire's
This is New Orleans. The classic shrimp cocktail on the left is a kicked-up version of classic shrimp cocktail! The outstanding Shrimp Remoulade on the right clearly reflects the dozen ingredients that go into this sauce, with horesradish and mustard leading the way. And the Crabmeat Maison in the middle, creamy with a homemade mayo, tangy with white pepper, is pure time travel to another era.
Of course you want oysters topped and broiled in various ways.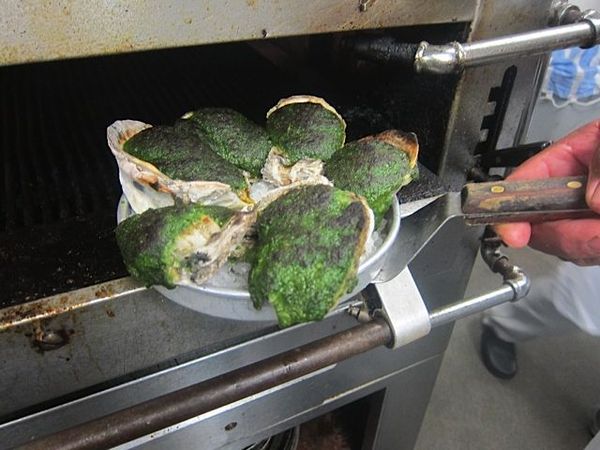 The classic Oysters Rockefeller coming out of the salamander at Galatoire's
Although on Saturday, we skipped the classic, as the talented head chef, Michael Sichel, prepared an oyster dish for us topped with blue cheese and bacon.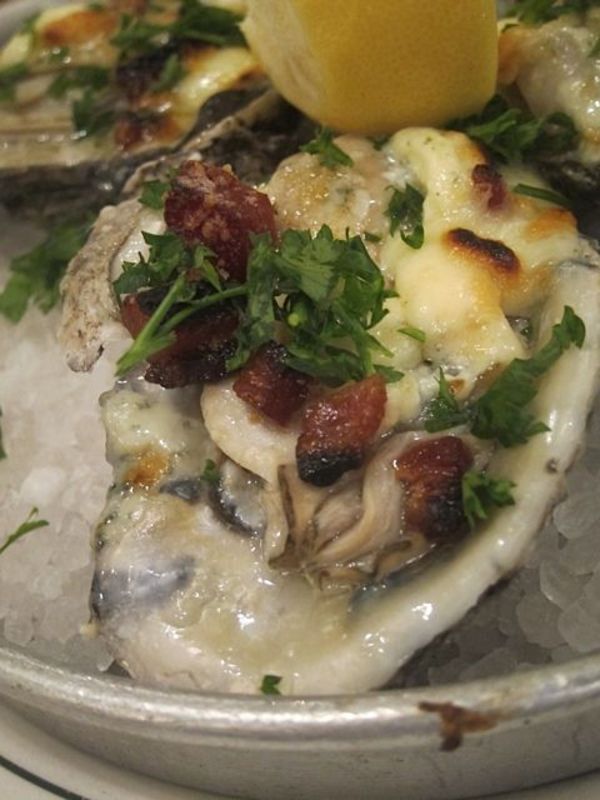 Broiled oysters are an important Galatoire's specialty
Of the entrées, the one I wouldn't want to live without is the sautéed redfish filet (a great local fish, blackened or not), served with artichoke bottoms and snails, in the most suave, flavorful brown butter sauce I've ever tasted.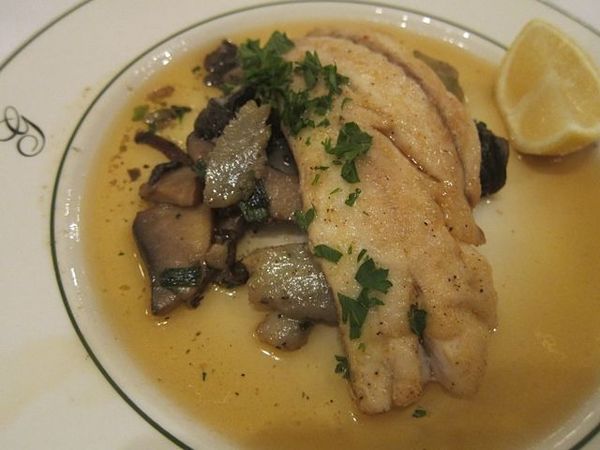 Perfect brown butter sauce underneath a redfish filet at Galatoire's
At entrée time, however, you could hardly go wrong, if you're time traveling, wandering the scrumptious museum case of amandined, meunièred, hollandaised, stuffed-and-sauced specialties.
7) NEW RESTAURANT CLASSICS
New Orleans, of course, does more than deliciously stand still. No trip to the Crescent City is complete without a visit to one of the high-end restaurants established in the last decade by a new generation of star New Orleans chefs. This is far from po' boy territory -- but ya gotta love the home-grown variety in this town!
Perhaps my favorite chef of the new-generation rock stars is John Besh, local boy who made good. Really good! National publications often proclaim his flagship restaurant August as the finest of fine dining in New Orleans... and he has followed up with eight other scattered restaurants as part of his restaurant group.
I'd been to August several times over the last decade, and decided to go back last weekend -- for my trip-ending, big-deal, celebration meal. I discovered that the once subdued 19th-century French-Creole space in the Central Business District is now mobbed with people hoping for a table! Well, drinking the home-barrel-aged Manhattan while you wait ain't too painful. But better to take care of your reservation a few weeks in advance -- then be amazed at the easy grace with which the wonderful staff puts up with all the adulation.
And then there's the food. I am not usually enamored by fancy-creative, unless two things are in place:
1) The chef is unusually talented; and
2) The food carries elements, at least, of the locality it's in
August passes muster on both counts. Don't expect to see Besh there these days -- but he has entrusted his kitchen to another brilliant local boy, Michael Gulotta. It seemed to me on this recent visit that not only is the food a great example of the stellar-world-stage variety, but that Gulotta has worked a little more New Orleans into it. Oh, Besh was always a locavorist in ingredient selection -- but his important development years, cooking in France, always gave the food a Gallic sensibility (deliciously so). Gulotta -- who also worked briefly in Europe, at a high-end twinkler in Germany -- brings a little more of the richness of New Orleans food to the table. It's subtle, but it's heart-warming.
Here's an array of dishes that came my way last Saturday night: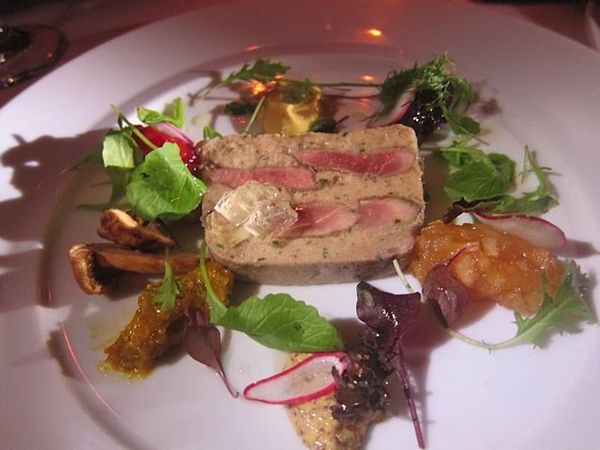 Terrine of Chappapeela Farms Duck (a special last weekend at August)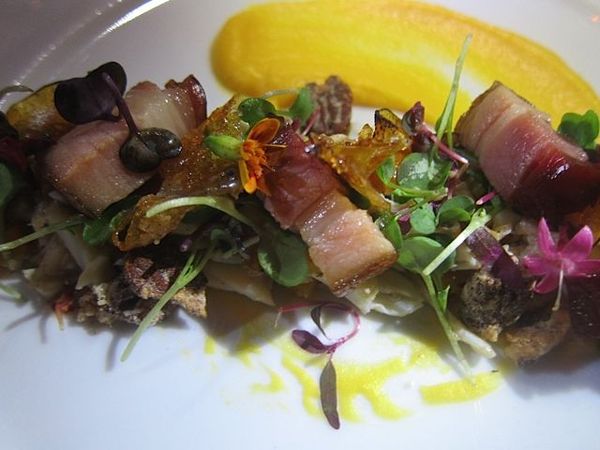 Candied Acorn Squash and Jumbo Lump Crab Salad, with Benton's Bacon and Spiced Pecans, Brown Butter Vinaigrette, at August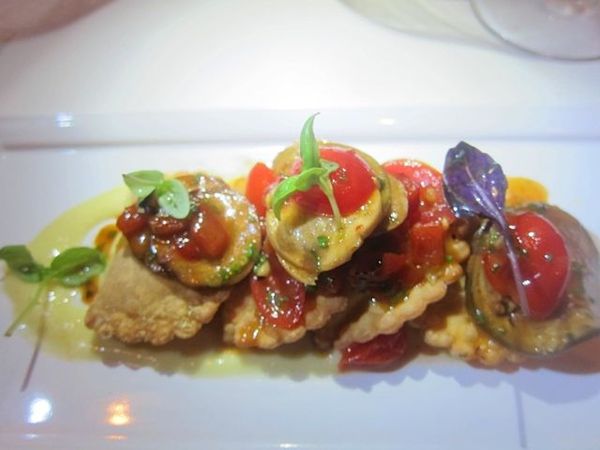 Crispy Eggplant Gattafin with Roasted Garlic Mascarpone, Late Season Heirloom Tomatoes, at August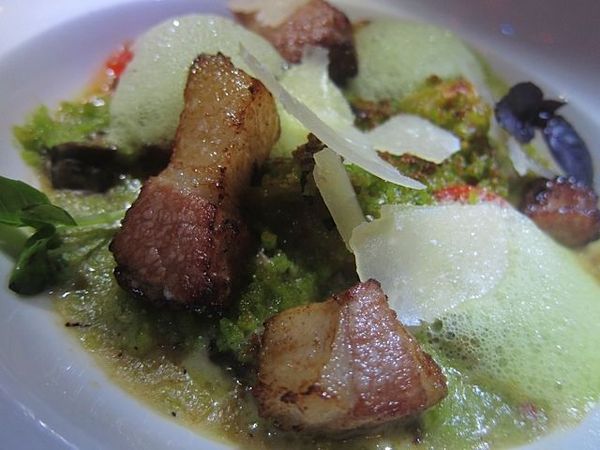 Persillade-Crusted P&J Oysters with Sun Drop Tomatoes, Creole Cream Cheese and Bacon, at August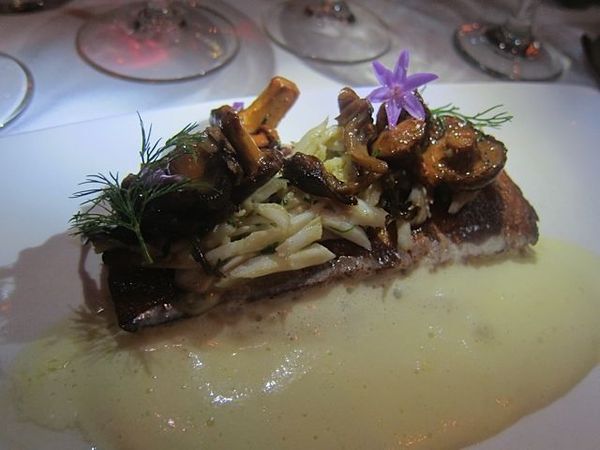 Breaded "Trout Ponchartrain," Jumbo Lump Crab, Wild Mushrooms and Sauce Hollandaise, at August
8) NEW ORLEANS DESSERTS
Now, I'm not a big one for three-star restaurants, no matter how ground-breaking they are. But when I travel, I always try to figure out where there's the best sweet in the best local tradition. In New Orleans, I found my favorite ten tears ago, returned to it last weekend.....and it's still my favorite.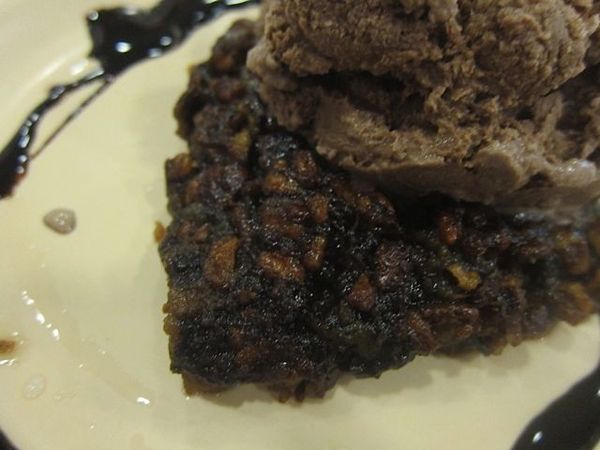 The chocolate pecan pie at Camellia Grill, with chocolate ice cream
Intriguingly, pecan pie, a Southern specialty that sweet-tooths seem to adore, has never been one of my faves; it is usually way too sticky for me, too cloying, too monochromatic in flavor. But I would never say that about the pecan pie at the original Uptown Camellia Grill....the best pecan pie I know.
Here's the point of difference: it's loose, not heavy, at Camellia Grill. Not TOO sweet. And it has the fascinating counterpoint of chocolate in it (you can get it without chocolate, but I prefer the dark one). AND.....it is warmed for you right on the griddles of this old-fashioned diner, making it so sexily melty-tender.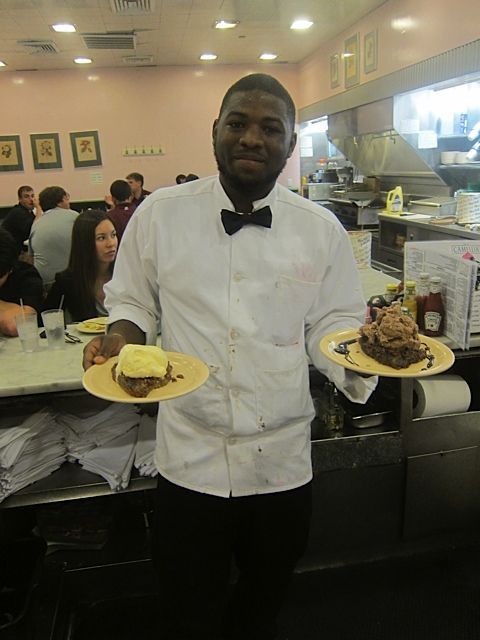 Two griddled pecan pies, coming up
So, if you've come to the end of your New Orleans revel and you're looking for one more little bite of the South before you return to your hotel room, you could do a lot worse than a late-night visit to the charmingly S-shaped counters of Camellia Grill. Though not exactly a celebration, a visit has that post-game, start-the-hangover-cure kind of feel to it.
What? Protesting a few more calories? This is New Orleans, people! You'll be back to reality soon!
Photos courtesy of David Rosengarten.
Calling all HuffPost superfans!
Sign up for membership to become a founding member and help shape HuffPost's next chapter