As millennials – the first digitally native generation – increasingly become the dominant consumer base, organizations across industry sectors are feeling the pressure to adapt and evolve their business to meet the needs of this generation. For the telecommunications industry, the urgency is heightened as millennial consumers live on their mobile devices, with almost half (43 percent) of millennials globally owning a smartphone, and more than three-quarters (71 percent) here in the United States.
Millennials are the rising subscriber – and revenue—base for mobile operators, and are set to have a huge impact on shaping the future of mobile service. With this in mind, CSG International, recently commissioned a survey of nearly 1,000 millennials globally to get their thoughts on the future of mobile. The survey revealed that millennials have clear priorities for their mobile service in the coming years, including further adoption of artificial intelligence (AI), an increased focus on personalization – even at the expense of data privacy – and a high quality and intuitive experience when it comes to entertainment viewing.
Millennials want AI to empower their devices to take action.
For the millennial generation, their phone is not simply a device used to communicate with friends, colleagues and family – it's an extension of themselves. This increasing reliance became clear as the survey showed that half of millennials (49 percent) want their mobile phone to serve as a more intuitive personal assistant.
In recent years, artificial intelligence (AI) and natural language processing (NLP) technologies have gained significant popularity through applications like Apple's Siri, Google Now, Amazon's Alexa, Microsoft's Cortana and Samsung's recently announced Bixby. However, as we move into the next-generation of mobile, millennials want these AI technologies to go a step further, anticipating needs and taking action. In fact, a majority (53 percent) of respondents noted that they would be willing to spend more on a mobile service that can act as a personal assistant, performing such tasks as creating meeting invites, posting to social media, booking dinner reservations and so on. To enable this, these AI apps are beginning to add more contextual processing to their bag of tricks to expand their power beyond single phrase conversations. For service providers, this means looking for ways to embrace innovation, and leverage these personal assistant technologies to make their services more powerful. Beyond having Siri conduct a Google search to answer a basic question like, "where's a good place to have dinner tonight," how can these technologies evolve to learn to anticipate need so that when a user texts friend about dinner plans, the device automatically offers restaurant suggestions and open reservation times?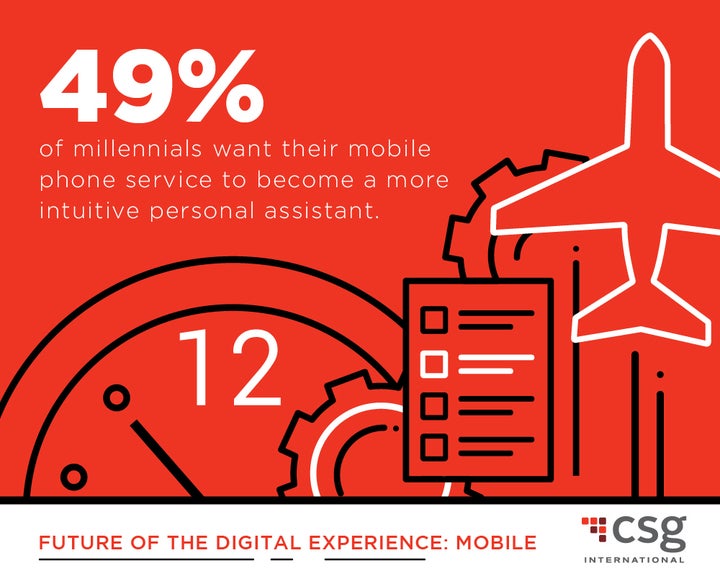 Millennials are willing to share personal data if it means more personalization.
Millennials have notoriously been referred to as the "Me Generation," but that is not necessarily a bad thing. Young adults today were raised with the expectation that technology can be used to make their lives easier and generate richer experiences. When it comes to mobile, operators are sitting on a gold mine of data that can allow them to give millennials exactly what they want – a more customized consumer experience.
While data privacy concerns have often raised red flags for consumers, our survey found that millennials at large are more willing to provide information about themselves if it means carriers offer more customizable options. According to the survey, 59 percent of millennials are likely to spend more for a service specifically customized to their usage patterns across voice, data, entertainment and other personalized services. Furthermore, 76 percent of millennials responded that they would be likely to let providers use their data to make entertainment recommendations based on their previous viewing habits. For providers, this allows them to track Game of Thrones fans or One Direction lovers and help them discover similar content that they might not normally watch or listen to next, without the user having to specify preferences. In relating this to the last point on advancements personal assistant applications, this is also an area where AI technology can play a role in sharing recommendations for a new album release, a season premiere reminder, concert tickets and so on.
Millennial consumers want an entertainment hub.
The majority (57 percent) of millennials cited better video, music and entertainment streaming experience as a reason to spend more on their service, ranked second only to having a customized service plan. Content drives broadband consumption. Millennial consumers today want mobile providers to make their lives easier. In evaluating the next-generation of mobile service, it is important for providers to consider how they can curate content from multiple sources to make the viewing experience easy and seamless for subscribers. With 83 percent of millennials planning to use their smartphones to watch online video, including YouTube, and OTT service for TV series and movies, a personalized viewing experience is as important as the quality of the service.
As a final note, we have seen a great deal of transformation in the telecommunications space in in the past decade – from merger and acquisition activity to new tech behemoths increasingly throwing their hats in the ring. The playing field is wide open as traditional providers look to take on mobile novices, and our survey found millennial consumers are open to the possibilities. Even amidst market debate that consumers are ready to move away from traditional communications service providers, millennials showed very little variance or preference among the top three categories of wireless service providers. A slight majority of millennials showed a preference (35 percent) toward traditional mobile service providers, but both non-traditional providers like Google and Amazon, and public Wi-Fi services and free offerings saw an almost equal number of respondents.
Millennials today account for more than a fourth of the global population according to the Pew Research Center. As this generation increasingly becomes the primary consumer base, operators need to think out-of-the-box when looking to attract the digitally savvy subscriber, and make sure that technology innovation and personalization are top-of-mind. In tandem, and possibly most critical, service providers need to regularly ask themselves, "what's next?" As one thing is for certain, there is nothing "traditional" about mobile service in today's digital era.
Share your thoughts on the survey findings with CSG International on Twitter, @csg_i, and use the hashtag #DigitalFutureReport.