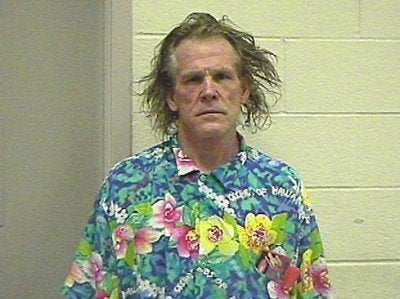 Nick Nolte is known in equal turns as Oscar-nominee, rebel, subject of the most famous celebrity "mug shot" of all time. And he's proud of all three descriptors in equal measure.
Before social media and Twitter made every celebrity slipup or moment of weakness liable to be a viral sensation, a photo following Nolte's 2002 DUI arrest made the rounds on the web, with seemingly the entire world seeing and laughing at his shocked, matted hair, angry scowl and fantastic Hawaiian shirt. In a new feature interview with GQ, Nolte explains it all -- and has no desire to run away from what to many would be a total embarrassment.
As it turns out, he wasn't drinking the morning that he was pulled over by police for reckless driving; he was on a substance known as liquid ecstasy, which he used to assist his workouts and improve his moods. Many people look down on the drug, but Nolte has a different take.
"I had a different opinion about this substance than most people had," he says. "I knew the history of it and I knew the doctors and I knew how to use it."
He did, however, know he was doing it too much; he had driven to an AA meeting that morning, but decided to leave and head home. That's when he was nabbed. He was hospitalized, and that's when the photo was taken.
Much of Nolte's current work places him as a man with demons, perhaps an appropriate place given his reputation and struggles. In this fall's "Warrior," he played a father trying to salvage his relationship with his two grown children after years of abuse and neglect. He was supposed to be 1000 days sober, and so director Gavin O'Connor made him promise to stay sober during the shoot. As the film began, Nolte broke that promise, and headed out on the town, ending up out until 5 am in a den in Pittsburgh, intoxicated beyond sight.
"'Man, you wouldn't believe the night I had,'" he remembered telling O'Connor's assistant. "'There was more cocaine there, more alcohol, this guy with tattoos all over him and rings, this girl who wanted to leave with me but she had been with him for 10 years and he was threatening to kill me. We barely got out of there alive.'"
Once again, he doesn't shy from that experience. In fact, he says it helped him with the role.
"Oh, absolutely. Absolutely. It intensified emotionally the bonding, the commitment," he said. "To get involved in a town and to get to the core of it is a very unique and privileged place to be. So it brought out a lot of emotions I probably wouldn't have been able to get to."
O'Connor was less than pleased -- he assigned a bodyguard to keep him in line -- but in the end, Nolte is garnering Oscar nomination talk for his role. It's also helped revive his career; he'll star in the HBO show "Luck" this spring, and is currently filming the gigantic ensemble film "Gangster Squad," which will co-star Ryan Gosling, Sean Penn, Josh Brolin and Emma Stone. Then, it's on to another epic ensemble, "The Company You Keep," with Shia LaBeouf, Anna Kendrick, Robert Redford, Chris Cooper, Susan Sarandon, Stanley Tucci, Brit Marling and Terrence Howard.