I love the holidays. And I love tradition. Yes sometimes the idea of more green and red decorations and another stocking just doesn't get me very excited. And apparently, I am not alone. Over a glass of champagne recently, I had to pick the brains of decorator extraordinaire Tricia Huntley, one of my favorite DC interior style experts. To give you an idea of her non-traditionalist views of decorating, the walls of her bedroom are painted solid black. "After all, she says, bedrooms are made for two things. Sleeping is one of them. Black helps." I don't bother to inquire about the second thing.
Here are her definitely un-traditional, yet elegant and affordable holiday decorations.
AP: WHY ARE YOU SO IN LOVE WITH NON-TRADITIONAL DECORATIONS FOR THE HOLIDAYS?
TH: I am drawn to non-traditional holiday decorating because it's an opportunity to express myself in a more personal way. I like to inject my style and heritage into everything I do this season - whether it's decorating or gift giving - everything has my personal touch. My friends and family can see the care I take and know I am coming from a place of love.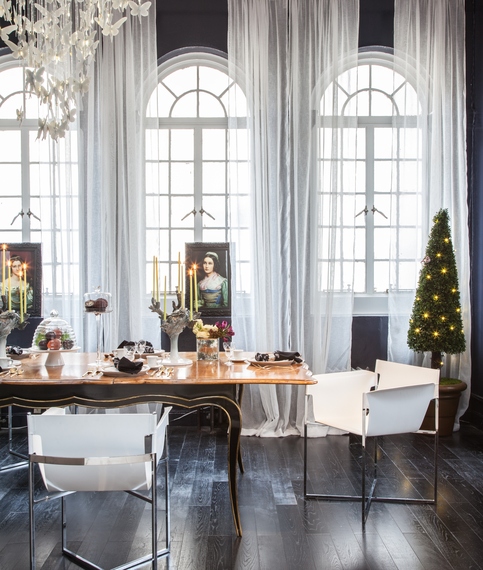 AP: THE TRADITIONAL HOLIDAY COLORS ARE RED AND GREEN - WHAT OTHER COLORS SPEAK TO YOU IN TERMS OF HOLIDAY DECORATIONS?
TH: I love color and especially interesting color combinations. I usually find an image (or take a photo) and let that inspire my scheme. It can be anything that is compelling to me at the time - the bark of a tree, feathers on a bird, a vintage album cover, a trip to the local garden center, a fashion layout in Vogue ... ANYTHING! As long as you have a jumping off point and a concept, you can make anything work. If you're not overly creative or adventurous, try modifying the standard green and red Christmas look by choosing an acidic, yellow-green and a deep, inky red. It's just a tweak, but it will take your holiday look to a whole new level.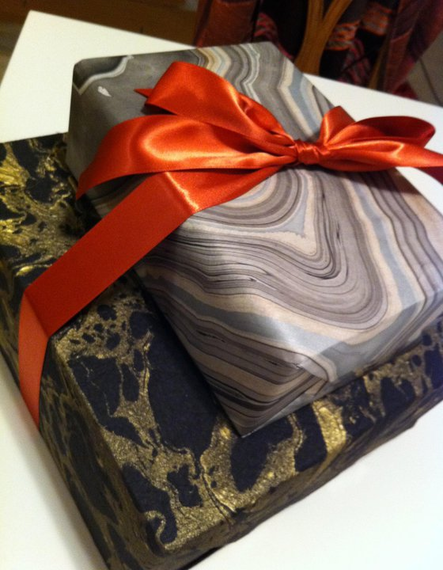 AP: LET'S TALK ABOUT THE UBIQUITOUS TREE - WHAT ABOUT A "NON-TREE" FOR THE REBELLIOUS OR ADVENTUROUS TYPE?
TH: For a designer holiday showcase last year, I created a Christmas vignette in a birdcage in lieu of decorating a tree. I found a lovely pale yellow, metal birdcage, draped it with garland and filled the interior with florist's moss, artificial birds, bark, branches and gifts I wrapped in marbleized paper. It was incredible.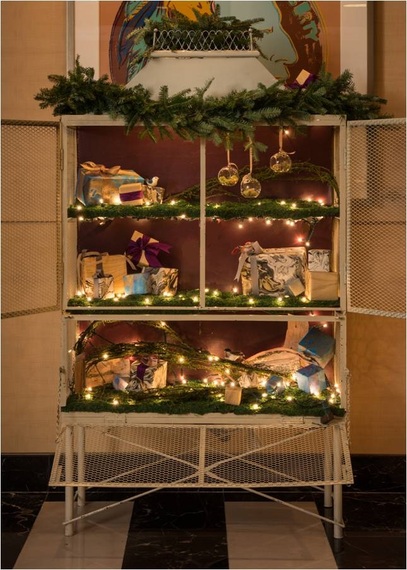 AP: WHAT ABOUT THE MANTLE - ANY ALTERNATIVES TO STOCKINGS?
TH: A really clever yet simple stocking alternative is to hang handmade bags. It works especially well with a cottage or country theme. Buy hemp (or burlap, linen, cotton) bags and stamp them with your family's names, silhouettes or even numbers. It will add a homespun/organic feel without being stodgy.
AP: HOW DO YOU CREATE A MANTLE IF YOU DON'T HAVE ONE?
TH: If you don't have a mantle, you can always create a mantle-scape on a table. Drape a console with garland, add ribbon at the corners and top the table with candles and any other accoutrements you like - fruit, family photos, taxidermy ... again, anything that speaks to you and expresses who you are.
AP: CANDLES - WHEN IS TOO MANY TOO MUCH?
TH: I don't think you can have too many candles if you execute correctly. I believe in really going for it if you like the "more is more" look. I also believe in containing the madness. Rather than placing candles on every surface, pick one area - the center of your buffet, the mantle, your front steps - and pile the candles on. It's a look with impact without the chaos of clutter.
AP: LET'S TALK ABOUT LIVING ALONE - WHAT ABOUT THE TABLE? WHAT ABOUT PLACE SETTINGS OF ONE?
TH: I am a firm believer in creating a festive atmosphere in one's home for the holidays whether you are a family of five or a family of one (or a family of one+ in the case of some of us with canine kids). Assembly isn't a prerequisite for celebration. If you live alone and have a dining table, I would look it as an opportunity to create a special holiday vignette (or spectacle if you are brave) on the table - think Bergdorf Christmas window display. Steer away from setting the table in a traditional way; one placesetting will look lonely and multiples won't represent who you really are at this point in your life. Get creative and celebrate the awesomeness of one ... and be thankful you don't have to wash a dozen dishes after dinner!
AP: WHAT ABOUT "BAR SETTINGS" - ANYTHING TO KEEP IN YOUR COCKTAIL AREA IF YOU ARE MORE OF A MIXOLOGIST THAN A COOK - SOMETHING THAT YOU WOULD NOT NECESSARILY HAVE ALL THE TIME?
TH: That would certainly describe my entertaining style. Winter and the holiday season is definitely a time for particular flavors and cocktails. In terms of spirits, "brown" liquors such as rum, bourbon, scotch and brandy are good selections for colder months. Warm cocktails are a nice touch as are flavors such as cranberry, peppermint and cinnamon. If you are a novice or need something easy to execute, a "Cherry Frost" is a breeze to make. It is composed of black cherry liqueur, brandy, crushed ice and sparkling white wine. Top it with a maraschino cherry and you have a festive, refreshing, impressive looking cocktail perfect for a party. If you don't have a bar setup, you should buy these basics:
-cocktail shaker
-jigger
-peeler
-juicer
-long cocktail spoon
AP: PLEASE PLEASE PLEASE SOME NON-TRADITIONAL WREATHS!
TH: This is a tough one. So many wreaths are expected and "inside the box" and those that aren't can be a bit ridiculous. I have a wreath that is constructed of white wool felt balls in a variety of sizes. It's modern yet soft and works with the mid-century architecture of my home. I hang it from an interior closet door with fuschia satin ribbon. Anything is possible if you are crafty. Of course, many of us are not. If that's the case (insert raised hand here), look at Etsy. There are brilliantly creative people on this site who will DIFY (Do It For You). One shop I like in particular is TheSeptemberTree. Her cotton wreath and bubble burlap wreaths are gorgeous.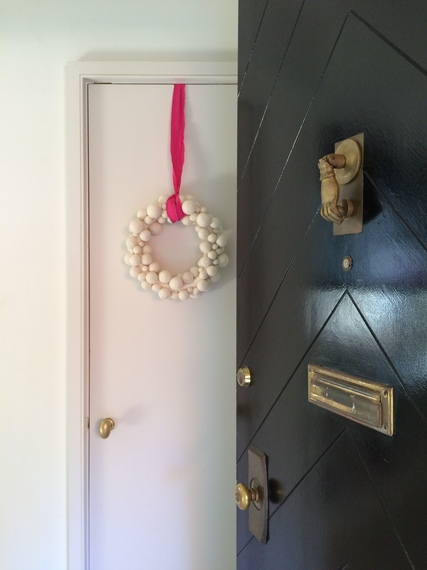 -Ada Polla is the CEO and Founder of Alchimie Forever skincare.
Related