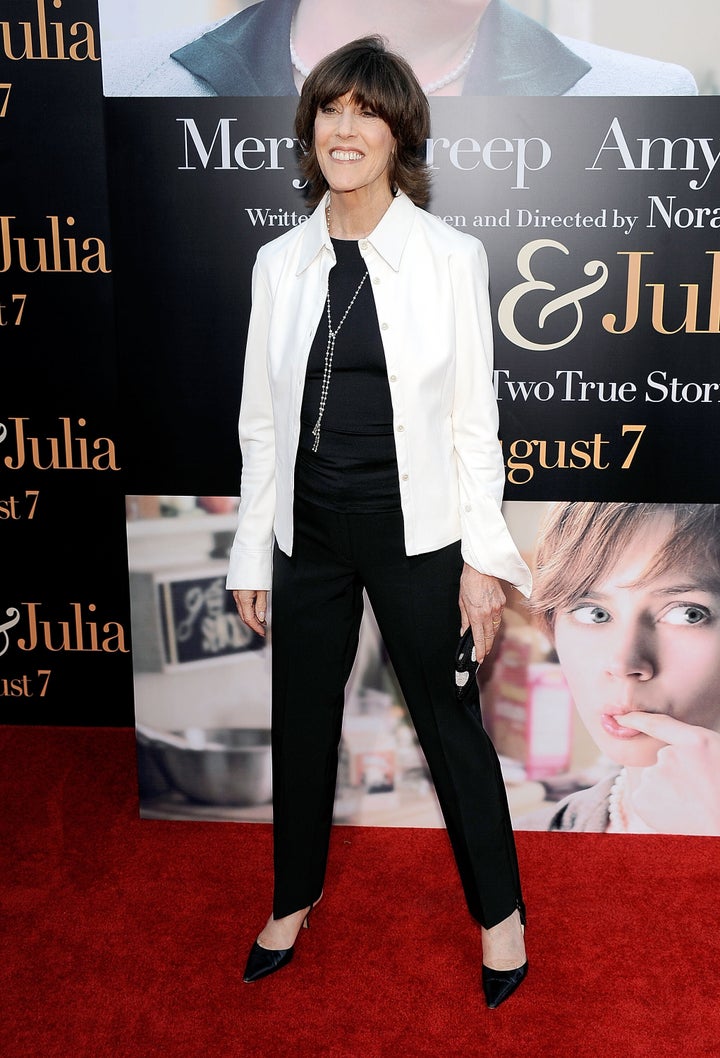 I'm sure there was a time when I didn't know who Nora Ephron was, but I don't remember when that was. Well before I enrolled at Wellesley, I knew that was the school that Nora Ephron went to. I already knew I wanted to be a journalist, and I knew she started as one. Ephron was, of course, so much more than that by the time I arrived at Wellesley; she was already an essayist, novelist, screenwriter and film director.
The fact that Ephron was all of these things -- the fact that she could do all she did -- was an inspiration to me. Wellesley was not big on one of its graduates becoming an "entertainment journalist," which was my goal. Career counselors there stressed a more conservative plan. I always pointed to Ephron, though. She was a true success story -- and you can't argue with success.
In Charles McGrath's loving tribute to Ephron in the Times, he calls her first directing effort, This Is My Life, "a dud." Well, I happen to love that movie. I own it, in fact. (I remember interviewing Samantha Mathis and telling her I owned three of her movies; when she named the ones that she suspected, This Is My Life was not on the list.) It has both the Ephron wit and heart, I don't care what anyone says. But I'm not going to go on and on here about individual books or movies or even stage shows (I've written about my love for her last stage effort, Love, Loss and What I Wore, here before). There are going to be countless articles like that. No need to add to the pile.
Instead I wanted to write about what Ephron meant to me, as a Wellesley girl who wanted to go into entertainment. Ephron showed that it could be done, and by "it," I mean anything. She was a quick-witted icon. Alums who met her called her gracious; people who have worked with her pour on the praise. Even in 2012, no matter what you hear, women still struggle to be recognized in Hollywood. Ephron was not only recognized, she was unmistakable. She had her big flops, but she kept going. She was never one of those people we hear about breaking down, giving up or going ballistic.
I have a rock on my desk that on one side says "Liar" and on the other side says "Bitch." It was an opening night gift given to those that worked on her Broadway play Imaginary Friends. The press agent for that play, Bob Fennell (who, like Ephron, left us too soon because of cancer) gave it to me because he knew it would mean something to me. Somehow it does, though not because of any attachment to the play itself. Ever since Bob passed, I think of him when I look at it, and the senselessness of his death. I also think of the two women Imaginary Friends focused on -- Lillian Hellman and Mary McCarthy -- and their ridiculous feud, a battle very anti Wellesley's "women supporting each other" zeitgeist. And more than anything, I think how important it is to be neither a liar nor a bitch. I like to think Ephron was neither -- if she was either or both at times, as most people are, that is for the people who knew her to voice. The Ephron in my head sometimes misses the mark, but is still composed, funny and impressive.
While sitting in my dorm one night, I remember reading her 1996 commencement speech, in which she urged the class of Wellesley graduates: "Above all, be the heroine of your life, not the victim." She was a victim to cancer in the end; no amount of fighting could help. However, she was still in most ways the heroine of her own life -- she had a personal life and family, she held onto her career through many sharp twists and turns, she proved that a woman writer/director could have staying power and she supported other women. At 71, she was taken too young, but she will always be remembered, not only for her films or writing, but for something less tangible than all of that, even by those of us who didn't know her personally.
Calling all HuffPost superfans!
Sign up for membership to become a founding member and help shape HuffPost's next chapter