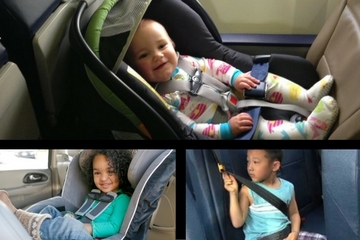 Hunter Barrett was 2 years old when his life was saved by a properly installed car seat.
His mother, Kylee Barrett, hit a patch of black ice and swerved to avoid a head-on crash as she was taking his older brother to school in Tacoma, WA, in January. Only 5 minutes from home, Kylee collided with a tree and flipped her truck.
Hunter suffered a broken femur but otherwise was OK. Kolton, then 5, was riding in a booster seat. He escaped with a bump on his head.
Kylee wants others to know the outcome could have been much different.
"Please don't use the excuse that he doesn't like to be rear-facing or he's too big," she said.
"Patchwork" is a word that describes America's child passenger restraint laws, regulations and standards because each state sets its own rules, and we do not see consistent treatment of children from one mode to another. NSC is working to ensure children arrive safely, regardless of the jurisdiction they travel through or whether they go by car, bus or plane. We're calling for:
• Lap and shoulder belts on new school buses; they add an extra layer of protection - particularly in rollover and side-impact crashes
• Appropriate restraints and clear support for children with special needs
• Children under age 2 to be properly restrained in their own seat on airplanes using a FAA-approved child restraint device, because it's impossible for adults to safely hold children during a crash or severe turbulence
Seat belts save lives. Child restraints in personal vehicles reduce the risk of death by up to 71% among infants, 54% among toddlers and 45% among children ages 4-8, according to the Centers for Disease Control and Prevention.
• Children sit in a dynamically tested restraint device that is appropriate for their age, height, weight and developmental level until a proper seat belt fit is achieved, usually between ages 8 and 12
• Children sit in rear-facing restraint devices at least through age 2
• Children under 13 ride in the back seat
The Governors Highway Safety Association reports 34 states have enacted primary enforcement seat belt legislation for children under a certain age, while 18 states require all occupants to be restrained, meaning officers across the nation can issue citations when people are not buckled up. NSC supports passage of primary enforcement in all states for ALL seating positions.
Moms and Dads and caregivers of our children make a difference by choosing the safest toys, safest products and now, during Child Passenger Safety Week, they can choose the safest ride for our most vulnerable transportation users.
Deborah A.P. Hersman is president and CEO of the National Safety Council