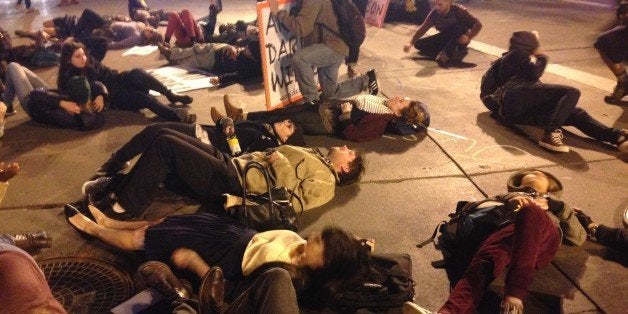 OAKLAND, Calif. -- Protesters angered by the grand jury decision in Ferguson, Missouri, disrupted Oakland on Monday in a slow-moving wave of unrest that halted traffic on freeways and impeded city streets in many directions.
Vandals among the crowds that meandered for miles lit fires in trash cans and in streets, spray painted anti-police slogans on buildings and broke windows in a news van.
The roaming demonstrations were in reaction to Officer Darren Wilson avoiding indictment for the killing of unarmed Michael Brown in Ferguson. The event began with a mass "die-in" in which dozens of protesters lay at the intersection of 14th Street and Broadway, a frequent site for political protests. The protesters' bodies were outlined in chalk on the street, as if it were the site of a huge crime scene.
"I'm here to be heard. No more stolen lives," said Cadine Williams, 34, whose brother, O'Shaine Evans was killed by San Francisco police in October. "Why is one life worth more than somebody else's?"
The march meandered from near Oakland's city hall through Chinatown and to residential neighborhoods on the north side of Lake Merritt.
Phrases like, "No justice. No peace. No racist police," and, "Shut it down for Michael Brown" were rhythmically chanted as attendees snaked around the city. Fireworks exploding in midair sent protesters ducking for cover at one point. Police gave marchers a wide berth in the early portion of the evening.
North of the lake, the crowds brought traffic to a standstill in both directions on I-580, an important east-west freeway. For roughly an hour, cars barely moved as police in riot gear slowly drove back the demonstrators under threat of arrest.
Many inconvenienced drivers expressed support for the crowd that had engulfed them.
"I'm okay. I support [these] guys," said Ivan Ho, 29, a driver for a Chinese restaurant who was attempting to deliver an order. "But I feel bad for my customer who's still waiting."
Oakland is no stranger to civil disobedience and unrest. There was violence there in July 2013 following George Zimmerman's acquittal for killing Trayvon Martin.
The name Oscar Grant was on many people's lips. The unarmed black man's killing by transit cop Johannes Mehserle led to demonstrations. Mehserle was convicted in 2011 of involuntary manslaughter, a count many thought was too light.
"I'm happy to see so many people care, but this is small," James Berk, 23, said about Monday's gathering. Berk carried his 11-year-old sister on his back so she'd be part of it. "A lot of people in America are not surprised [by the grand jury decision] and it makes them less motivated."
The Oakland police department didn't immediately respond to inquiries about arrests and the extent of damage.
Some shops near the starting point of the action had boarded up their windows in anticipation of trouble later in the night. A sign on a T-Mobile store apologized for closing early "due to the Ferguson trial."
It was near the starting point that vandals, some with bandanas or masks covering their faces, spray painted "Fuck the police" on walls and used cigarette lighters to ignite small fires in garbage cans along the route.
"That's how we express ourselves," said one teen who was seen starting three of the small blazes.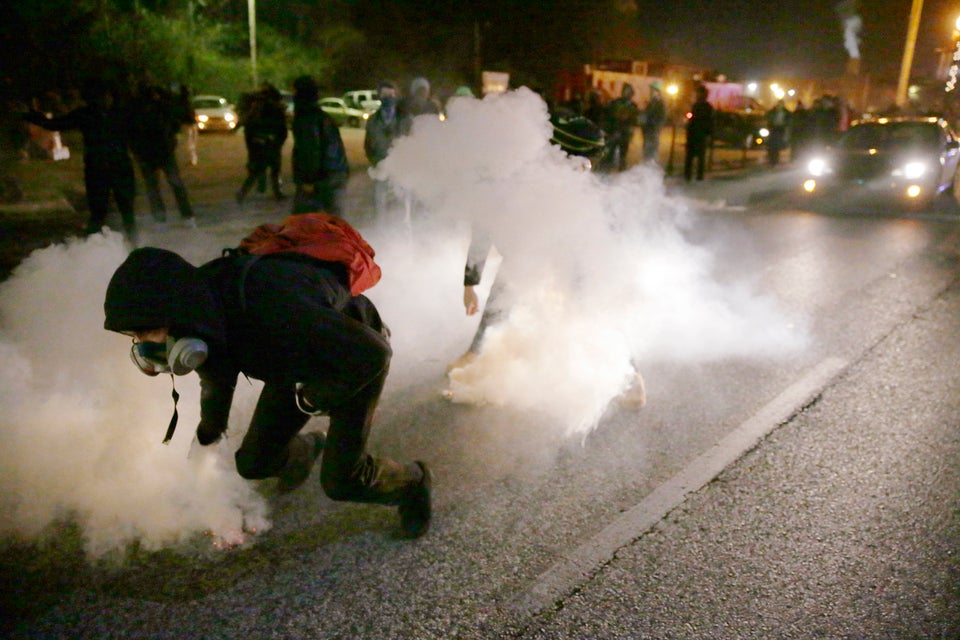 Ferguson Responds To Grand Jury Decision
Popular in the Community