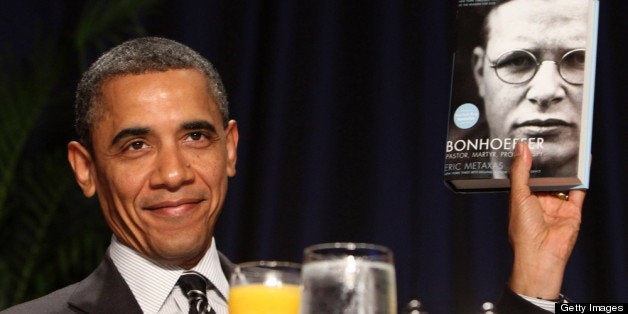 President Obama's favorite books are listed on his Facebook page, and they make for interesting (if sober) reading. Along with Shakespeare's tragedies, the Bible and Lincoln's collected writings, here are the titles that he finds inspirational:

Song of Solomon by Toni Morrison (1977)
Goodreads synopsis: Milkman Dead was born shortly after a neighborhood eccentric hurled himself off a rooftop in a vain attempt at flight. For the rest of his life he, too, will be trying to fly. With this brilliantly imagined novel, Toni Morrison transfigures the coming-of-age story as audaciously as Saul Bellow or Gabriel García Márquez. As she follows Milkman from his rustbelt city to the place of his family's origins, Morrison introduces an entire cast of strivers and seeresses, liars and assassins, the inhabitants of a fully realized black world.

Moby-Dick by Herman Melville (1851)
AmericanLiterature.com: Ishmael believes he has signed onto a routine commission aboard a normal whaling vessel, but he soon learns that Captain Ahab is not guiding the Pequod in the simple pursuit of commerce but is seeking one specific whale, Moby-Dick, a great white whale infamous for his giant proportions and his ability to destroy the whalers that seek him. Captain Ahab's wooden leg is the result of his first encounter with the whale, when he lost both leg and ship. But Captain Ahab is bent on revenge and he intends to get Moby-Dick.

Parting the Waters: America in the King Years by Taylor Branch (2007)
Pulitzer Prize Winner
Google Books: Moving from the fiery political baptism of Martin Luther King, Jr., to the corridors of Camelot where the Kennedy brothers weighed demands for justice against the deceptions of J. Edgar Hoover, here is a vivid tapestry of America, torn and finally transformed by a revolutionary struggle unequaled since the Civil War.

Gilead by Marilynne Robinson (2004)
Pulitzer Prize Winner
National Book Critics Circle Winner
The Guardian: The narrative of Congregationalist minister John Ames, who, in his 70s and near death, writes a kind of letter addressed to his seven-year-old son.

Self-Reliance by Ralph Waldo Emerson (1841)
Read it for free here.
Spark Notes: It can be seen as a statement of the philosophical ideals that Thoreau's experiment [detailed in Walden] is meant to put into practice.
Calling all HuffPost superfans!
Sign up for membership to become a founding member and help shape HuffPost's next chapter