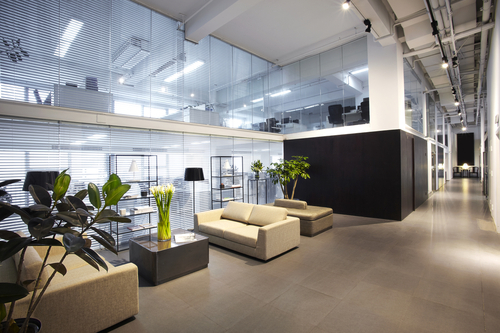 Office interiors don't all have to be dredged in dull khakis and grays. Character is important; the walls, furniture, and décor have a substantial impact on the productivity and morale of those who earn their living within an office atmosphere. Every industry has varying functions performed within the office space, and different businesses are suited to different design choices. Whether it's making customers feel at home, or getting the creative juices flowing, the office interior should reflect the work performed within it, and support those efforts.
Modern Office Interiors
Modern office interior is a popular option for industries across the board, likely due to its sleek and productive feel. This option works especially well for marketing firms, ad agencies, and businesses in the technology sector - where ideas are fast-flowing, and simplistic design won't clutter the mind. These offices often run at a speedy pace; they need a supporting, streamlined environment to help channel the flow of ideas, and the fluid energy of evolving concepts. The modern design is perfectly suited for these industries, built out of a few main concepts:
Limited Colors - Limiting colors makes room for original thought and new, exciting ideas. When creating a modern office interior, opt for bold colors that provide contrast; such as blacks, whites, and reds.
Original Furniture - The modern style is all about originality, and this is often reflected in the furniture selected to support the overall design. Look for furniture made of glossy, uniform materials such as metals, plastics, wood, or glass.
Geometric Accessories - The modern flair is often geometric in form. Look for a few limited geodesic designs, faceted accent pieces, and sculptures that will catch the eye - yet not overwhelm the imagination.
Sleek Surfaces - Surfaces in the office will hold many design ideas, mock-ups, and shuffled papers. Because the modern office supports evolving ideas, minimal noise is ideal. Surfaces should be sleek and interconnected when possible, to lend as little necessary noise as possible to active conversations and meetings.
Lighting - Lighting should be bright and focused, so task areas are clearly illuminated. Use floor lamps, spotlights, and pendants to focus the light on the appropriate areas of activity.
Minimalistic Office Interiors
Minimalistic office designs do extremely well in the fields of medicine, science, and research - where organization is key. These office interiors should inspire order and uniformity, and be clean and clear in nature. Design sparingly, and adhere to the following guidelines:
Soft Colors and Accessories - Choose colors that will blend into the background, and not overwhelm the space. Accessorize sparingly, choosing only those items that are functional, and serve a well-appreciated purpose.
Basic Furniture - Furniture should be simple and basic, with straight lines and little visual noise. Opt for furniture that doesn't include patterns, or unique designs, which can distract the mind or hide stains.
Clean Surfaces - Surfaces should be clean and clear of clutter, with very few eye-catching distractions. Avoid patterns or bright colors, and stick to uniformity.
Bright Lighting - These industries often require bright and even lighting, to best focus on the task at hand. Keep it gentle enough not to strain the eyes, and consistently dispersed throughout the space.
Zen Office Interiors
The Zen office interior is great for businesses specializing in retail or finance, or for spas and salons. Customers often flock to such locations to unwind, and the tranquil setting of a Zen environment offers patrons and employees alike just that opportunity. When designing your Zen office space, shoot for these essentials:
Serene Colors - Look for whites, greens, and grays; along with teaks and deep natural woods. Use earthy tones to bring a sense of calm and peace to the space.
Accessories - Balance accessories evenly, and find ways to pull in nature with water elements, rock gardens, and bamboo.
Clean Surfaces - Surfaces should also convey balance; and should be soft, inviting, and gentle on the eye. The Zen office should have a clean appearance, free of unnecessary clutter, without feeling sterile.
Natural Lighting - Whenever possible, lighting should come from natural sources (think windows and skylights), or be softened by using lanterns, pendants, and paper lampshades.
Rustic Office Interiors
The rustic look is homey and inviting; fabulous for hospitality and service industries. Therapists, medical specialties, and counseling offices can all benefit from a classic, rustic charm. The rustic interior incorporates well-worn, natural pieces that look as if they can stand the test of time. Often
, the rustic style does not shy away from a bit of additional character:
Natural Colors - Colors should be varied, and everything should look as if it came directly from its natural source. Include woodland greens and browns, and creek bed grays.
Chunky Furniture - Do not be afraid to include imperfections and intricate designs in furniture presentation. Find furniture that looks handmade, and has its own unique character.
Aged Accessories - Accessories should look like they harken from an older era. Think of log cabins, stone fireplaces, and play off those mental images to help you bring in the rustic charm. Well-worn items and warm drapes, soft pillows, and even a comfortable blanket can add to the cozy ambiance.
Imperfect Surfaces - Unlike the minimal and modern looks, the rustic surface can be knotted, curvy, and unpolished.
Lighting - Rustic lighting should be intimate and soft, playing up the shadows and creating layered light patterns throughout the space. Use a variety of different light sources, including table lamps, candles, and chandeliers.
The Space Should Reflect the Work
Every office's unique atmosphere should instill the right mindset for the job in its inhabitants. In addition to the comfort of those who work within a space, your interior décor gives customers an essential first impression of your brand. Rustic charm will make customers and staff feel at home; Zen will calm the mind; a minimalistic environment drives focus, and a modern design inspires creativity.
An office environment should reflect the work completed within it, and support employees in doing that work. With the right furniture, lighting, colors, and accessories in play, every office can be uniquely designed to best support its occupants with an ideal atmosphere.
Related
Popular in the Community