The FashionTech fusion is exploding everywhere except, it seems, in Paris.
From Burberry's bold decision to sell to consumers direct from the runway to Kanye West beaming his Yeezy collection in theatres live around the world, designers are achieving direct contact en masse with consumers like never before.
Paris Fall 2016 shows served as a friendly reminder to the fashion sphere of the beauty of authenticity, physicality and why the world loves a catwalk. Here are the collections that stood out for next-level concepts and unmatched intricacy that must be beheld to be believed.
Anne-Sofie Madsen: Doctorate of Fashion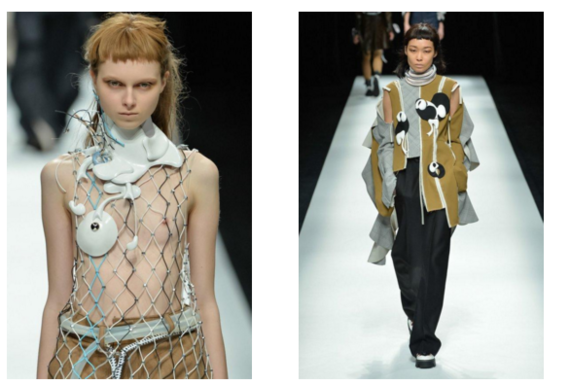 Fashion is fast becoming the mouthpiece of technological innovation that's getting ever physically closer to our beating hearts and Anne-Sofie Madsen has here made an excellent point. Can we derive from her owl prints a nod towards wisdom in all of this techno-hysteria?
Perhaps one might take stock of Madsen's skeletal or roped chokers and wonder if we're not just a little bit digitally hemmed-in. Or one might not. Either way, Anne-Sofie's attempt to "bring magic into reality" was achieved in her reconciliation of futurism, science and stitching, set within diminished reality. Read: Chokers and frills are still in.
The Neith Nyer girl, a lover of horror movies and alpaca wool coats, spends evenings in "fine lingerie and a fanzine inspired tee-shirt"- explained Francisco Terra, Creative Director. Based on the popular card game, Le loup-garou de Thiercelieux, Terra's "ferocious blending of street-wear and couture" and purposely skewed stitching captures the unease of the mythical and spiritual world.
For a series of white tights and buckled court-shoes to emerge onto this "village" scene, then, was simultaneously unexpected and made for haunting storytelling interwoven into cloth.
Talbot Runhof: Waltzing Fabrics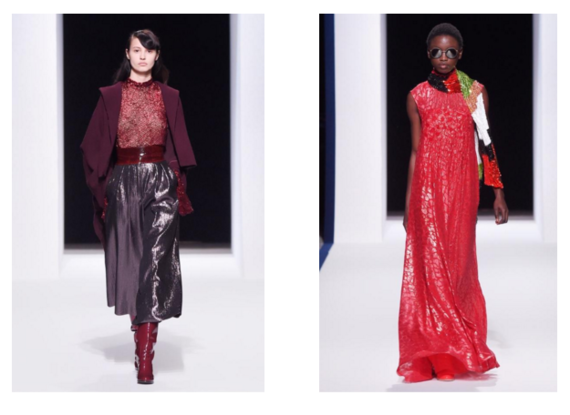 Inspired by The Blue Danube and pleasingly un-techy, the German duo's 20th Paris show was a gentle glance back to the past with a courteous amount of tail coats and tunics. Johann Strauss II's waltz flows through Talbot Runhof's garments, a river of liquid lurex gowns crowned with molten sequined scarfs washing over delicate necks.
Johnny Talbot and Adrian Runhof successfully resurrected the almost forgotten art of fil coupé: a small jacquard pattern on a light silk, in which the threads connecting each design are cut, creating a frayed look in cerise reds and extra-terrestrial purples.
Rahul Mishra: Designer Physics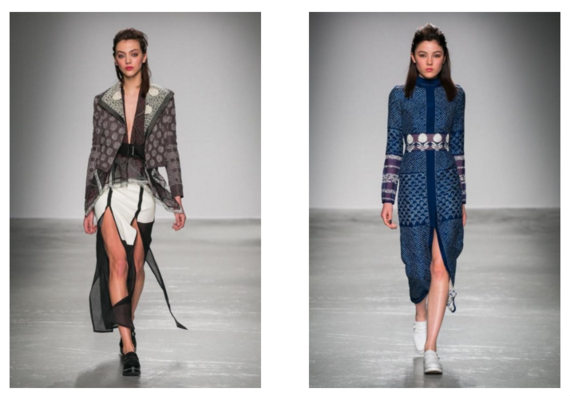 Hailing from Malhausi, a small Indian village, Rahul Mishra is first and foremost a physicist. This isn't empty fashion jargon. The designer's scientific education informs his knowledge of fabrics and a respect for the material clearly underpins all of his creations.
Mishra's intuitive sense of light and pattern ought to be celebrated. His latest collection is a plethora of sapphire-charged blues worthy of Indian royalty, and rich creamy whites that warm and nourish the skin they envelope. A golden glow runs through all fabrics be they purple or black. The signature brown bandhini silk and hand embroidery biker jacket pictured above is a perfect example.
Dorhout Mees: Instinctive Architecture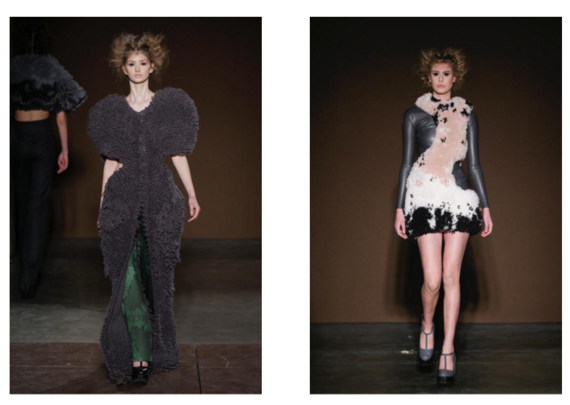 Esther Louise Dorhout Mees, the brains behind the stitches, rooted the collection in the animal kingdom driven by an intrigue in flocks of birds. Indeed, the blackened irises and heavily lashed under-eyes of the models rendered them stalk-like; graceful but with aggressive potential for Hitchcock behaviour.
Hand woven with six different yarns, the textiles fuse contrasting textures, and are then subjected to heat to render the prints almost 3D. Mees' work is oddly primal, with slits built in at the joints and printed hints at shed snakeskin. The collection's beauty is threatening, and carries the same uneasiness as Neith Nyer.
© All pictures courtesy of the respective brands.