This Mother's Day, online dating site PlentyOfFish polled over 1000 single mothers between the ages of 19-50 with children under 18 years old.
So let's look at the online dating behaviors of single moms and what their children think of their dates. If you think being a single mom reduces your chance of finding love online, this is a misconception among many others.
This survey revealed that 44% of women dating are line are single moms and their reasons for going online and what they're looking for may surprise you. With almost 28% of single moms admitting they've been dating online for over three years, this survey states that they might not be looking for a knight in white armor.
What's exciting for single moms, it is turns out they're finding love 10% faster than women without children at home and turns out that 43% of the survey respondents said they started dating online after hearing success stories. And Does this mean you should post photos of your children in your online dating profile? As an online dating expert and dating coach, I'm not a fan of having your children appear as your primary profile photo, but believe it's important to state within the text portion of your profile that you're proud of your children (and list their ages). It turns out that an overwhelming 76% of single moms do indeed mention their children and/or post photos of them in their profiles.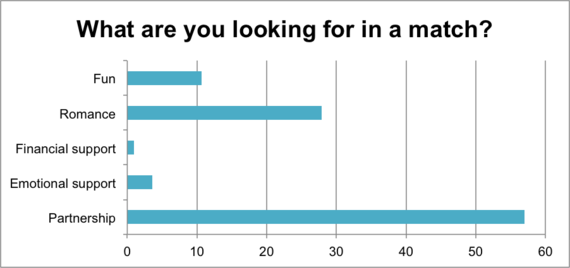 Like many online daters, single mothers are looking for partners they can relate to. Accordingly, they are 3.4 times more likely to date a single father than childless women are. In contrast, single moms are half as likely to date childless men as women with no children are.
But what do the kids have to say about their mom's dates?
According to POF, 63% of moms said they'd consider their child's disapproval of a potential partner as a major red flag or a deal-breaker.
Other key findings include:
53.99% said that online dating allowed them to get to know someone without sacrificing time with their kid(s).
54.98% said that with their busy schedule, there was no time to meet anyone anywhere else.
51.81% will introduce their date to their children once they are in a monogamous relationship.
1.2% are interested in meeting a clone of their ex, while 60.28% said they didn't have a type.
56.97% are dating online to find a partnership, as compared to less than 1% who are looking for financial support.
62.29% will go online whenever they can find a spare second, followed by weekday nights when their kids are asleep.
Happy Mothers Day to all the single moms. Wishing you much love and joy in cyberspace, or wherever you may roam.
Julie Spira is America's Top Online Dating Expert and Digital Matchmaker. She was an early adopter of the Internet and has been helping singles find love online for over 20 years. Julie and her team create Irresistible Profiles for singles on the dating scene. For more dating advice, sign up for the free Weekly Flirt and follow @JulieSpira on Twitter.