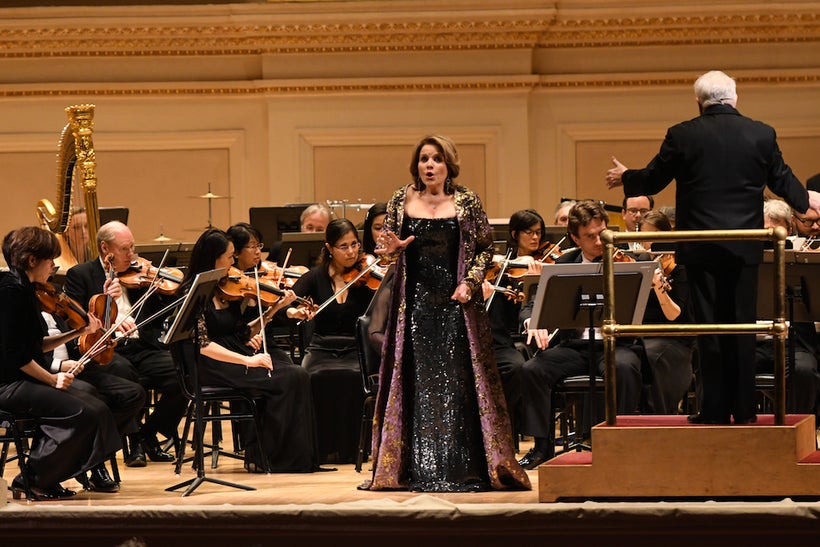 By Joshua Rosenblum, ZEALnyc Contributing Writer, February 27, 2017
Leonard Slatkin and the Orchestre National de Lyon brought a fascinating mix of the old, the new, and the rediscovered to Carnegie Hall on February 20th, all centered around Ravel. The concert's opening work, Antar, though credited to Ravel, is actually the great French composer's arrangement and orchestration of themes by Rimsky-Korsakov. Ravel created this score in 1910 as incidental music for a play by French-Lebanese writer Chekri Ganem, based on an ancient Romeo and Juliet-type tale from the Arab world. The ONL recently commissioned a new text to go with the music from Amin Maalouf, composer Kaija Saariaho's frequent librettist (including for her celebrated opera L'amour de loin). For this occasion, the audience heard Matthew Hurt and Sarah Vermande's English translation of Maalouf's original French text.
That's a complex lineage, but the result was a revelatory and surprisingly cohesive work for narrator and orchestra, a stunning Rimsky-Korsakov piece with occasional flashes of Ravel, who mostly seems to have orchestrated the music as he imagined the great Russian master himself would have. The narration was delivered by renowned baritone Thomas Hampson, who, as one might expect, has a grand and sonorous speaking voice but is also winningly personable and engaging. Often one felt that the music is too good to be relegated to underscoring, but fortunately there are substantial interludes of music only. Certain passages—like an out-of-time, ornamented clarinet solo, and a lilting theme in stately 6/8 time with two pick-up notes—clearly anticipate Rimsky's famous Scheherezade, and the piece generally features the same sort of sumptuous exoticism associated with that work, as well as some gorgeous melodies of its own. Occasionally the narrative's retrofitting shows a little; a description of a great battle is followed by music that is exciting and portentous but not particularly violent. Upon the hero's death, however–after the line "From the desert plains rose on that day a long roar of fury"—the orchestra blazes magnificently. This wonderful music needs to be played more widely—the interludes would make fantastic stand-alone concert pieces.
The second half opened with the U.S. premiere of Guillaume Connesson's Celephaïs, inspired by H. P. Lovecraft's fantasy story of the same name. Connesson, the orchestra's Associate Composer, depicts the mythological city in five swirling, contiguous movements that are a loving homage to his nation's musical past. Ravel is his most obvious influence, but there are also hat tips to Berlioz, Debussy, and the latter-day musical giant Henri Dutilleux, as well as the Golden Age of Hollywood. Connesson, who clearly knows how to entertain an audience, treats the orchestra as a giant playground, and sprinkles his tribute piece with enough twenty-first century musical language and orchestral technique that it has a sheen of originality. Slatkin and the orchestra performed it like a repertory item, with glittering dynamism and complete ownership.
Next, soprano Renée Fleming came out to sing some actual Ravel, his popular song cycle Shéhérezade, which uses as a text three poems by Tristan Klingsor, who in turn was inspired by Rimsky-Korsakov's own similarly-named masterpiece. Fleming, looking as glamorous as ever, brought her amazing control and characteristic gleaming tone to these masterfully evocative vocal tone poems. It was not always easy to discern the consonants that framed Fleming's opulent vowels, but she succeeded in vividly conjuring the succession of exotic locales described in the opening "Asie," with the help of the commensurately shimmering orchestra. In the third song, "L'Indifférent," she seemed truly awestruck by both the song's alluring young stranger and her own smittenness.
The program closed with Ravel's Daphnis et Chloé Suite No. 2, a spectacular orchestral showpiece in a seemingly definitive performance. The opening instrumental texture was sublime and frictionless, brimming with impressionistic authenticity. Every player seemed to have a commitment to this gorgeous emblem of France's proud musical heritage. Principal flutist Jocelyn Aubrun gave a rapturous account of the famous extended solo, which is followed by one of the most exciting orchestral builds in the repertoire. In this performance, one could almost see the waves of iridescence spilling off the stage. The final shattering drive to the finish left the audience with no doubt they had just heard one of the world's great orchestras playing their hearts out in repertoire that courses through their veins. Slatkin and the orchestra offered two encores: the "Barcarolle" from Tales of Hoffman, and Carmen's Hoedown by Felix Slatkin, the conductor's late father—a rip-roaring set of decidedly American variations on the opera's famous themes, complete with convincing "Yee-hah"s from the very French ranks of the ONL.
Orchestre National de Lyon in concert at Carnegie Hall, February 20, 2017. Leonard Slatkin, Music Director and Conductor. Renée Fleming, soprano; Thomas Hampson, narrator.
RIMSKY-KORSAKOV Antar (arr. Ravel, US Premiere of arrangement)
GUILLAUME CONNESSON Celephaïs (US Premiere)
RAVEL Daphnis et Chloé Suite No. 2
Joshua Rosenblum, a Contributing Writer for ZEALnyc, writes on classical music performance, theater, and related topics.
For more ZEALnyc features, read:
REAL LIFE. REAL NEWS. REAL VOICES.
Help us tell more of the stories that matter from voices that too often remain unheard.
This post was published on the now-closed HuffPost Contributor platform. Contributors control their own work and posted freely to our site. If you need to flag this entry as abusive,
send us an email
.