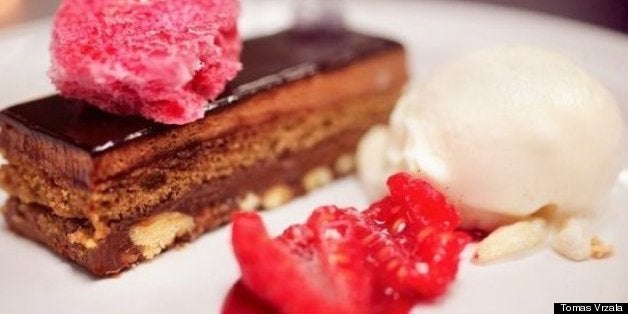 Who are the best pastry chefs in America today? According to Dessert Professional, the recognized authority on the U.S. dessert industry and go-to magazine for pastry pros and enthusiasts, the list is as follows...
Roy Shvartzapel, Common Bond, Houston, TX
Malcolm Livingston II, wd~50, NYC
Clarisa Martino, Mesa Grill, NYC, Las Vegas, Nassau
Laurie Jon Moran, Le Bernardin, NYC
Andy Chlebana, Joliet Junior College, Joliet, IL
Bill Corbett, Absinthe, San Francisco, CA
Christophe Feyt, Mandalay Bay, Las Vegas, NV
Brooks Headley, Del Posto, NYC
Jimmy MacMillan, JMPurePastry, Chicago, IL
Nancy Olson, Gramercy Tavern, NYC
Florian Bellanger, MadMac, Hall of Fame Honoree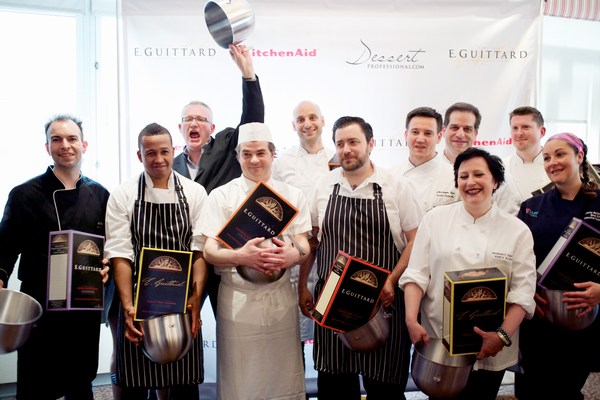 Left to Right: Jimmy MacMillan, Malcolm Livingston II, Florian Bellanger, Brooks Headley, Roy Shvartzapel, Bill Corbett, Christophe Feyt, Andy Chlebana, Nancy Olson, Laurie Jon Moran, and Clarisa Martino (Photo by Tomas Vrzala)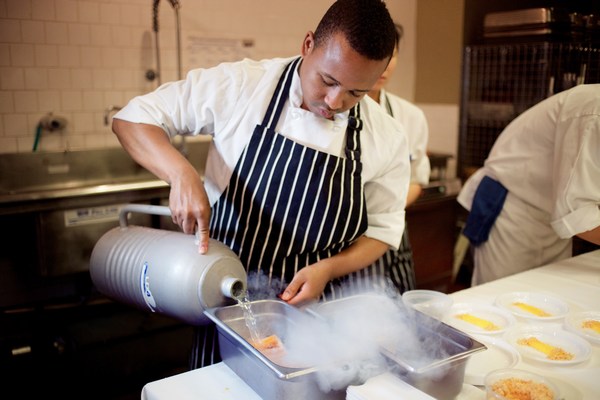 wd~50's Malcolm Livingston II pours liquid nitrogen to freeze his mango cylinders (Photo by Tomas Vrzala)
Every year Dessert Professional celebrates the Top Ten Pastry Chefs in America with an awards ceremony at the Institute for Culinary Education in New York City. But while the chefs themselves get the honor, attendees -- mostly industry professionals and media -- get to sample desserts from all 10 pastry chefs. While it's relatively easy and convenient for the NYC pastry chefs to create desserts for the 300+ guests, there's always chefs who travel to NYC and have to sort out a kitchen in which to make their desserts. Sometimes this proves a challenge.
One of this year's Top Ten is Roy Shvartzapel, from Houston, Texas. Currently working on the opening of Common Bond, his new bakery in Houston, Shvartzapel connected himself to a commercial kitchen in Queens, NY, where he spent a week creating an array of pastries for the crowd, and a few cakes that were "just to be displayed." Then tragedy hit the morning of the Awards, an assistant at the kitchen where Shvartzapel was working managed to spill the entire speed-rack full of 20 trays of pastries, sending 500 individual petits gâteaux tumbling to the ground.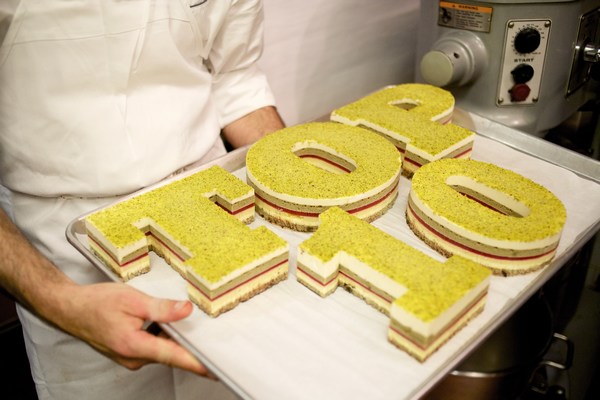 Roy Shvartzapel cautiously cradles his "Top Ten" cake: Pistachio genoa sponge, lemon cream, lemon ricotta sponge, strawberry gelée, lemon cream mousse (Photo by Tomas Vrzala)
"I heard a crashing noise come from the other room and I thought, That can't be my stuff," Shvartzapel recounted. "So I went into the other room and saw all of my pastries in a mess on the floor. I was in shock." Shvartzapel stepped outside to take some deep breaths and regroup. "There was nothing I could do, I just had to pull myself together and stay calm. I knew I had the display cakes, which were the same flavors as the individual desserts, so decided I was just going to serve those."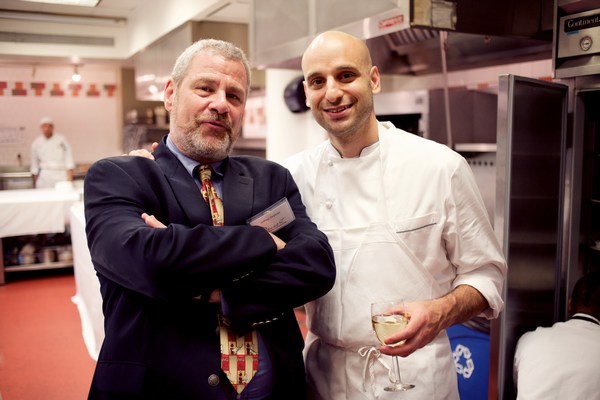 Dessert Professional Publisher Jeffrey Dryfoos (left) with Chef Roy Shvartzapel (Photo by Tomas Vrzala)
At the 20th Annual event, Dessert Professional honored Cupcake Wars judge and legendary pastry chef Florian Bellanger with an induction into their Pastry Hall of Fame. When host pastry chef Zac Young of David Burke Kitchen and Top Chef Just Desserts, introduced Chef Bellanger, Florian said, "I'm not sure I deserve this honor, but I'll take it!" In truth, the man does deserve the honor, very much so.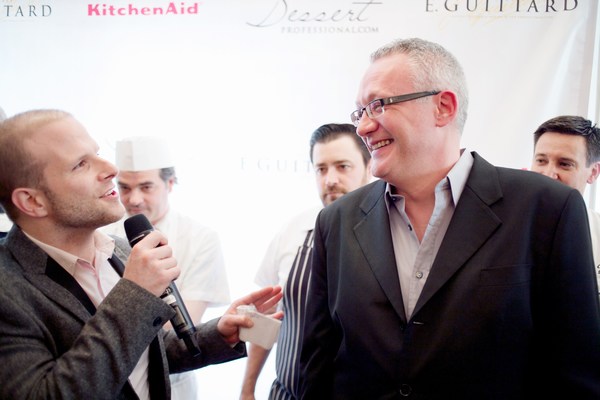 Zac Young (right) and Florian Bellanger (Photo by Tomas Vrzala)
Matthew Stevens, editor of Dessert Professional magazine, who along with co-editor Tish Boyle has the arduous task of tasting his way around the U.S. to choose the honorees, said, "Over the past 20 years pastry chefs in America have taken desserts to new heights and to a position of international respect. Our 2013 Top Ten Pastry Chefs exemplify the talent and dedication that will continue to strengthen our industry." Stevens should know, he's been involved in the Top Ten Pastry Chefs since its birth 20 years ago.
Having impressed both editors and made the grade, each pastry chef put their best to the test of the tasting crowd. Though a picture doesn't replace a mouthful of Top Ten Pastry, it does replace 1,000 words. So sit back and enjoy this slideshow of each chef's creation.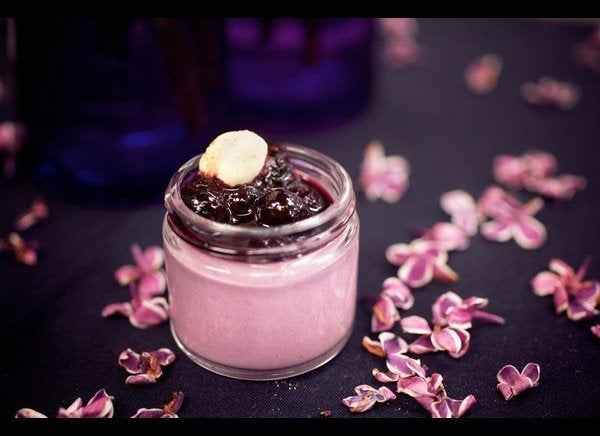 America's Top 10 Pastry Chef's
Support HuffPost
A No-B.S. Guide To Life
Related
Popular in the Community