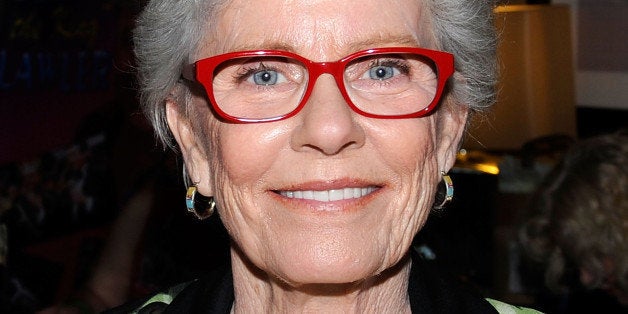 Anna Pearce (aka Patty Duke) was a warrior and a champion for the fight against mental illness. To know that Anna is no longer on this planet is horrifying on so many levels, but it is the reality that we were all forced to sadly accept yesterday when at 69, she passed away due to sepsis from a ruptured intestine.
For the majority of her life, Anna dedicated the core of her being to combating mental illness. An illness so destructive that it will devastate and destroy anyone and anything in it's path... especially the person who is afflicted by it.
Not like other disabilities, mental illness doesn't have a face. It hides behind what is visually perceived as "normal." Yet the wreckage that it perpetuates is often more destructive and more painful than the worst of any physical disability that can be endured. I'm sure this is true, because in the wake of its furor, I have cried a million tears saying goodbye to friends who could no longer bear the pain that ripped from them, their dignity and (more importantly) their will to live. I have never cried because I have Muscular Dystrophy.
Since losing my best friend to suicide ten years ago this coming June, I have found myself becoming more and more of an advocate for the fight against mental illness, more-so than any other condition at least, including my own. In fact, I actually feel blessed that I was handed the riper bowl of lemons.
I also feel blessed that Anna passed through my life, falling in love with her spirit the moment I met her. We were at a memorial service celebrating the extraordinary life of actor David Rappaport. Rappaport had struggled with depression for years, ultimately ending his battle atop the hills of a Los Angeles park in the Spring of 1990. That single bullet silenced an agony so profoundly intense that only those who suffer from it can truly understand it. Anna understood it. She understood it because she had been there herself.
When you lose a loved one to suicide, the grieving process is unlike any other. There are so many questions that will never have answers and they plague your psyche relentlessly. Giant waves of sadness turn almost instantly to intemperate anger. Those emotions ultimately subside but more often than not there is an overwhelming sense of guilt that pulls you into the scenario like the surprise of an undertow. "If I had only called more often" or "I should have recognized the cry for help," are just a couple of the tormenting questions that can linger for weeks, months...even years. And it's also interesting to note that when death occurs as the result of any number of diseases (cancer, heart attack, etc.), you'll never hear the words "selfish," "irresponsible," or "cowardice." Those words are reserved for people who commit suicide. Rarely will you see a funeral where heads are held high celebrating a suicide victim. Yet Anna had a voice that could attempt to speak for those souls who no longer could. By virtue of her own experience, she could explain the seemingly unexplainable, which (of course) is why Anna was always there to lend support to the friends and to the family of those who fought the valiant battle but ultimately lost, like David Rappaport.
Changing the conversation about suicide and bringing national attention to mental illness as well as restoring the honor and the dignity of those who suffer from it were paramount issues to Anna "Patty Duke" Pearce. But equally as important to her were her loving and gifted children, whom she adored. I know this because she wrote to me about them.
One of those children, the gifted actor Sean Astin, is honoring the woman he got to call "mom," by taking the reigns from Anna with his attempt to establish the Patty Duke Mental Health Initiative.
Please take a minute to read his heartfelt and poignant words here.
In many ways Anna has become the 'miracle worker.' Not unlike Anne Sullivan did with Helen Keller in the movie, Anna Pearce (aka "Patty Duke) has broken down some of the walls of silence by shedding light on darkness few can understand... through her persistence, her love, and her sheer stubbornness.
Calling all HuffPost superfans!
Sign up for membership to become a founding member and help shape HuffPost's next chapter