With the first day of school comes a lot of stress and emotion. Of course there is the joy or the tears (or perhaps a little of both) involved in dropping a child off for the first day. It is important to document the new classroom but the first day involves so much more than the simple drop-off. The process begins with shopping for school supplies weeks in advance, getting ready that first morning, and all of the excitement leading up to walking through the schoolhouse door from packing a favorite lunch to seeing friends for the first time since school ended last year. The first day of school is also a milestone and a great opportunity to document your child's personality he prepares to start a new grade and track changes in personality as well as growth from year to year.
I turned to some of the top photographers in the country for advice, all of whom teach moms how to document their children's lives through photographs for tips and advice.
Homeschooling families should not forget to document the start of the new school year routine as well, as Ginger Unzueta, a homeschooling mom herself describes. And, if you are a mom with a iPhone all of these tips can be used by you as well and be sure to take a close look at Davina Fear's images below all taken with an iPhone. No fancy equipment is needed to get great photos of your child's special day.
Mom*Tog Drew Bittel runs the blog Mom*Tog which is chock full of tips on getting good photos of your kids. For getting great photos of your kids she recommends giving the kids something to do.
Don't wait until the morning of the first day of school to take your child's back to school portraits. There may be a lot of nerves on both yours and your child's part and the first day of school can be so hectic. Get the pictures out of the way the weekend before. That way you can really get creative with your pictures and have a lot of fun! Ask your child to write down what they want to be when they grow up. It's a fun way to see how your child's answer changes over the years.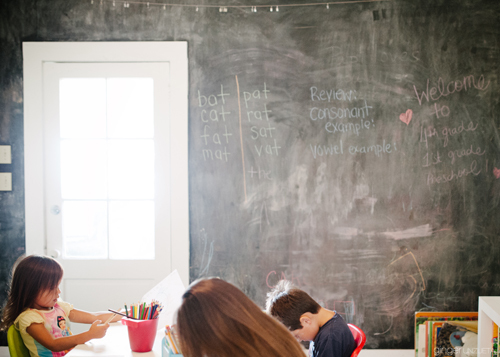 Ginger Unzueta teaches a highly-regarded workshop, Everyday Beauty, which helps everyone with a camera see the beauty in everyday life. She practices what she preaches by fastidiously documenting her own family life, from the joys of raising her three children in The Joy Project to capturing her father-in-law's decent into Alzheimer's surrounded and supported by those he loves.
The first day of school is a special milestone for children of all ages. I love to use my camera to document this day. We are a homeschooling family, so our first day routine is a bit different than families with children going to school outside of the home.

Often parents capture their child in a special outfit and new backpack before they leave for school. I've seen some really cute signs where parents write the age and a fun fact about their child. This is a fun way to track change from the first to last day of school, but don't stop there.

What makes this day special? No doubt, you child has so many feelings of anticipation about the new school year. Document the details of this day. Do you make a special breakfast? Talk to your child during the hour before school. Are they nervous or excited? Capture these feelings and emotions. Include pictures of the details of their outfit. Did they pick out new shoes or do they have a uniform? Does it show off their personality at this time in their life? Take your camera with you to school, if possible, and document the journey into their classroom. Some children may be too nervous and need your full attention during this time. Only you know your child best. If you can't take pictures of your child at school, continue to document the day when school is finished. Do you do anything as a family to celebrate the first day? Perhaps, you have a fun lunch date or visit to the park? Does your child have homework to complete? These are all memories that you can capture to tell the story of this milestone in your child's life.

As I mentioned earlier, we are a homeschooling family. We have a special breakfast before we get started to celebrate our first day back to work. We have also made it a family tradition to tie dye t-shirts as part of our first day activities. I love to document the uniqueness to our schooling. This doesn't include the new outfit or backpack, but school days in pajamas. If you also homeschool you can document what makes this day special for your family.

No matter what your first day of school looks like, you know that this time with your child is fleeting. The memories you capture today will tell stories for years to come.
Davina Fear is a master at helping Moms capture each family's unique "Famliyness" through her Familyness Photo Workshop and completely free The Art of Familyness Photo ebook, both of which encourage moms to capture the ordinary moments of family life in a unique and memorable way.
Tip # 1: Remember that the story starts before the first day of school. There's a lot that goes into getting ready to get back into the swing of school: purchasing school supplies, picking out the perfect outfit the night before, and breakfast in the morning before heading out the door. Your story is bigger than the smiling picture on the front door step.

Tip # 2: Photograph your kids going into their classroom for as long as you can. I think this is my last year of being able to go in the classroom. I haven't been able to go into the school with my older three for a couple of years now. But my youngest still lets me walk with her to her class.

Tip # 3: Hire a professional photographer for milestone days. I say this because YOU are part of the story. YOU are the one getting everyone everywhere they need to be. On other days you can set up a tripod and a timer. On other days you work with getting just the right shot. On milestone days (like the first day of kindergarten) you are so much apart of the story and typically the time is crazy! It goes by so fast you completely forget to even get OUT your camera until you're about to get in the car. Those milestone days are your story, too. You feel something pretty profound (whatever it is) on days like that. Don't forget that these aren't just your kids' stories, they are your stories.
Happy First Day of School to you!
Beryl Ayn Young teaches everything from Momtography basics to editing classes to help ensure that Moms get the photos of their kids they always wanted. But, she also knows how important it is for moms to get in front of the camera too.
I decided last year to have my daughter stand in the same location and wear the same outfit on both the first and last days of school. Dresses work perfectly for this with girls, but for a boy you could have him wear a shirt that's just a tad big on the first day. By doing this we were able to see just how much our daughter grew during this school year, both in her demeanor and physical growth. The dress from the first day made a really stylish top by the last!