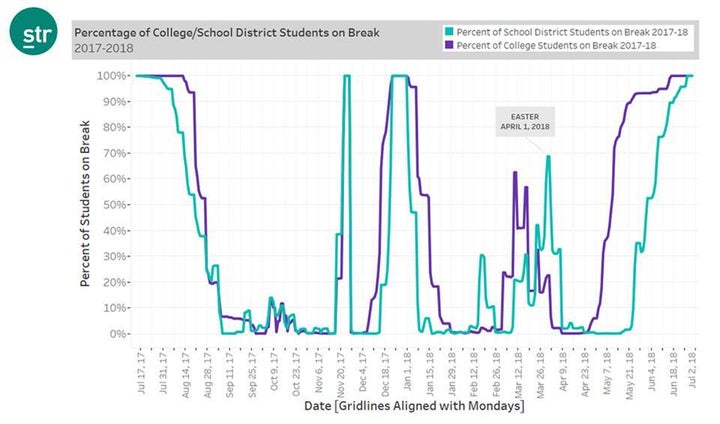 This boring graph is the key to how family travel works. Understanding it will save you a ton of time, aggravation and money.
Truly great family vacations need a bit more time and planning than most people realize. As this graph illustrates, family travel planning is completely different from other types of travel.
For this reason, my mantra is..."Planning a vacation is just like planning a family - you need to get started at least 9 months in advance"
This graph comes from the 2017/2018 School Break Report from STR Research. It's a quick visual of when 60 million students in the US will be out of school and taking family vacations. Yes, college breaks are a little different than public school kids, but not by much.
Let that number sink in for a moment -
60 million families with kids....all traveling the exact same weeks of the year.
The peaks on the graph show the most expensive times of the year to take a family vacation. Thanksgiving, December holiday weeks, spring break and mid summer you can expect to pay 50-70% more for the same vacation compared baseline weeks in September or May.
Why is it so much more expensive to travel at these peak travel times?...it's all about supply and demand.
With 60 million families competing for the same flights, accommodations and attractions prices goes up. It's simple economics 101. This is why you'll have much better meeting the real Santa Claus in your back yard than trying to find a cheap, last minute deal over Christmas.
By contrast, travel dates at the bottom base line of the chart are when parents can score the best values and deals on family vacation. Of course, there is a HUGE debate between parents and educators alike about the values and negative impact caused by taking kids out of school to travel. This is a personal decision to be left to individual family discussions across the dinner table. For many families, an affordable vacation only happens with truancy. If your school system understands the benefits of travel for kids and will work with you on assignments then by all means that will help your family save significant travel costs. Parents with young children and Home School families do have the flexibility to travel during these weeks of the year and can certainly take advantage of travel discounts.
Even if budget isn't a concern for your family, your vacation plans are still affected by availability. When you consider about 2 million people fly through U.S. airports on any given day and 60 million kids are out of school the same weeks of the year; supply simply cannot meet demand.
It's not just about flights, preferred accommodations are always the first to sell out - preferred locations like ocean view rooms, connecting rooms, multi-bed sleeping arrangements for larger families. Even if price is not an issue, families traveling during peak travel times need to plan early to avoid disappointments.
Cruise ships, resorts and hotels will allow you to make reservations 18 months to a year in advance. For families on a budget, this allows more time for vacation layaway payments. Airfare prices and schedules are usually posted about 9 months in advance and can then be added to any existing reservation.
Some of you might be thinking "more is better"... I'll plan a big vacation 3 years from now. Sorry...no can do. Nobody has a crystal ball to know pricing that far in advance and reservations systems aren't equipped to take your deposits for travel that far into the future.
There is another important key pricing factor tied to availability....pricing increases the closer you get to departure. As less and less seats become available on a particular flight and as rooms begin to sell out at a certain hotel, prices go up on any remaining inventory because that space now is in higher demand. It's called yield management. This explains why the flights you searched online three weeks ago now costs significantly more money. Computer software is programmed to price flights and accommodations to create the most profits for the airlines and hotels.
Once again, planning your family vacation far in advance gives the best options and prices.
If Mom & Dad have careers only allow for last minute travel planning, flexibility is key to affordability. You can sometimes score a deal working against seasonality. For example hiking and mountain biking at a ski resort in July. Visit Europe during Spring break instead of during the peak summer season. Instead of taking your entire family of five on a vacation, consider spending individual time with one child at a time. In most cases, it's often far cheaper to book a trip in advance and insure it with cancel for any reason insurance than it is to take the "let's wait and see approach".
Not understanding these core business principles can needlessly frustrate inexperienced travelers. They are convinced that if they search a million different websites they will eventually stumble upon the travel deal of the century. It's just not how the business of travel works my friends. If you do find a deal that costs significantly less, please beware of potential problems. It could end up costing you more in the long run. Experienced family travel agents not only understand how the travel industry works but will be able to guide you through the many decisions necessary to create a fun memorable vacation for the entire family.
If I had great Photoshop skills I would have turned this chart into a flashing neon sign with the catch line "Book Early!!!" Now that you at least have that visual in your mind, please remember it my friends!!!
Related
Popular in the Community