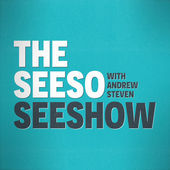 Sometimes that podcast you're looking to listen to doesn't need to be some interview marathon or long rambling discourse about how the writers of a particular TV show got it all wrong. Maybe you're just in the mood for a relatively short and savory snack of a podcast, the kind of thing that runs just long enough to get from point A to Point B.
Connected to the new streaming comedy channel in ways I'm still trying to figure out, and hosted by Andrew Steven, episodes have yet to run over a half hour and most are between 10 and 20 minutes. Some even shorter than that.
Most recently, Steven featured Mike Bonifer, whom he discovered through the Storyworthy podcast, and he wanted to have Mike share his interesting quest: To track down comedian/actor/bon vivant Bill Murray with the hopes of getting him to star in a movie he's written about his father, aka "Cowboy Bob".
In his search, he crisscrossed the country with a video camera, asking people if they had recently seen Bill Murray. He even became friends and writing partners with Bill's younger brother, Joel, during the hunt.
The story is funny and touching, by turns, and how it ends up... Well, that'd be what we like to call a "spoiler" in the movie business so you're just going to have to listen to the short but satisfying tale yourself.
Marc Hershon is the host and executive producer of Succotash, The Comedy Podcast Podcast, featuring clips from comedy podcasts from across the Internet as well as interviews with podcasters, comedians, and assorted show biz folk.