The cross is down, but the issue won't die.
Last spring, the Supreme Court decided (5-4) that an 8-foot cross could remain in the Mojave Desert as a memorial to fallen soldiers of World War I. It returned the case to a lower court and soon after, according to authorities, the steel cross went missing at the hands of a vandal.
Advocates of the cross have petitioned President Obama to resurrect the monument put in place by World War I vets in 1934. I, too, want to honor sacrifices made by our forebears. I like a bold statement in the landscape but find the symbol exclusive and exclusionary.
Good questions. Plus, the obvious one: If a cross disappears from the desert, does it have a right to be resurrected?
A memorial may etch a notch in our collective conscious, but it cannot convey the details of veterans' lives. The Mojave Desert Cross (it should rest in peace) honors service members of the United State's majority religion while eclipsing the experiences of soldiers of non-Christian faiths. Those who pray to the cross may not understand how it can alienate adherents of other religions. Perhaps people of non-dominant faith groups have the (forgive me) cross to bear.
In that spirit, I offer a Jewish perspective that spans the New York metropolitan area.
My great uncle and aunt died in a 1955 Coney Island tenement fire and were laid to rest in a military cemetery in Farmingdale, New York, each beneath a Star of David. (The Hebrew, Magen David, translates as 'shield of David.') Benjamin and Esther Mittleman led non-observant lives, but were interred as descendants of Israel, surrounded by people of the cross, beneath near-identical tombstones.
The difference marked me, and set me in search of other markers to the Jewish war dead.
Jews are not as active in the U.S. armed forces as they once were, but members of the tribe -- 10,000 or so -- still serve as enlisted men, volunteers, officers and chaplains. U.S. Navy Admiral, retired, Howard Robinson, the director of JWB Jewish Chaplains Council, estimated that Jews make up approximately three-quarters of one percent of soldiers in the American military today.
At the southern end of Central Park, next to the majestic elms of Literary Walk, I discovered a freestanding rock with a flat, plaque-covered face. It bore the Knights of Pythias name and insignia above names of World War I casualties, among them: a Schwartz, a Dickstein and a Katz. Representatives from the Knights of Pythias secular fraternity were not able to offer insight into the disproportionate number of Jewish names on the plague. Jewish veterans groups in New York City were also stumped, but Snyder explained that the rock-plaque had never been an authorized monument. "No one actually took credit for it," he said. Still, one thing was clear: no crosses here. No Jewish stars either.

Brooklyn
Zion Park War Memorial in Brownsville, Brooklyn, was erected 85 years ago when the neighborhood was largely Jewish. The triangular park that houses the memorial is now home to bus stops, benches and some semi-effective trash receptacles.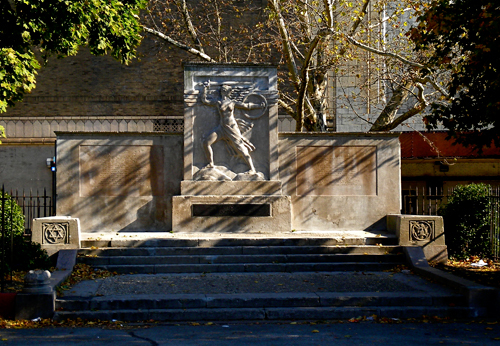 The monument sported -- and still does -- a Star of David on the left pedestal and eagle on the right one. It features names of 89 dead, inscribed on two slabs. Between them: a bas-relief of a winged female warrior brandishing a sword and a non-denominational shield. She is perched above a dedication plaque installed in 1925 by the Citizens' Memorial Committee and the Soldiers' and Sailors' Memorial Committees of the American Legion and Veterans of Foreign Wars. The inscription echoed sentiments of Liberty Institute:

COMMEMORATE THOSE WHO, AT THE CALL OF THEIR COUNTRY, LEFT ALL THAT WAS DEAR
ENDURED HARDSHIP, FACED DANGER AND FINALLY PASSED OUT OF SIGHT

OF MEN BY THE PATH OF DUTY AND SACRIFICE, GIVING OF

THEIR LIVES THAT OTHERS MAY LIVE IN FREEDOM
THOSE WHO COME AFTER SEE TO IT THAT THEIR NAMES BE NOT FORGOTTEN.
Amen. And proof that one religious symbol does not fit all veterans.
Calling all HuffPost superfans!
Sign up for membership to become a founding member and help shape HuffPost's next chapter