Not only has Anne Steele played legendary venues like Joe's Pub in New York City and taken the stage with legends like Cyndi Lauper and Sandra Bernhard, she never forgets where she comes from; a place of true pride. She has channeled her purest form of pride into her new track "Love Can Take Us there" which is the official Provincetown Carnival Anthem for 2016! Anne sat down to chat with us about what it's like co-parenting in a definitely uncertain world, the thoughts behind "Love Can Take Us There" how it feels to share "the mixtape of her life" with everyone.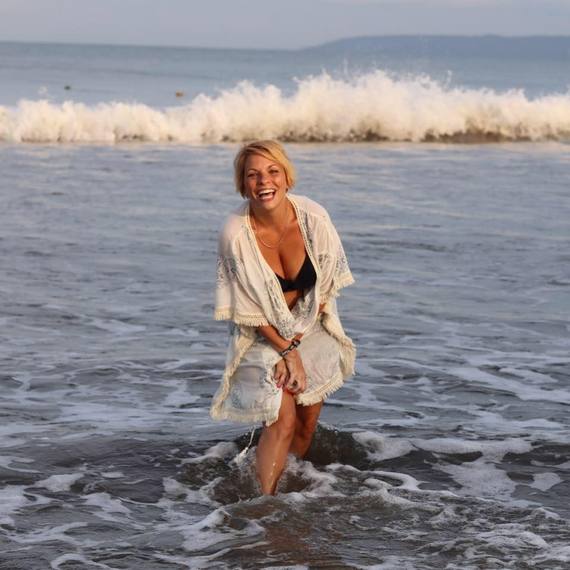 You had some big news recently; your song with your co-writers Shane Stevens and Stephony Smith, "Love Can Take Us There" is the official 2016 Provincetown Carnival Anthem! How does it feel to be representing one of the biggest events for the LGBT community in the heart of P-Town!?
I am thrilled beyond words to be representing such an incredible week in Ptown. Last year I was lucky enough to open for Sandra Bernhard during Carnival week and I thought that was the greatest thing ever! Now to have our song chosen as the FIRST EVER anthem for Carnival feels like a dream come true. I believe in this song and its message and I hope people will connect to it the way we all imagined they would. Its about focusing on the love and not all the sadness. Remembering the people we have lost, yet continuing to celebrate our community and to dance it out on the floor like we always have. All of the net proceeds of the single will be donated to the One Orlando Fund to help the victims and their families recover from the terrible tragedy that happened at Pulse nightclub.
This track is a true labor of love. Tell me about what inspired you to get involved in this amazing way. And we are getting dance remixes of "Love Can Take Us There" correct? (fingers crossed)
I am a singer/songwriter and the way I always respond is with music. I knew that I needed to release my feelings in a song, but that I also needed to raise money for the people that were affected by the Pulse Nightclub shooting. We quickly gathered together in Nashville and we wrote and recorded the song in one day. We knew we had a short timeline to get this out because unfortunately, memories are short. People forget and move on to the next tragedy in the world we live in. Sadly, things happen every week that are tragic and scary and distracting. I didn't want people to forget about all those kids that we lost in Orlando, and all the ones who were injured, but survived and are struggling to live day by day. We cannot forget the families of the people that were lost either. How do they move on and how do any of the people get through the day after what they have been through? They need our help.
As far as a remix, DJ Paul Goodyear is working on the official remix as we speak!! I should have it by next week to play for the first time at Ptown Carnival 2016!!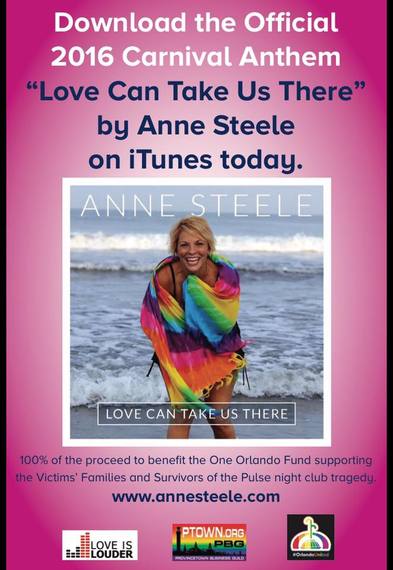 The climate is so incredibly dark at times for the LGBT community; co-parenting children of various ages must be a challenge in trying to explain things like homophobia, and attacks on the LGBT community. What do you find is the best way to have conversations about these topics as a family?
We are honest with them about the current climate we live in and the history that came before us. We continue to be hopeful with them and encourage them to be people that will change the world. They only know having gay parents, so to them, its no big deal. They are very accepted in their schools and are confident kids. We are very proud of them and their strength. We teach them to use their voices to help their peers understand and be more accepting of all people, not just gay people. We have very open conversations with them about every topic and they always know they can come to use with any issue and we will advise and support them.
Speaking of the community, tell me about the #LoveIsLouder movement!
My good friend Courtney Knowles started this movement with actress Brittany Snow as a part of the Jed Foundation. The Jed Foundation was started by a couple who lost their son to suicide so they started a foundation to support college kids that are bullied or overwhelmed by by their circumstances and need support. The #LoveIsLouder movement came out of that as a response to bullying initially. It has transformed into a movement about so much more. If you turn up the volume on LOVE then you can drown out all the noise like hate, homophobia, racism, sexism, fear, and anything else that would bring you down. i love this movement and I feel like it fits so well with my message so I am proud to partner with them.
You are hitting the road this year for "The Mixtape of My Life" which I was lucky to see in Rehoboth Beach at the Blue Moon. For those that haven't gotten to see it, how would you describe it?
"The Mixtape of My Life" is exactly what it sounds like. What did you do in the 80's when you REALLY liked someone? You made them a mixtape. So that is what this show is. It is stories from my life growing up in small town Indiana in the 80's and all of the songs and stories of my life during that time. Everyone can connect in their own way. That is my hope, that people will hear my stories, but when they hear the songs, they remember where they were and what they felt when those songs played. Its like a little 80's time machine and we all go back and experience the big hair and big dreams together.

You are also working on your next EP. What can you tell me about that?
I have been lucky enough to connect with some incredibly successful songwriters in Nashville and I am currently co-writing my new EP with four different writers. I can't tell you how excited I am about the new music we are creating and the direction we are heading. I am so proud of my growth because i am working with such incredibly talented people. Shane Stevens and Stephony Smith are extremely gifted writers and incredibly successful. I am also writing with this badass writer named James Farrell and he and I totally vibe on a whole other level. Its all just super exciting and I hope people stay tuned for what comes next.

Your career has had you headlining at so many amazing spots like Joe's Pub, City Winery, and The Beacon Theater. What is it like playing at such legendary spots?
I am always so grateful to be able to be booked at such incredible venues. Joe's Pub has truly become my New York City home, but this year I am opening up to new venues like City Winery and of course I was lucky enough to play the Beacon Theater at the Cyndi Lauper Home For The Holidays concert last December. That was one of the greatest moments of my entire career. Not only did I get to play my original song "Without You Tonight" to a sold out crowd of 2,900 people, but I also got to take the stage with Cyndi and Boy George and sing "Girls Just Wanna Have Fun'!! That was everything! Remember, I grew up in the 80's and these people were my idols. To be on stage with them as a peer.....well, you can only imagine how it felt for me. I was humbled and grateful and proud all in the same moment. Life just gets better and I am always present and aware of the perfect moments as they present themselves. I never take a second for granted.
With everything that has gone on with our community this year, what responsibility do you think entertainers have to their community?
I think it is important to be out and proud. I am on OUT artist and I always will be. I think that young people need role models to look up to and to know that even if it is hard right now, that is does get better. It actually gets GREAT! I am proud to be an OUT woman, and to be married to the love of my life....Kelli Carpenter. YES, a woman!! I think if you have a platform you should use it to effect change. I do that by living my life as a proud lesbian, a wife, a mother, a singer, a songwriter, a friend, a daughter, a sister and a citizen of this world that cares about what happens to our community and our country. I am so proud to say that #ImWithHer and I post and share everything I believe we all need to support and stand behind our next President Hillary Clinton!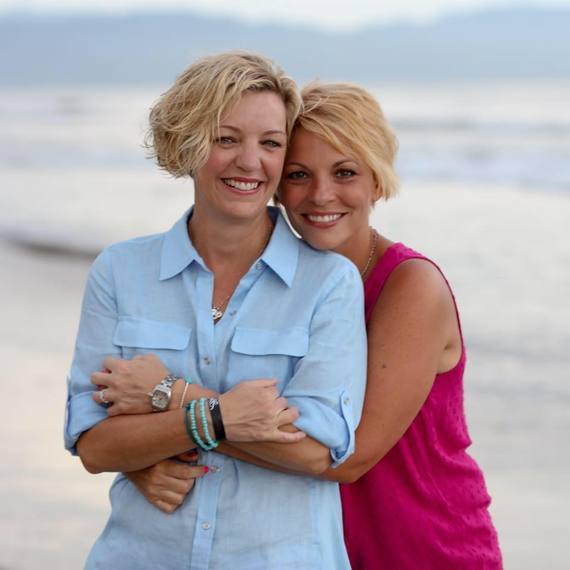 What does "Pride" mean to you?
Pride means remembering everyone that came before us and fought struggles that we will never know. It means standing with your wife, hand in hand, anywhere you want to and knowing that its ok. it means teaching your children that we are all equal, no matter who we love. it means reaching down to the kids that will come after us and showing them that they can be whatever they are because of so many people that fought the good fight and died for it; so that they can live a free and happy life. It also means that we have a long way to go. the fight isn't over. There will aways be something to fight for, and we as a community can never settle for the norm. We will always have to strive for more.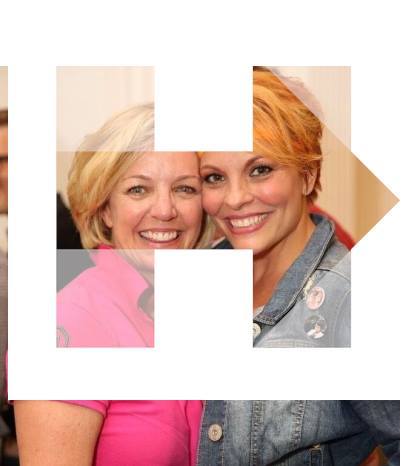 Buy #LoveCanTakeUsThere here;
https://itunes.apple.com/us/album/love-can-take-us-there-single/id1135493408
Check out the #LoveIsLouder project here;
http://www.loveislouder.com/
Anne can be found on her website at:www.annesteele.com or on Twitter @theannesteele
(Photo 1 courtesy of Christopher Boudewyns)
Popular in the Community