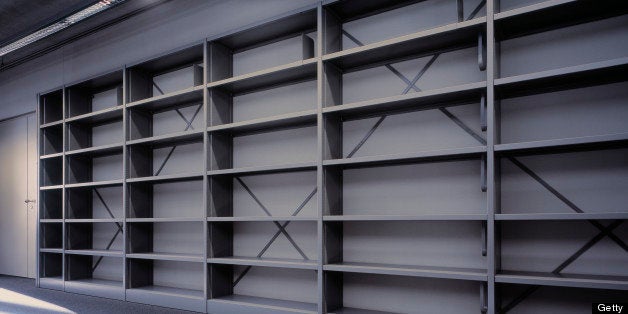 Later this year an all-digital library will open in Bexar County, Texas. It will have 100 e-readers available for lending and an e-book collection of over 10,000 titles. Staff will also teach basic computer skills. This library (dubbed BiblioTech, in a play on biblioteca, the Spanish for library) is intended to be the prototype for a county-wide system of all-digital branches.
It's a well-intentioned effort to provide library services to over a million people who live outside San Antonion city limits, and thus can't use the city's public library system. The digital focus is also intended to save space: e-books don't require shelves.
"Think of an Apple store," says Judge Nelson Wolff, who spearheaded the initiative.
"Think of an Apple store." It's a tired phrase journalists and spokespersons use repeatedly to gush over any library facility without physical books, such as Cleveland Public Library's TechCentral. It's a way of making a library sound cool and up-to-date. And it's a reflection of how poor a job libraries do promoting themselves that everyone thinks it's easier to leech off Apple's popularity than actually explain what libraries do and are. In any case, I'm finding the comparison a bit ironic now that Apple has been found guilty of involvement in an e-book price-fixing scheme.
As for the idea of an all-digital public library? It's rash, at best. The current relationship between libraries and e-book publishers resembles negotiations for an arranged marriage for the children of two medieval royal families who hate each other. It might bring them together, it might only delay a protracted war. Consider the recent relationship of library systems with three large publishers: Random House, HarperCollins, and Simon &Schuster.
At first, many publishers refused to sell e-books to libraries at all. It took months of negotiations to reach the present state at which Random House will sell e-books to libraries, but only at two to three times the price it charges individuals. HarperCollins sells e-books to libraries, but they disappear after 26 checkouts, which the publisher argues is the number of checkouts that damage a physical book badly enough that a library would need to buy a replacement copy. Longtime holdout Simon & Schuster has finally agreed to a "one-year pilot program" of selling e-books to libraries--but only to the New York Public, Brooklyn and Queens library systems. Many of the libraries that are currently providing e-books to their communities have to purchase them on a subscription basis--one bad fiscal year and their collection is gone.
In other words, there's no agreed-upon model for providing e-books to libraries. What arrangements that exist are tentative at best. It's also telling that Sarah Houghton, director of the San Rafael Public Library and a well-known promoter of digital media, told NPR any current plans for an all-digital library are "premature."
Aside from such practicalities, even many so-called "digital natives" may not welcome the future embodied by BiblioTech. A recent Pew survey of Americans under age 30 found that they are still as likely as older Americans to read paper books and that they're more likely than older Americans to spend time in the library, as opposed to going just to get books and DVDs and leave. Younger Americans identified the library as a place to read, to study and spend time with friends. Think about it: does anyone really hang out in their local Apple store?
Full disclosure: despite accusations of being a Luddite, Kevin O'Kelly currently has 18 ebooks on his iPad.
Popular in the Community