When Alli Webb started her business 5 years ago she was a hair stylist and a stay home mom simply "looking for something to get out of the house". However, soon after launching her mobile blowout service, she realized that there was a much larger need in the market. After confirming consumer demand and partnering with her brother and husband, she opened her first Drybar location in Brentwood, CA in 2010. At the time, she only envisioned one location for her concept, a hair salon that offers only blowouts, no cuts or color. But, as the buzz and demand grew, so did the number of Drybar locations. Today, Drybar is a $70 million company with almost 40 locations. And Alli Webb is a busy mompreneur who balances the roles of motherhood and entrepreneurship.
I spoke with Alli about how she began her concept, the secrets of her success, her tips for aspiring entrepreneurs, and how she balances the worlds of work and home.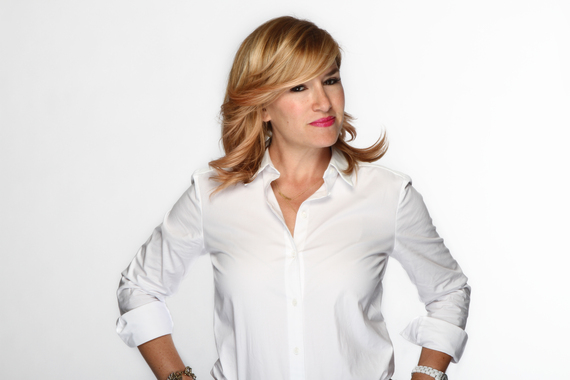 You started out as a stylist with a mobile blowout service?
Yes, I have been a stylist for 20 years. I got married, had kids, became a mom and was really a stay at home mom and missed getting out. I decided to start a mobile blow-dry business in LA. That is when I realized there was a big hole in the market for women to get a great blowout, in a great space, at a great price...nothing existed. While I was operating my mobile business I would talk to my clients about this and they all would rave about how great it would be if there was a place like that. So I partnered with my brother and my husband to open our first location in Brentwood in 2010, thinking it would be my one little shop. We never would have imagined that it would turn into this, 47 shops later!
It is crazy! It is a total dream come true!
Going from a mobile business to your first retail location is a big step. How scary was it? How did you make that decision?
It was scary but I felt so strongly and so passionately that this was something that women would love. And I thought there were enough women, like me, who were on search for a good blowout at an affordable price. I thought if I could find the right price that this could be something that women would do regularly versus just for a special occasion. We crossed our fingers that women would come.
My brother handled the business side of things and my husband handled the creative side of things and built the website...the combination of the three of our minds. All of us came together to make this a reality and we really had all the right pieces.
It does seem like between the three of you, the stars aligned. And then you added in your architect/designer and it was "the perfect storm"?
You are so right. That is what we always say, the stars aligned. Yes, my brother was very good friends with Josh Heitler, an award winning architect, and he said "my little sister wants to start a salon, would you help us". He got really into it and he really was a big part of our success. And still to this day, he puts the finishing touches on the shops, designs the shops...it is all of it, there are so many people that have helped us make it what it is today.
Up until now, you have stuck to providing one service, blowouts. Any thoughts on expanding beyond that?
No, I've always been very bullish on the fact that we do one thing and we do it very well. I think that it is very hard to be very great at a lot of things. And it is a little bit easier to be great at one thing and to focus on that one thing. And I'll tell you, with 3,000 stylists, we have such a robust training program in place...and we are so focused...to just be known for blowouts, our blowouts must be spectacular all the time. It takes so much time, effort, and money to ensure there is that consistency from shop to shop, so we would never do anything else. I've said it before and I'll say it again, as tempting as it is...we will always stick to that.
In my moms' group holiday swap last year, 3 of the 8 moms purchased Drybar gift cards as their "secret gift" - I think that speaks to the power of your product. And I think it is such a popular gift because women love feeling good. Would you agree?
I think you are exactly right. We always say we are not selling blowouts, we are selling happiness and confidence. I believe with every fiber of my being that what we are actually selling is a feeling. And you know, as a woman, when you feel like you look good, you feel like you can do anything. And that is a really powerful thing. And being able to provide that to women, at a negligible price...they are going to do it all the time and feel good. And I feel very proud that we are helping women to feel good.
Do you think that is the secret to your success?
I do. Well, I think there is a lot that goes into the "secret sauce"...the customer service is another thing that is important to us. We really go out of our way to be nice to people, which is not the norm and is surprising to me. When we were growing up, my brother and I, my parents had their own business. So we learned first hand the importance of customer service. My parents had a great business and I think that part of their success was the fact that were always really good to their clients and that is something that has always been engrained in us...It all goes together, if you hair looks good, and you feel good, and people are nice to you, you are going to keep going to that place because you feel really good when you are there. Its a lot of things coming together!
What are your tips for aspiring entrepreneurs, people who want to build something like you did?
I think there is a lot to it. I feel like I got really lucky and it was a lot of hard work. I think having the right partners...having my brother and my husband who happened to be so smart. The things I didn't know, I learned from them...I always tell people, bring on people that are smarter than you, that know things you don't know and be willing to listen. Because it is really impossible to do everything on your own so you need to have those strong partners to help you navigate business.
And it sounds a little cliche but I say, just go for it! Take the risk! When we started Drybar we didn't know if it was going to work, we didn't know it would turn into this. There was a chance we were going to lose some money and that would've sucked. But at the end of the day, I always said if it doesn't work, we will pick ourselves up and go on to the next thing. And I know that it is not always easy and that it takes money and you are taking a chance. But if you really want to see something happen, just make it happen! Have that passion. And also know that it will take over your life! You have to be ready for that, you have to be ready to give it 110%...you know what it is like owning your business, it is everything!
To that point, you also have two boys. I know it is a struggle when you are on the road and away from them? How do you manage the balance of work and home? Do you have tips for fellow mompreneurs?
I'm not sure I'm doing such a good job! As a mom, you never feel like you are...but, my kids are great. My kids get it, especially my 10 year old, he is an old soul.They are starting to understand that mommy and daddy work really hard and that is important for my own happiness, and they are starting to get that. They understand that is why we have nice things and that is why we can buy them the things they want. And it is a combination of that and being there for the big things and not missing things that are important to them. And my team is amazing and I am lucky that we can move things around so that I can be places...be with them for the important things and than be at an opening...and make it work!
Now that we got the serious questions out of the way, I know many moms are dying to know your tips for making their blowout last?
First and foremost it is about getting the perfect blowout. And also using dry shampoo and a shower cap. It is about shielding all the elements once you have left Drybar. The great thing is you can always touch up a blowout after a couple of days and turn it into a Mai Tai (one of the Drybar blow out hair styles) to kinda let the blowout evolve. Using a shower cap to keep out the humidity, sleeping on a satin pillowcase, having lots of dry shampoo and adding little touchups...maybe its a side braid. Those little things that refresh the look and extend your blowout.
What is your Mompreneur Mantra, your favorite quote or mantra that you would share with aspiring mompreneurs?

One of the things that I am most proud of is our 10 core values, the values that are most important to us. One of them is "Pretty is as pretty does" - my father always used to say that growing up. Being pretty on the inside is just as important as being pretty on the outside. Being a good person on the inside, that makes all of the difference!
Click here to check out more of Anjali's video interview with Alli.
Anjali Varma is "The Modern Mompreneur", her site and YouTube channel provide entrepreneurship and lifestyle tips. Anjali recently launched a Marketing On A Shoestring Budget e-Course to help entrepreneurs market and get PR for their business at little or no cost. She is also the owner of Kidville Bethesda, an enrichment facility that offers classes, retail, haircuts, and birthday parties for newborns - 6 years old. You can find Anjali on Twitter and Instagram @anjvarma.