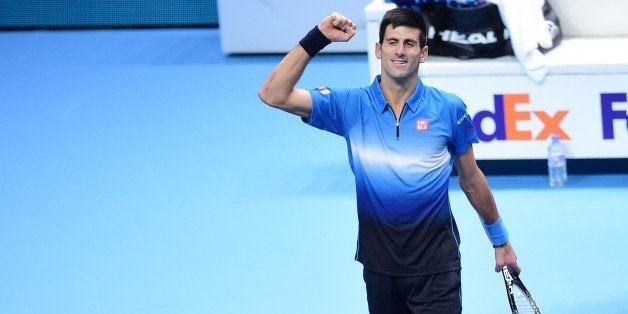 Novak Djokovic's extraordinary dominance of men's tennis shows no sign of abating. By far the most consistent of the 'big four' players since 2011, Djokovic now holds more ranking points than his two closest rivals (Murray and Federer) combined. His success is underpinned by his remarkable physical fitness and stamina, his incredible talent for returning serves, and his excellence in almost every aspect of the game.
Another crucial but less discussed factor is Djokovic's innovative approach to tennis psychology based on mindfulness meditation.
Consider Djokovic's near supernatural ability to overcome adversity in matches. Remember his victories from match point down against Roger Federer at the US Open in 2011 and 2012, and against Jo-Wilfried Tsonga at Roland Garros in 2012? How about his comeback victory against Kevin Anderson at Wimbledon last year? Consider his ability to recover from the most heartbreaking loss of his career in the 2015 French Open final, only to win Wimbledon a few weeks later. Where does this mental strength come from?
In his 2013 book 'Serve to Win', Djokovic explains that he practices mindfulness meditation for 15 minutes every day. Mindfulness is a way of paying attention to your experience as it happens without judgment. A mindfulness meditation typically involves focussing your attention on the breath, or on physical sensations, and bringing your attention back to that focus every time your mind wanders from it.
Djokovic says that meditation has enabled him to let go of negative emotions such as self-doubt, anger and worry, and that this has made all the difference to his mental approach on court. He sees mindfulness training as just as important as his physical training, and believes that dedicated regular meditation practice leads to consistent positive rewards.
You don't just have to take Djokovic's word for it. Sports psychologists the world over are now paying attention to mindfulness. The study of mindfulness as a way to enhance sports performance was pioneered in 2001 by clinical psychologists Zella Moore and Frank Gardner. The pair analysed decades of research into the traditional sports psychology method known as Psychological Skills Training (PST), but could find no evidence that PST was effective, and even noted that sometimes PST led to a deterioration in performance.
PST attempts to change an athlete's negative thoughts and emotions, and replace them with more positive and helpful ones. Given PST's poor results, Moore and Gardner developed a new method called the Mindfulness-Acceptance-Commitment (MAC) program. MAC turned PST on its head by training athletes to mindfully accept negative experiences without trying to change them.
The mindfulness approach suggests that athletes will perform to the best of their ability when they give up on trying to control internal experiences, and instead hold thoughts and emotions in a non-judgmental awareness, accepting whatever their internal experience is at any moment. This non-judging acceptance frees the athlete to place his or her attentional focus on the task in hand, rather than grappling with thoughts and feelings.
Fifteen years after Moore and Gardner's innovation, multiple studies by a range of psychologists have demonstrated that mindfulness enhances athletic performance by improving concentration and accuracy, and by making it easier to play 'in the zone'.
In this light, Djokovic's use of mindfulness can be seen as a very smart move, taking advantage of the latest sports psychology research to get a critical mental edge over his rivals. Djokovic joins a growing number of elite athletes, including Michael Jordan and the Seattle Seahawks, who have used meditation to achieve enhanced performance.
Mindfulness isn't just useful for achieving better results on court. There's plenty of research that shows it boosts personal wellbeing and compassion for others too. That's another aspect of Djokovic's use of mindfulness that impresses me. Have you noticed how Djokovic is the only one of the big four players to regularly applaud outstanding play by his opponents? He's also very generous in defeat, offering warm congratulations even after tough losses. Sure, Djokovic remains a fierce competitor like all top athletes, but he displays a rare grace in defeat, which is arguably another by-product of his commitment to mindfulness.
Djokovic remains the only top player to have gone public about his meditation practice, but given his phenomenal success and the growing body of research evidence supporting mindfulness practice for athletes, we can expect more and more tennis stars to embrace this method.
Related
Popular in the Community