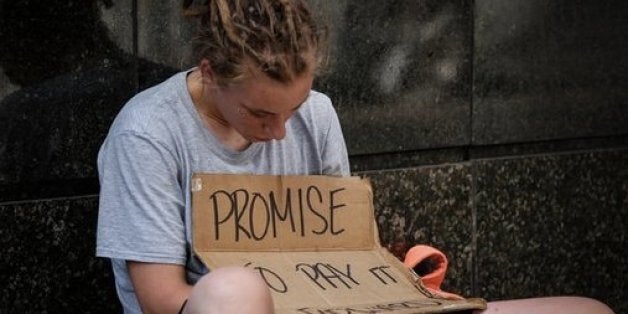 As philanthropy races to fight inequality, the country's foundations and wealthy donors continue to overlook a major part of impoverished America: poverty among whites.
President Obama's project, My Brother's Keeper, and recent pledges of $300 million from dozens of foundations and corporations focus mostly on supporting programs intended primarily to serve black and other minority youth, pushing the epidemic of poverty among whites further into the background. Few people want to talk about the problem. The news media focus relatively little attention on the plight of poor whites in the "hollers" of West Virginia and Kentucky, in mobile homes and trailer parks throughout the country, and in declining small towns in rural areas. A couple of years ago, Diane Sawyer anchored on ABC News a striking exposé on health problems in Appalachia, but unfortunately, there was no follow-up. It was the exception that proved the rule.
Yet the statistics about poverty among whites are startling.
According to recent census data, 42 percent of the poor -- some 18.9 million people -- are non-Hispanic whites. They make up almost 10 percent of the country's white population. Sixty-three percent of rural Americans who live below the poverty line, or more than 6 million people, are white. A little over one-third of the 13 million children who are members of impoverished families are white. Over half of the South's population in poverty is white. And there are indications that poverty among whites is gradually increasing.
Deep-seated as the problem is, the reasons for philanthropy's benign neglect are fairly clear: The situation reflects the national sense of insouciance about poverty among whites.
Because poverty among blacks and Hispanics is concentrated in the cities, that is what gets attention from the news media and government policy makers. Federal programs in recent years have tended to neglect Appalachia and the rest of rural America.
What's more, the history and ongoing horror of discrimination and prejudice against minorities overshadows the suffering faced by other Americans.
While many nonprofits represent minority constituencies, there are few organized groups, other than extremist right-wing hate organizations, that advocate for better conditions among the white poor.
Exacerbating the problem is the fact that most major foundations and wealthy donors are located in metropolitan areas and have little contact with people in rural areas.
Because white poverty is most prevalent in rural areas, it is instructive to look at foundation grant making to programs and organizations in rural America.
According to a new federal report, such grants amounted to only 5.5 percent of domestic grants by big foundations from 2005 to 2010.
That figures rises to about 7 percent if the contributions of small foundations and the rural share of urban grants is included. The report also found that 26 percent of the money granted to rural areas went to universities and colleges, not necessarily the best institutions to benefit the rural poor.
There is little dispute over philanthropic neglect of rural areas. In 2009, David Jacobs, editor of the Foundation Directory, found that in that volume's list of 10,000 foundations, only 36 identified rural development as a grant-making program interest. The National Committee for Responsive Philanthropy, moreover, discovered that only 304 of 65,000 active foundations used the word rural in their grant descriptions. As Kirke Wilson, former executive director of the Rosenberg Foundation, wrote in 2010, "Most foundations remain as unreceptive to rural organizations and rural issues as they were a decade ago." And nothing has changed since then.
To be fair, a few foundations have begun to support some programs focused on the white working class and poverty issues. The Ford Foundation, assisted by the Nathan Cummings Foundation, Bend the Arc, and the Open Society, has supported Manufacturers Home Owners Action, a project sponsored by the Center for Community Change to organize owners of mobile homes who are threatened with unreasonable increases in rent or predatory takeovers of their trailer parks. About 5 percent to 6 percent of all housing units in the country are land-leased mobile homes occupied predominantly by white tenants.
But apart from these few efforts, foundations and philanthropists continue to ignore white poverty. They do so against their own interests and those of the country.
The lessons from President Johnson's anti-poverty programs should be a warning sign. By defining poverty too narrowly, the program's administrators excluded many working-class whites and poor from the benefits of the War on Poverty, thereby driving a wedge between the races. Whites resented their exclusion and looked upon the programs as purely efforts to help blacks and other minorities. Their lack of participation severely undermined the strength and vitality of these anti-poverty efforts.
The continued exclusion of poor whites from the priorities of American foundations could have a similar effect, widening the already large gap between whites and minorities. No one is more aware of this danger than Darren Walker, who heads the Ford Foundation. "Growing poverty among whites in America is alarming," he told me. "This trend should not be ignored by foundations as we consider our program strategies."
Poverty among whites is as much a part of our economic and political structure of inequality as are minority, gender, and class injustices and lack of opportunity. The sooner the foundation world recognizes this and takes action, the better off we will all be.
Pablo Eisenberg, a regular Chronicle contributor, is a senior fellow at the Center for Public and Nonprofit Leadership at the McCourt School of Public Policy at Georgetown University. His email address is pseisenberg@verizon.net.
Popular in the Community