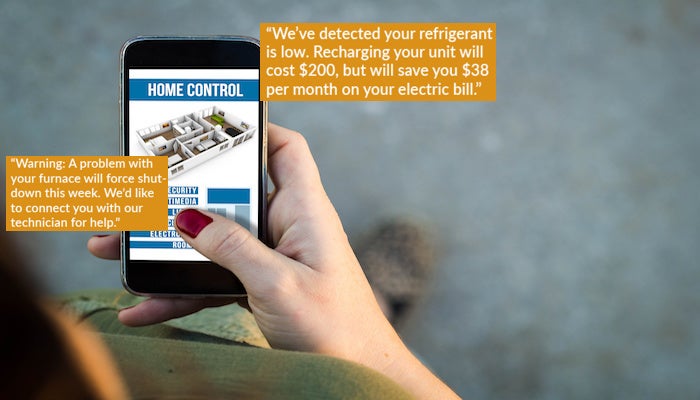 Do you know how your home furnace works? Could you tell if your air conditioning unit is running efficiently? The answer is obviously, no. Aside from highly skilled HVAC technicians – most people can't.
The attitude therefore has been to suck it up when bad luck strikes and pay through our noses for whatever the service repairman would charge us. These machines are so critical to the functioning of our homes that when they stop working, the situation gets dire enough that we often do not even have the time to try out multiple service providers or compare quotes. We need the problem fixed yesterday.
If there was a way of knowing ahead of time if the machines in our home were not working in their most optimal form, so that we could avert a disaster from happening, that would be something, right?
Connectivity is the mantra everywhere right now. With a little effort, we can connect with just about anyone online. Social networks have further extended our reach into vast digital communities. The Internet of Things ("IOT") is entering our homes and certainly making its way onto our wrists. IDC estimates 25 billion units worldwide in the next 10 years – that's more than PCs, phones and tablets combined. Our smart-watches collect and then provide us with all sorts of data about our exercise routines, steps walked, heart rate, movement, sleep and whole bunch of other health related statistics. These, however, all fall into the category of leisure connectivity, the nice to have information that satisfies our curiosity, at best.
There is however, another kind of connectivity in play right now, and it is allowing us to do and know more than we have ever experienced before. The connected home revolution is empowering us to comprehend the state and health of the critical machines running our homes. This technology will keep evolving and bring us the best insights on energy conservation, money saving, and crisis avoidance such as lack of heating, broken air conditioning or flooded basements.
You'll recall that this all started with Google Nest, Amazon Echo & Alexa, Samsung SmartThings and other such connected home systems that would give you all kinds of information about the devices connected via these systems in your home, as well as allow you to operate these devices from your smartphone, using a simple voice command. Some devices such as thermostats would also learn from your daily usage and even suggest a more energy efficient setting, perhaps.
The next generation of smart home technology is taking this one step further and giving us the power of prediction. Through sensors in our furnaces, air conditioners or sump pumps, we can monitor what's about to break, and avert a disaster before it's too late.
I believe that connected home services will be the tipping point that will empower regular everyday people to become the diagnosticians of their own homes, irrespective of technical background.
You can thus imagine, how pleased I was when I encountered LifeWhere, a Pittsburgh, PA based startup founded by MIT grad Brian Courtney, working with Carnegie Mellon alumni and students, spearheading and reimagining connected home repair.
LifeWhere is transforming the home service provider market by introducing predictive analytics for home utilities. The breakthrough technology attaches to machines in the home, constantly monitoring utility health. Through applications and cloud analytics, service providers are alerted to a problem before it happens. Homeowners have a home health dashboard, efficiency advice and warning system to schedule repairs before problems arise. Proactive monitoring allows the service providers to reach out – creating opportunities to engage with their customers, increasing the life of their subscription contracts and reduce call backs.
I believe this is a big breakthrough. Until now asset monitoring has been unavailable in the home – it has only been accessible to big companies with expensive equipment. However, the field is now wide open. Costs are way down and information is way up. Monitoring is key to savings. Do note that industrial companies that have embraced predictive analytics outperform those that don't. No surprise that optimizing assets saves money. Applying this to our home maximizes the longevity of expensive assets and drives down operational costs. This maximizes the ROI for homeowners.
In fact, I think the impact of what LifeWhere is doing goes beyond just cost savings. This is about getting control back - eliminating that unknown space, the uncertainty of how our machines are functioning, eradicating the technical layer, that shadow of doubt that causes panic. The insight into what the machines are doing is just a bonus. This is about peace of mind.
I spoke with LifeWhere founder Brian Courtney to find out if this technology had resulted in any cost savings. He told me they had done an installation for a customer that showed their Air Conditioning compressor was running low on refrigerant and working harder to cool the customer's house than it needed to. When they replenished the refrigerant on this unit (a relatively minor job), the customer's electric bill dropped $24/month due to a 44% rise in the unit's efficiency!
LifeWhere works with HVAC service providers to do the heavy lifting. Although the homeowner knows what's going on, the 24/7 monitoring is proactively carried out by the HVAC service providers that call on the homeowners if they need to fix things before they break completely.
The company connects problems with solutions. Just knowing we have an issue is the first step but getting it resolved through a trusted service provider is key. The company enables home monitoring so the expert service providers can watch our home even when we can't. It also enables predictive maintenance so we can service our utilities right when it's needed. The service is not based on time, but rather on the condition of the equipment. With our cars, we've moved from changing the engine oil every few thousand miles to changing it when the sensors tell us the oil levels are going down. LifeWhere brings that same technology to our homes.
Like all homeowners, I've had several home utility failures over the years and suffered enormously from the additional damage they have caused.
I had a sump pump break during a heavy rain storm that led to a flooded basement. Cost me thousands in a cleanup job. I've had a geothermal heating system fail only to find out that I had an electric heat backup. I found that out when my electricity bill was $2,500 more that month! Ignoring the equipment that runs our home is the most expensive way to use the equipment.
Homeowners spend 50% of their monthly electricity bill on home heating and cooling. It costs about $10,000 to replace a furnace and air conditioner. For many, this is the third most expensive asset they own, next to their house and car. Maximizing the life of this equipment and getting it to run at peak efficiency reduces energy consumption and averts major expenses.
I think this is a solution that can potentially have a fundamental impact on home energy costs, utility operational efficiency and overall peace of mind. What do you think?
Related
Popular in the Community