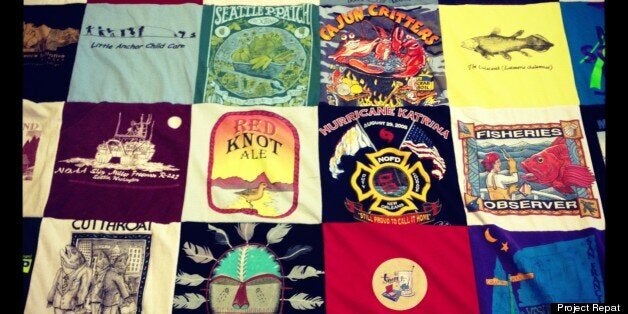 Nathan Rothstein's first venture into the T-shirt recycling business flopped.
The 29-year-old tried to take old shirts with college logos and repurpose them into tote bags and scarves. No one was buying it.
"We thought they looked cool, but what do we know," Rothstein said. "I'm used to my mom picking out what clothes look good."
Rothstein's ambition wasn't to market something cool. He was focused on reducing the number of old clothes that pile up in landfills and paying workers a fair wage.
"We were interested in this problem of textiles not getting recycled," said Rothstein, who founded the newest version of Project Repat in February 2012. "We were thinking of how we could create a business model around this problem."
But when he and his business partner Ross Lohr initially tried selling their totes and scarves at markets around Boston, they found that people weren't crazy enough about the product to buy it, even though they supported the company's mission. The products were part of a new iteration of the company, which originally involved buying up used American T-shirts that were shipped to Africa.
"The key for social enterprise is making sure the product is something that they really want, leading with the product, not with the story," Rothstein said. "We thought that people would really resonate with stuff made in the USA that was up-cycled, but the green and fair wage jobs wasn't as important as having a really great product."
So the two started turning their T-shirts into blankets instead of totes, using the nostalgia that people feel for their old shirts as a way to market the product.
"What people kept saying was, 'What can you do with my T-shirts?'" Rothstein said. "After we heard it enough times, we figured out an interesting way for people to send us their clothes and we turn them into something and send them back as an upcycled product."
Customers simply pack up their shirts, put them in a pre-paid envelope provided by the company and ship them off to be remade into blankets. They range in size and price, but start at $75.
Unlike many of the textiles sold in the U.S., Project Repat's custom blankets are made locally instead of overseas by companies like 99Degrees Custom. The company also supports fair wage jobs; Rothstein said the employees who make the blankets are earning between $13 and $17 an hour.
By August of 2012, Project Repat was being featured on Groupon Grassroots and received 2,000 custom blanket orders in a week.
"We were overwhelmed. I was sleeping in our office and three days later after we launched the Groupon, people rushed their T-shirts to us," Rothstein said. "All of sudden, about 300 boxes showed up at our little office."
Since then, Project Repat has worked with multiple flash sale sites. The company is contracting out its labor to three different local manufacturing partners, and it's on track to bring $1 million in revenue this year.
"For us it makes sense to make it here," Rothstein said. "People arent going to ship their prize memories to China."
Related