DAVOS, SWITZERLAND -- It's better late than never.
Business leaders around the world are finally getting the message that they can no longer continue their obsession with short-term profits growth at the expense of a healthy society.
A survey of more than 1,400 chief executives from 83 countries by the professional services firm PricewaterhouseCoopers shows that the dangers of climate change are starting to get through to the C-suite and that a growing mistrust by customers is forcing leaders to recognize the need to look beyond pleasing only their shareholders.
In fact, nearly a quarter of respondents said their company has changed its sense of purpose in the last three years to take broader corporate responsibilities into account.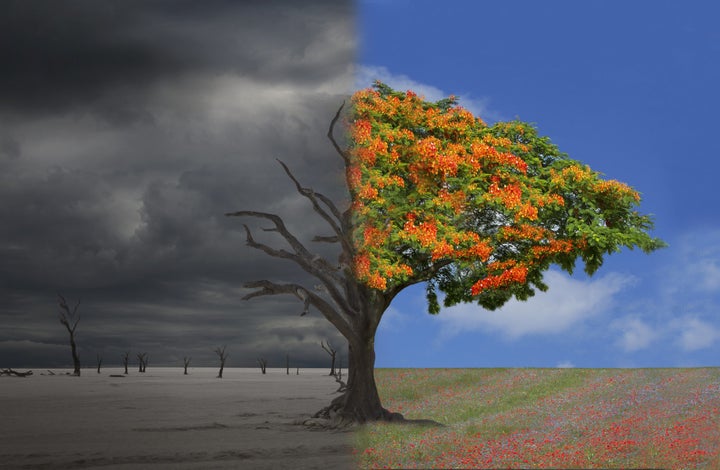 The PwC study, released to coincide with the World Economic Forum (WEF) in Davos, shows what a difference a year makes in terms of CEOs recognizing the threat posed by a warming planet.
The same survey in 2015 failed to even ask corporate leaders about the risks of climate change, as the issue did not make it into the top 19 risks the CEOs identified.
But the 2016 report shows that half now see climate change as a threat to their growth prospects.
While this is a welcome improvement, climate change still ranks at only number 11 on their list of concerns, despite a year that has been marked by an increase in extreme weather events and some of the warmest temperatures on record.
In fact, a survey of 750 experts conducted by WEF showed that a catastrophe caused by climate change is seen as the biggest potential threat in 2016 to the world economy.
Another key change is that more than half the business leaders see a lack of trust in business as being a major roadblock to their future success, up from just over a third three years ago.
This is raising fears in boardrooms that customers will start to desert brands if they continue to put focus on profits to the exclusion of values. CEOs put this sea change down to the power of social media, which is driving increased transparency and empowering customers to hold them to account for their actions.
Brands are also witnessing that the collapse in their reputation can be felt almost immediately if they are found to have acted irresponsibly.
"These technologies are giving more people more access to more information about what companies do and the impact of their actions," concludes the PwC report. "Together, these factors are helping to reshape how people interact with and think about brands."
"CEOs acknowledge that their customers as well as other stakeholders increasingly want them to do more to tackle important problems," the report also says. "The response for many has been to focus even more strongly on customer needs as well as drawing on their companies' own sense of purpose -- what they stand for -- to define a more comprehensive view of how their businesses operate within society. Some CEOs are taking concrete steps to align this broader mission to their company's core goal of profitability."
PwC says it is "surprised" to discover how quickly CEO's mindsets are changing around corporate responsibility, with more than a quarter believing that their customers are seeking relationships with organizations that address wider societal needs. This figure surges to 44 percent when CEOs consider what they expect their customers to prioritize in five years' time.
"In the future it seems clear that CEOs believe customers will put a premium on the way companies conduct themselves in global society," the report says.
The need for greater social and environmental care is even more pronounced when CEOs consider how they are going to attract the best talent.
Fifty-nine percent of business leaders believe that the recruits they are looking for will prioritize working with organizations that share their social values, while more than two-thirds feel it will be important by 2021.
CEOs are also starting to see a change among financial investors, who have largely ignored the importance of sustainability. More than a third say investors are now seeking ethical investments, and nearly half believe this will be the case in five years' time.
While there may be more soul-searching taking place among corporate leadership teams, the survey also makes clear that more traditional concerns still dominate their thinking.
At the top of their worries is over-regulation, followed by geopolitical uncertainty, exchange rate volatility, availability of key skills and government responses to debt.
Even shifts in consumer spending and behavior trump the potentially cataclysmic impacts of climate change, suggesting the majority of CEOs are still focusing most of their attention on a multitude of short-term challenges.
This may not be surprising since nearly two-thirds are not confident in business growth prospects, the lowest level in six years.
Despite some evidence to the contrary, 82 percent of respondents insist their company prioritizes long-term over short-term views, while nearly two-thirds say that corporate social responsibility is core to their business rather than being a stand-alone program.
CEOs admit that it is proving hard to balance corporate responsibility at a time when profits are under pressure. Nearly half the CEOs said customers' expectations were creating additional costs, while a third say there is a conflict between broader stakeholder interests and financial performance expectations.
More from the World Economic Forum 2016:
Related