DAVOS, SWITZERLAND -- The world is being choked by discarded plastic packaging, but until now very little has been done about it.
That could all be about to change following groundbreaking research that shows it is possible to eradicate plastic waste if only all the participants in the supply chain, from consumer goods companies to plastics manufacturers, start collaborating. And a key player has already stepped up to help guide this revolution.
The reason action is so important is that while the use of plastics has increased twentyfold in the past 50 years, it is expected to double again within the next 20 years, per the report.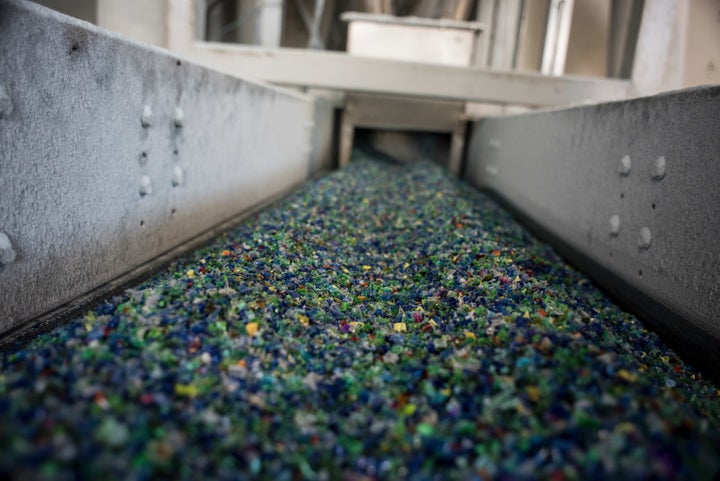 The study, titled "The New Plastics Economy," admits that finding a systemic solution "may take many years. But this should not discourage stakeholders or lead to delays -- on the contrary, the time to act is now."
The problem with plastic is becoming critical, with estimates that the oceans by 2050 are expected to contain more plastics than fish by weight. Seabirds, whales, sea turtles and other marine life are eating marine plastic pollution and dying from choking, intestinal blockage and starvation, and scientists are investigating the long-term impacts of tiny plastic particles that are eaten by fish and how this then affects human health.
Eradicating waste would have the added benefit of helping to slow climate change, given that the entire plastics industry is expected by 2050 to consume a fifth of total oil production and 15 percent of the annual global carbon budget.
The report, which was unveiled at the World Economic Forum in Davos, has for the first time assessed what happens to the plastic packaging we use. It found that after a single use, 95 percent of plastic packaging material, worth up to $120 billion annually, is lost to the economy.
Virtually a third of all plastic packaging escapes collection systems and ends up as pollution in the ocean as well as clogging urban infrastructure. The cost of these impacts, plus the associated greenhouse gas emissions from the production of these packaging products, is conservatively estimated at $40 billion annually, exceeding the entire profits of the plastic packaging industry.
The report concludes that it is vital "to overcome the limitations of today's incremental improvements and fragmented initiatives, to create a shared sense of direction, to spark a wave of innovation and to move the plastics value chain into a positive spiral of value capture, stronger economics, and better environmental outcomes."
The reason that so little action has been taken so far is that no one player within the plastics supply chain has the power to change what is a complex global industry, and it has been difficult to get everyone around the same table.
The result is that while there are many innovation and improvement efforts that show potential, these have proved to be too fragmented and uncoordinated to have impact at scale.
Finding solutions is also hampered by a lack of standards and co-ordination across the value chain, leading to a proliferation of materials, formats, labelling, collection schemes and sorting and reprocessing systems.
The development and introduction of new packaging materials across global supply and distribution chains is also largely disconnected from the ability to recycle them.
At the same time, hundreds, if not thousands, of small-scale local initiatives are launched each year, focused on areas such as improving collection schemes and installing new sorting and reprocessing technologies.
For all these reasons, the Ellen MacArthur Foundation, which is a leading proponent of the circular economy, has offered to step into the breach and set up an independent co-ordinating group to act as a facilitator for all the players in the plastics system, including businesses involved in collection, sorting and reprocessing, cities, policymakers and NGOs.
It will seek to set direction, establish common standards and systems, overcome fragmentation and foster innovations that can be replicated and scaled.
Dominic Waughray, head of public-private partnerships at the World Economic Forum, said the report "demonstrates the importance of triggering a revolution in the plastics industrial ecosystem. To move from insight to large scale action, it is clear that no one actor can work on this alone; the public, private sector and civil society all need to mobilize in order to capture the opportunity of the new circular plastics economy."
More from the World Economic Forum 2016:
Related