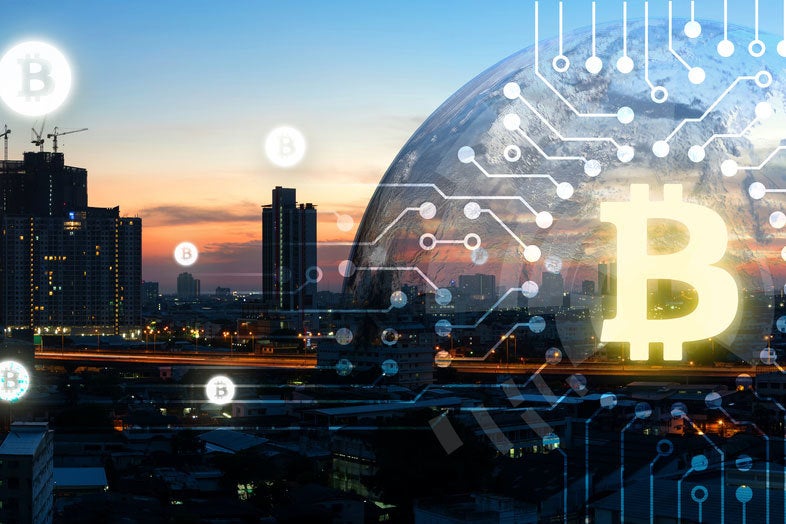 "Blockchain" has been making a buzz lately. While this innovative technology can be used in many different ways, governments of certain countries are implementing it to revolutionize real estate.
Blockchains are ledgers (like Excel spreadsheets), but they accept inputs from many different parties involved. The ledger can only be changed when there is a consensus amongst the group. This makes blockchains more secure, in addition to a number of other benefits that can help transform real estate markets. For example, Sweden, Georgia and Estonia have already launched blockchain programs to help manage land titles and real estate ownership.
Ukraine has also recently jumped on board the blockchain bandwagon in hopes that this technology will lead the country's next real estate boom. Ukraine's housing prices experienced a massive decline in 2014 and 2015, and prices are down nearly 70 percent below their 2008 peak.
Fortunately, Ukraine's economy shows signs of recovery, with the GDP rising 2.3 percent last year. This has made real estate investments appealing to foreign buyers in particular, and the Ukrainian government is currently seeking ways to facilitate transactions to boost economic outlooks in the nation.
Purchasing Property Online with Blockchain
New legislation is being passed on January 1, 2018 that will allow foreign investors to purchase land in Ukraine. This process must be easy and transparent though, which is why the country is looking towards blockchain. Blockchain is the only technology that can ensure the entire real estate process can be done online in a seamless and efficient manner.
Ukraine recently partnered with the Bitfury Group, a global technology company, to put a sweeping range of government data on a blockchain platform. And as of today, Propy, a global property store and decentralized title registry, is partnering with the government of Ukraine to allow foreign investors to make online real estate purchases for the first time. From the capital Kiev to the Black Sea beach cities, Propy will enable Ukrainian properties to be sold entirely online.
"Our ambition is for Ukraine to be one of the world's foremost nations in establishing a comprehensive blockchain ecosystem, and the real estate sector forms an important part of our overall blockchain strategy," commented Oleksandr Ryzhenko, head of the State Agency for eGovernance of Ukraine. "Adopting blockchain's transformational technology will benefit all counterparties in real estate transactions through fostering greater transparency, efficiencies, security, and compliance."
Through the Ethereum blockchain, Propy allows brokers, buyers, sellers, and title agents/notaries to sign off on transactions within their existing legal frameworks. Similar to Bitcoin, Ethereum is a distributed public blockchain network. However, Bitcoin and Ethereum differ greatly in purpose and capability. In the Ethereum blockchain, miners work to earn Ether, a type of "crypto token" that fuels the network.
Like other Ethereum blockchains, Propy's PRO token will be required for interaction with the Propy Registry - specifically when users change ownership of a title or register a new title. Propy's ERC-20 PRO token will allow for both simple integration into users' wallets and ease of use in traditional exchanges. One hundred million PRO tokens will be available for purchase in PRO's token sale beginning today, August 15, 2017.
The capabilities of Propy's blockchain technology is sure to open a wide range of real estate opportunities in Ukraine, allowing access to the nation's rich agricultural resources to international buyers.
"Ukraine's recent commitment to build a blockchain-based internal government database with Bitfury was a great first step. Ukraine's government is strongly interested in building upon this progress by leveraging Propy's technology to facilitate online real estate transactions to attract foreign property investors," said Natalia Karayaneva, CEO of Propy. "While this clearly benefits the Ukrainian real estate market, it also allows foreign investors to purchase enticing properties in a very low price range, all with the benefits and security that Propy provides."
The Benefits of Blockchain for Real Estate
Blockchain being applied to the real estate market results in a number of benefits.
First, having a land register on a distributed ledger, such as blockchain, could greatly speed up the registration process. The ledger can be updated immediately on a purchase/lease/mortgage with all relevant information.
Additionally, using a blockchain can significantly cut down on property fraud. Each property would be uniquely coded and linked to a secure user key held by the owner.
Smart contracts are also expediting the real estate process. Smart contracts are electronic contracts that automatically execute on the occurrence of certain events. For example, in a property transaction the contract could be coded to automatically transfer title to the property on funds hitting the seller's account.
To solve problems of real estate's legacy registry systems and outdated property sales process, Propy uses smart contracts to track and execute real estate transactions according to regional regulations.
However, the real cost efficiency comes when smart contracts are combined with a distributed ledger Land Registry. The seller and the buyer execute the contract on the ledger, the property ownership is immediately transferred and at the same time the smart contract is used to update the title register to show the new owner. As a result, the gap between completion and registration (which is required for legal title to vest in many cases), is immediately eliminated. This makes the entire purchasing process much faster and seamless.
Additionally, property management becomes much easier through blockchain. A property holder can manage all their properties on a blockchain ledger. Holders with a significant amount of property will have access to completely up to date information via smart contracts, which will ensure proactive lease management with certain dates that require action.
Blockchain's Real Estate Boom
Purchasing property is one of the biggest investments people will make during their lifetime and this process must be secure, efficient and transparent. Registering land on a distributed ledger - such as blockchain - with smart contracts has already helped a number of countries boost their economy.
It's apparent that Ukraine is next on the list of emerging blockchain nations. The recent partnerships with the Bitfury group and Propy are bringing the country one step closer to achieving their next great real estate boom. Ukraine's use of blockchain might just prove that this technology will become the new silver bullet for the real estate market.
Calling all HuffPost superfans!
Sign up for membership to become a founding member and help shape HuffPost's next chapter
This post was published on the now-closed HuffPost Contributor platform. Contributors control their own work and posted freely to our site. If you need to flag this entry as abusive,
send us an email
.