Chicago Mayor Rahm Emanuel (D) is under scrutiny for accepting what potentially could be considered illegal campaign cash from financial firms that manage the city's pension funds.
On Tuesday, three city councilmen (one of whom is challenging Emanuel for re-election next February) called for the Securities and Exchange Commission to investigate Emanuel's campaign dollars. Their letter follows an International Business Times report published Nov. 13 that stated investment firms executives with direct ties to Chicago's pension funds have "since 2011 poured more than $600,000 in contributions into Mayor Rahm Emanuel's campaign operation and political action committees."
Current 2nd Ward Alderman and mayoral challenger Bob Fioretti, along with Ald. Scott Waguespack (32nd Ward) and Ald. John Arena (45th Ward), also sent similar letters to the Chicago inspector general and the city comptroller's office calling for an investigation.
"We believe that the pay to play actions have violated the public trust and are a breach of fiduciary duty," the aldermen wrote.
According to the IBT, at least 31 executives from firms that draw fees for managing city pension funds have contributed to Emanuel's personal campaign and pro-Emanuel PACs. Such arrangements might be in violation the spirit -- if not the letter -- of SEC and other rules, including an executive ethics order Emanuel signed back in 2011 that, as the IBT puts it, prohibits "city contractors and subcontractors from making campaign donations to city officials."
IBT also reported recently that fees paid to the John Buck Co. -- a real estate investment firm among those managing city pension monies -- spiked after Emanuel became mayor. John Buck Co. executives are "collectively among Emanuel's top campaign contributors," IBT noted.
The mayor's office deferred to Emanuel's mayoral campaign for comment.
"The donations are fully compliant with the law and the higher standards the mayor voluntarily imposes on himself per his executive order. In fact, since taking office Mayor Emanuel has strengthened city ethics and campaign finance rules, including mandating unprecedented restrictions on mayoral fundraising," Steve Mayberry, a spokesman for Emanuel's re-election campaign, told The Huffington Post via email.

As of Wednesday afternoon the SEC and others had yet to respond to the letters, according to Michael Kolenc, a Democratic strategist with Fioretti's mayoral campaign. Kolenc was hopeful that the SEC letter in particular would gain traction, given SEC Director of Enforcement Andrew Ceresney's recent vow to get tough on the very abuses outlined in the IBT article.
Just one day before the IBT's Nov. 13 report was published, the SEC's top cop said during a panel that municipal markets can expect tougher crackdowns on pension fund abuses, pay to play violations and undisclosed conflicts of interest, according to trade publication Bond Buyer.
Still, what Emanuel lacks in approval ratings, he makes up for in cash: The mayor's re-election war chest is approaching $10 million, easily making him the most well-funded candidate. And he's already put some of that money to work, launching a series of new re-election campaign ads on Tuesday night.
Kolenc told The Huffington Post he views the new run of TV ads as the mayor "effectively stepping on the gas" and forcing his competitors to keep up with him on ad spending -- something Kolenc acknowledges not all of them will be able to sustain for long.
Nevertheless, says Dick Simpson, a political science professor for the University of Illinois at Chicago, the allegations against the well-funded incumbent have the potential to cast a longer shadow over his campaign.
Simpson told The Huffington Post that Emanuel's fortunes may shift if his opponents decide to make the campaign cash allegations a bigger issue. First, however, Emanuel's opponents have to make the problem crystal clear to voters.
"The campaign cash [issue] is still too arcane for most voters," Simpson said. "But it does have some legs. It has the potential for percolating."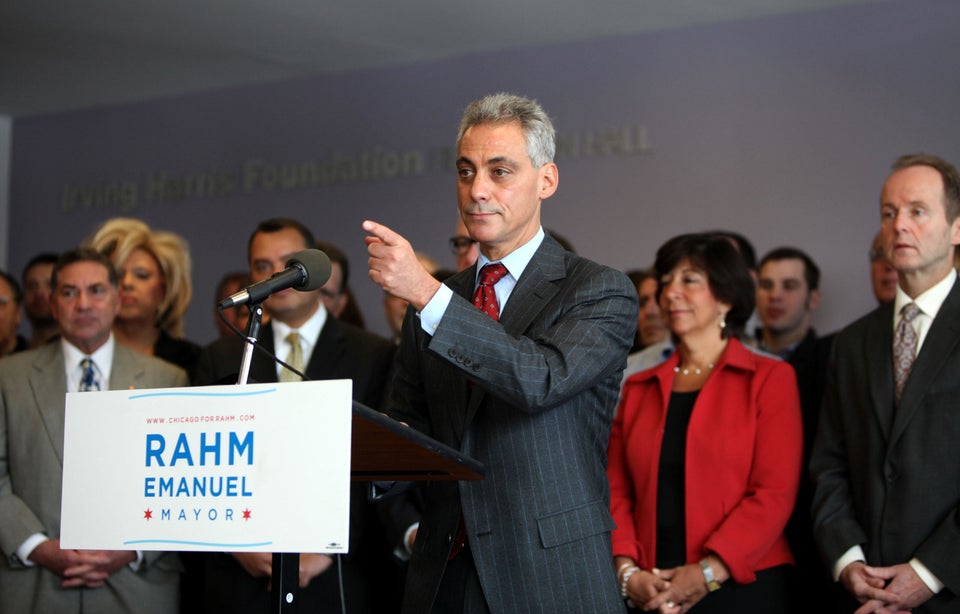 The Many Sides Of Rahm Emanuel
Popular in the Community