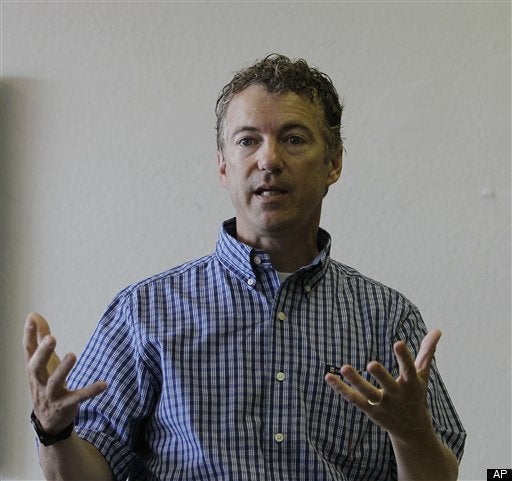 Just when the weird anecdotes involving Kentucky Republican Rand Paul appeared to have been exhausted, GQ published a profile of the Tea Party favorite that included a bizarre, colorful and decidedly sketchy episode from his college years.
The strangest episode of Paul's time at Baylor occurred one afternoon in 1983 ... when he and a [brother in his liberal secret society] paid a visit to a female student who was one of Paul's teammates on the Baylor swim team. According to this woman, who requested anonymity because of her current job as a clinical psychologist, "He and Randy came to my house, they knocked on my door, and then they blindfolded me, tied me up, and put me in their car. They took me to their apartment and tried to force me to take bong hits. They'd been smoking pot." After the woman refused to smoke with them, Paul and his friend put her back in their car and drove to the countryside outside of Waco, where they stopped near a creek. "They told me their god was 'Aqua Buddha' and that I needed to bow down and worship him," the woman recalls. "They blindfolded me and made me bow down to 'Aqua Buddha' in the creek. I had to say, 'I worship you Aqua Buddha, I worship you.' At Baylor, there were people actively going around trying to save you and we had to go to chapel, so worshiping idols was a big no-no."
The story is almost too bizarre to digest in full -- from the blindfolded, pot-infused kidnapping to the weird worship of the Aqua Buddha deity. And, in that respect, it's important to note that it was delivered via anonymous attribution.
Paul's campaign has not yet responded to requests for comment, telling GQ merely that "During his time at Baylor, Dr. Paul competed on the swim team and was an active member of Young Conservatives of Texas."
But there is an important thread to be drawn between the candidate's Baylor years and his current run for office. Both then and now, Paul showed something akin to an abject disdain for the establishment. His involvement in a secretive society that was targeted by school authorities; his instigation of various pranks around campus (digging up a time capsule, for one) seem echoed -- to a certain extent -- in the anti-government libertarian philosophy that has defined his Senate campaign.
UPDATE: The Paul campaign responds with a statement from spokesman Jesse Benton that ignores post-John Edwards scandal media realities: "National Enquirer type stories about Dr. Paul's teenage years should be left to the tabloids where they belong."
UPDATE II: As Ben Smith notes, the Paul campaign still has yet to deny the charges, but is now threatening to sue. "We are investigating all our options - including Legal ones," Paul aide Jesse Benton emailed Smith. "We will not tolerate drive by Journalism by a writer with a leftist agenda."
"We've vetted, researched, and exhaustively fact-checked Jason Zengerle's reporting on Rand Paul's college days, we stand by the story, and we gave the Paul campaign every opportunity to refute it," GQ Editor-in-Chief Jim Nelson responded. "We notice that they have not, in fact, refuted it."
Popular in the Community