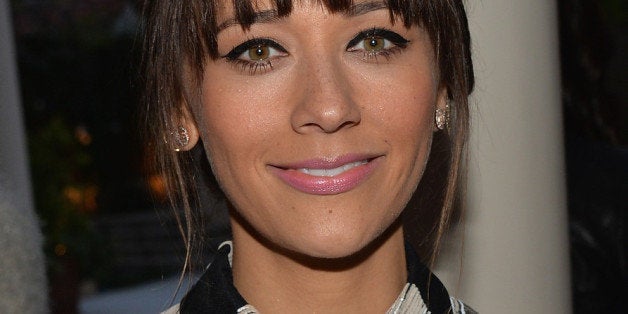 Over the weekend, Glamour editor-in-chief Cindi Leive threw an outdoor party for Rashida Jones at the Beverly Hills home of Trendera founder and Glamour contributor Jane Buckingham (whom Jones said was the "literal inspiration" for the Celeste character in her 2012 film "Celeste & Jesse Forever").
The soiree was in honor of Jones' new relationship column for the magazine, titled "Love, Rashida." Illustrated into a comic strip by artist Josh Cochran, the monthly column, which debuted in March 2014, will feature true stories from the writer/actor's life.

The Huffington Post spoke with Rashida Jones at the edge of the swimming pool to find out just how real this relationship column will be, why she adores being a woman and if she and Aziz Ansari are aligned in their philosophies about love.
HuffPost: How did you decide to make your column for Glamour in the style of a comic strip?
Rashida Jones: I grew up on comics. I love comics. I loved Cathy, Doonesbury, Garfield and the Archie comics. This column is more illustrated, but [Glamour editor-in-chief] Cindi Leive and I were talking, and she is such a great shepherd because she's incredibly efficient, has no attitude and is all about collaboration.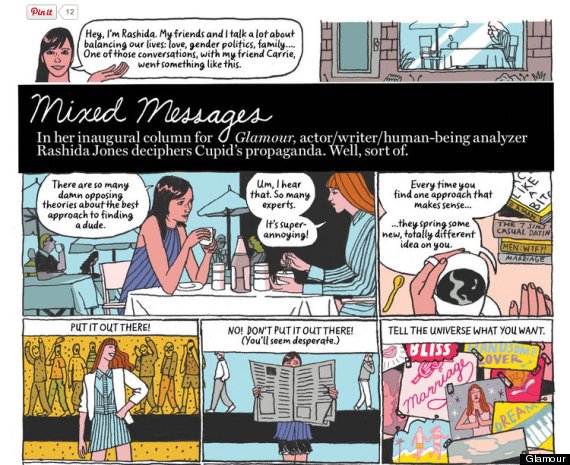 Was the column your idea?
No. Everything is her idea [laughs]. I said I have all these things I want to talk about, like gender politics, relationships and living in the modern world. And she mentioned the idea of doing it illustrated because we wanted to think of something to make it different. Glamour hasn't done an illustrated column in 25 years. So that was really appealing to me -- to reinvigorate something that hadn't been done in a while.
Glamour has said that your column will focus primarily on relationships between men and women. In regards to romantic relationships, what's one thing you wish you could go back and tell your high school self?
There's almost nothing you can say because it's so experiential every stage or relationship that you're in feels so real and feels like the ultimate and the truth. And then you get to the next stage and it's the same thing. And you're like, "Wait!" There's no substitute for experience.
So I guess I would just say hang in there. Because I think just being alive and continuing to interact with the opposite sex, with your friends, with yourself, all just makes you better. You stop caring about things as much, which is kind of good. You flatten a lot of buttons and you create some new buttons. I'm always on a quest to understand and encapsulate any given moment in my life whether it's culturally, personally.
So there's kind of no advice I can give, because I'm always striving to understand and define moments in my life. The best you can do is hope you get a column in a magazine to express yourself [laughs] and even then, I'm still pondering, constantly.
Can we expect the column to feature true stories of your dating life?
It's pretty personal. The way I pitched it to Cindi was: 'I want to write about things I talk about with my friends and my mom.' And the things I've written about so far have happened to me.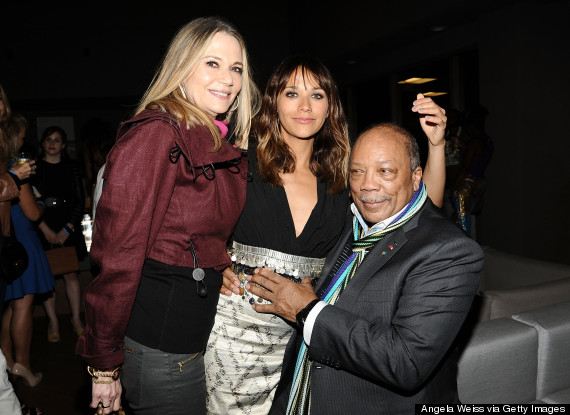 [Pictured: Rashida Jones with parents Peggy Lipton and Quincy Jones]
I know Aziz Ansari is writing a book about modern romance and you guys are close friends. I'm curious, are there certain things you both strongly agree or disagree about?
We talk about it a lot. We both were kind of obsessed with this woman Sherry Turkle -- she's a professor [at MIT] and she wrote a book called "Alone Together." She was an early adopter of technology and then kind of turned on it because she realized how much it was standing in the way of intimacy. One of her observations is about how we used to use technology to further an instinct that we have to get in touch with somebody. And now we use it to create a feeling. So you're home and you're bored and you send an APB out to the world to see if anyone else is there and if they want to engage with you. And then you have a feeling. Which is so crazy and weird.
Aziz and I are actually in agreement about a lot of things. I think we both are slightly Luddite to the sense that we feel like technology adds a whole new extra-complicated level to relationships -- and it might actually bring us further apart.
Will Aziz make his way into the column?
Maybe yeah! We should do a little crossover. I've got to get some guys in there, for sure.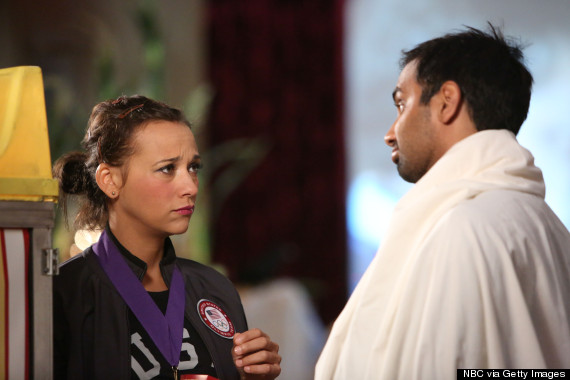 [Pictured: Rashida Jones and Aziz Ansari]
I loved this line from the "Man Hunt" column: "And obviously he has to love me more than he has loved anyone before." How do you think we can even manage these kinds of expectations when you meet somebody new?
Right. Who is ever going to fill that? I don't know. My new philosophy for today, because it changes every other day, is that there is so much luck involved. I think if you actually probed women in a very serious candid way, they would tell you that there are two or three things that they could not deal without, and then they would make the rest of it work. Like have to be attracted to the person. Have to feel respected. Have to make me laugh. And then you kind of make everything else work.
Maybe it's simpler than we think.
I think it is. And I think there's some magic in it.
Last question. I feel proud to be a woman because _________.
Can I be really honest...? I feel proud to be a woman because I think we are kind of better people, and I know men who feel that way too!
Related
Before You Go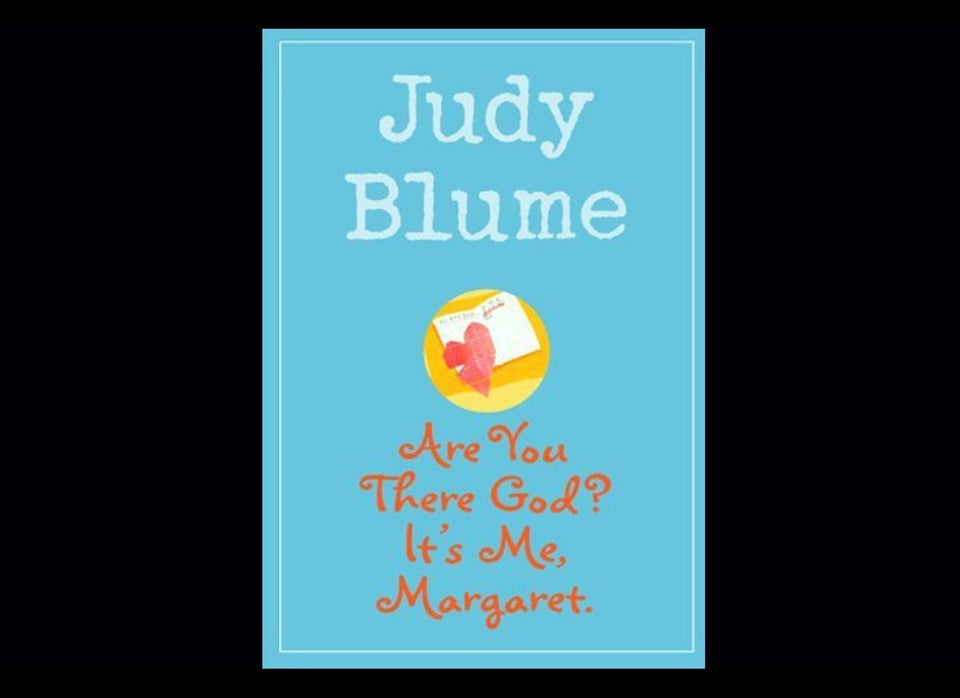 Readers Share: Books Every Woman Should Read