While serving under President Clinton, first as the U.S. ambassador to the United Nations and then as Secretary of State, Albright became known for wearing pins that purposefully conveyed her views about the situation at hand. "I found that wearing jewelry had become part of my personal diplomatic arsenal," she has said. "While President George H.W. Bush had been known for saying 'Read my lips,' I began urging colleagues and reporters to read my pins."
Wednesday marked the opening of the first major museum exhibition of jewelry from the personal collection of former Secretary of State Madeleine Albright.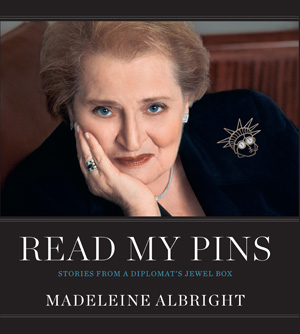 "Read My Pins: The Madeleine Albright Collection" features over 200 pins and will be on view at The Museum of Arts and Design in Manhattan through January 31, 2010.
The exhibit explores the stories behind her extensive pin collection, which includes flags, fruit, insects and birds, and is accompanied by the book Read My Pins: Stories from a Diplomat's Jewel Box, published by Harper Collins.
Below is an interview I conducted with the Secretary last year about her famous collection: