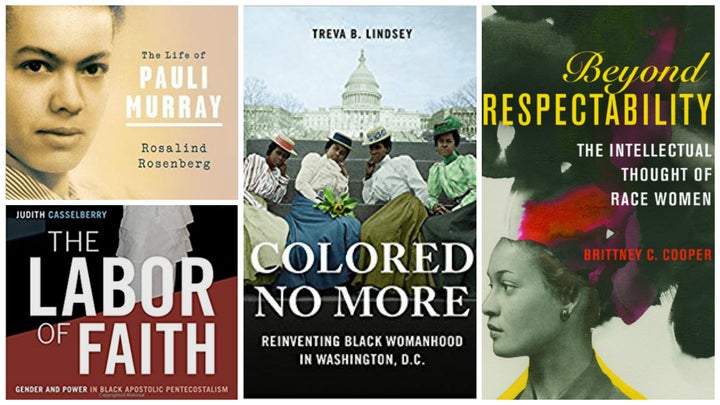 Summer is quickly approaching and if you're anything like me, you're already preparing your ultimate summer reading list. Consider adding one—or all—of these fascinating new books on black women's history. Published within the last few months, these notable new books offer valuable insights into how black women have shaped U.S. and global history. Drawing from diverse academic fields including History, African American Studies, Feminist Theory, and Religion, these recommended summer reads explore the ideas and activism of a diverse group of black women in the United States and abroad from the eighteenth century to the present.
"In The Labor of Faith, Judith Casselberry examines the material and spiritual labor of the women of the Church of Our Lord Jesus Christ of the Apostolic Faith, Inc., which is based in Harlem and one of the oldest and largest historically Black Pentecostal denominations in the United States. This male-headed church only functions through the work of the church's women, who, despite making up three-quarters of its adult membership, hold no formal positions of power. Casselberry shows how the women negotiate this contradiction by using their work to produce and claim a spiritual authority that provides them with a particular form of power. She also emphasizes how their work in the church is as significant, labor intensive, and critical to their personhood, family, and community as their careers, home and family work, and community service are. Focusing on the circumstances of producing a holy black female personhood, Casselberry reveals the ways twenty-first-century women's spiritual power operates and resonates with meaning in Pentecostal, female-majority, male-led churches."
"In the late nineteenth century, a group of publicly active African American women emerged from the social and educational elite to assume racial leadership roles. Their work challenged thinking on racial issues as well as questions about gender, sexuality, and class. Beyond Respectability charts the development of African American women as public intellectuals and the evolution of their thought from the end of the 1800s through the Black Power era of the 1970s. Eschewing the Great Race Man paradigm so prominent in contemporary discourse, Brittney C. Cooper looks at the far-reaching intellectual achievements of female thinkers and activists like Anna Julia Cooper, Mary Church Terrell, Fannie Barrier Williams, Pauli Murray, and Toni Cade Bambara. Cooper delves into the processes that transformed these women and others into racial leadership figures, including long-overdue discussions of their theoretical output and personal experiences. As Cooper shows, their body of work critically reshaped our understandings of race and gender discourse. Cooper's work, meanwhile, confronts entrenched ideas of how―and who―produced racial knowledge."
"Home to established African American institutions and communities, Washington, D.C., offered women in the New Negro movement a unique setting for the fight against racial and gender oppression. Colored No More traces how African American women of the late-nineteenth and early twentieth century made significant strides toward making the nation's capital a more equal and dynamic urban center. Treva B. Lindsey presents New Negro womanhood as a multidimensional space that included race women, blues women, mothers, white collar professionals, beauticians, fortune tellers, sex workers, same-gender couples, artists, activists, and innovators. Drawing from these differing but interconnected African American women's spaces, Lindsey excavates a multifaceted urban and cultural history of struggle toward a vision of equality that could emerge and sustain itself. Upward mobility to equal citizenship for African American women encompassed challenging racial, gender, class, and sexuality status quos. Lindsey maps the intersection of these challenges and their place at the core of New Negro womanhood."
"Throughout her prodigious life, activist and lawyer Pauli Murray systematically fought against all arbitrary distinctions in society, channeling her outrage at the discrimination she faced to make America a more democratic country. In this definitive biography, Rosalind Rosenberg offers a poignant portrait of a figure who played pivotal roles in both the modern civil rights and women's movements. A mixed-race orphan, Murray grew up in segregated North Carolina before escaping to New York, where she attended Hunter College and became a labor activist in the 1930s. She went on to graduate first in her class at Howard Law School, only to be rejected for graduate study again at Harvard University this time on account of her sex. Undaunted, Murray forged a singular career in the law. In the 1950s, her legal scholarship helped Thurgood Marshall challenge segregation head-on in the landmark Brown v. Board of Education case. When appointed by Eleanor Roosevelt to the President's Commission on the Status of Women in 1962, she advanced the idea of Jane Crow, arguing that the same reasons used to condemn race discrimination could be used to battle gender discrimination. In 1965, she became the first African American to earn a JSD from Yale Law School...Murray accomplished all this while struggling with issues of identity. She believed from childhood she was male and tried unsuccessfully to persuade doctors to give her testosterone. While she would today be identified as transgender, during her lifetime no social movement existed to support this identity. She ultimately used her private feelings of being "in-between" to publicly contend that identities are not fixed, an idea that has powered campaigns for equal rights in the United States for the past half-century."
"It is often thought that slaveholders only began to show an interest in female slaves' reproductive health after the British government banned the importation of Africans into its West Indian colonies in 1807. However, as Sasha Turner shows in this illuminating study, for almost thirty years before the slave trade ended, Jamaican slaveholders and doctors adjusted slave women's labor, discipline, and health care to increase birth rates and ensure that infants lived to become adult workers. Although slaves' interests in healthy pregnancies and babies aligned with those of their masters, enslaved mothers, healers, family, and community members distrusted their owners' medicine and benevolence. Turner contends that the social bonds and cultural practices created around reproductive health care and childbirth challenged the economic purposes slaveholders gave to birthing and raising children. Through powerful stories that place the reader on the ground in plantation-era Jamaica, Contested Bodies reveals enslaved women's contrasting ideas about maternity and raising children, which put them at odds not only with their owners but sometimes with abolitionists and enslaved men. Turner argues that, as the source of new labor, these women created rituals, customs, and relationships around pregnancy, childbirth, and childrearing that enabled them at times to dictate the nature and pace of their work as well as their value. Drawing on a wide range of sources—including plantation records, abolitionist treatises, legislative documents, slave narratives, runaway advertisements, proslavery literature, and planter correspondence—Contested Bodies yields a fresh account of how the end of the slave trade changed the bodily experiences of those still enslaved in Jamaica."
"A landmark exhibition on display at the Brooklyn Museum from April 21 through September 17, 2017, We Wanted a Revolution: Black Radical Women, 1965–85 examines the political, social, cultural, and aesthetic priorities of women of color during the emergence of second-wave feminism. It showcases the work of black women artists such as Emma Amos, Maren Hassinger, Senga Nengudi, Lorraine O'Grady, Howardena Pindell, Faith Ringgold, and Betye Saar, making it one of the first major exhibitions to highlight the voices and experiences of women of color. In so doing, it reorients conversations around race, feminism, political action, art production, and art history in this significant historical period. The accompanying Sourcebook republishes an array of rare and little-known documents from the period by artists, writers, cultural critics, and art historians such as Gloria Anzaldúa, James Baldwin, bell hooks, Lucy R. Lippard, Audre Lorde, Toni Morrison, Lowery Stokes Sims, Alice Walker, and Michelle Wallace. These documents include articles, manifestos, and letters from significant publications as well as interviews, some of which are reproduced in facsimile form. The Sourcebook also includes archival materials, rare ephemera, and an art-historical overview essay. Helping readers to move beyond standard narratives of art history and feminism, this volume will ignite further scholarship while showing the true breadth and diversity of black women's engagement with art, the art world, and politics from the 1960s to the 1980s."
Calling all HuffPost superfans!
Sign up for membership to become a founding member and help shape HuffPost's next chapter