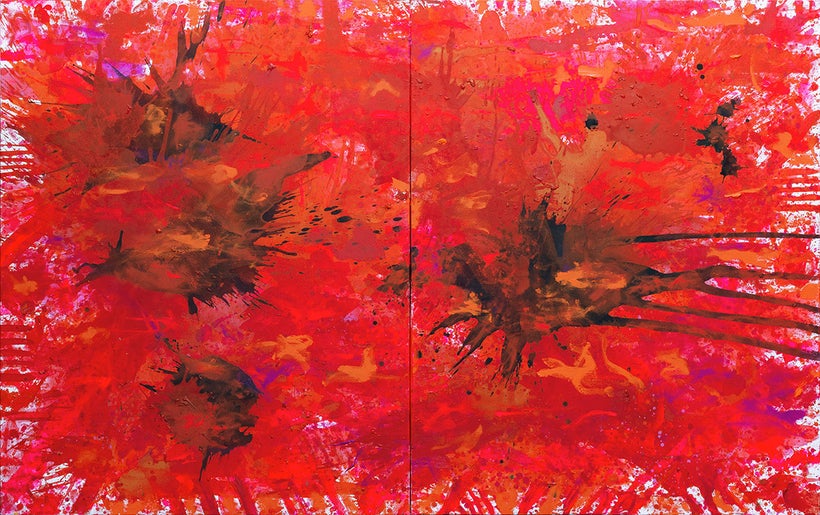 J. Steven Manolis, REDWORLD, 2015, Acrylic on canvas, 60 X 96 in. Two panels.
"If one says 'red' – the name of the color – and there are fifty people listening, it can be expected that there will be fifty reds in their minds. And one can be sure that all these reds will be very different." – Josef Albers
Albers, the abstract painter, poet and theorist wrote THE book on color, Interaction of Color, while abstract painter and poet (and perhaps theorist), J. Steven Manolis, is the subject and one of the authors of a spectacular new art book, REDWORLD: RED PAINTING SERIES, focused on a single color, red, inclusive of far more than Albers' aforementioned fifty shades as there now exist 445 named red colors. Manolis is probably familiar with most; he has painted his world red.
And in this beautifully bound volume, linked to a current museum show at his alma mater, the University of South Dakota in Vermilion (yes, that really is the name of the university town), Manolis introduces REDWORLD, which includes his portfolio of powerful, sensual, abstract expressionist red paintings. He has gifted seven massive masterworks to the university, requesting that the paintings not be placed in offices and boardrooms, but made available to the entire student body in such trafficked spaces as the Student Union building. Adjacent to each painting is a bronze plaque announcing his life's philosophy in poetry: "REDWORLD" by J. Steven Manolis, a poem that directs the plaques' and the paintings' witnesses to "Experience Ultimate Passion".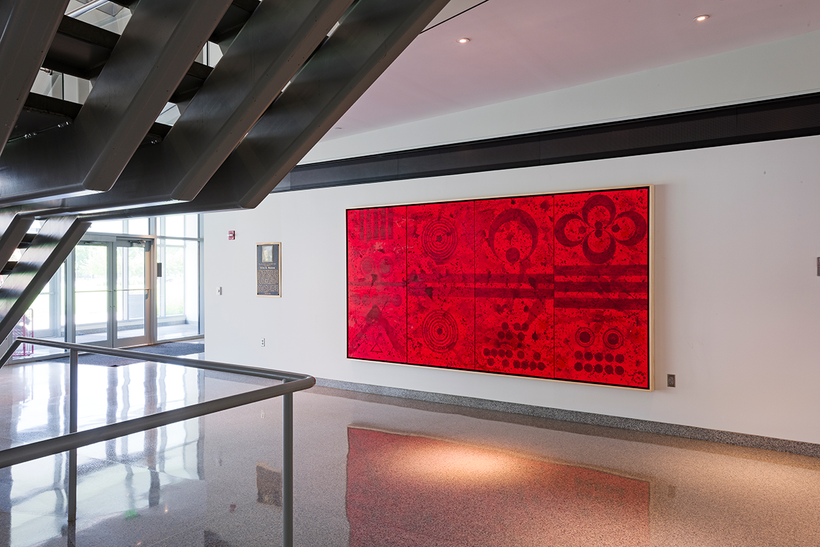 J. Steven Manolis, REDWORLD Glaze, 2017, Acrylic on canvas, 72 X 144 in. Four panels. Permanently installed in the lobby of USD's Beacom School of Business. Photograph by Aaron Packard
Red is hot, red is sexy, red indicates something special, extravagant: a red-letter day, a red carpet. Red means stop but it is also linked to consummate passion, and is synonymous with violence, with blood, war, and fire. But red can express flowers and cherries and strawberries and shiny lollypops. The Red Door can lead to a prostitute or a day of beauty at Elizabeth Arden. Or a lucky home, according to Chinese feng shui. A scarlet woman in a red light district may not be invited everywhere, but she is desirable. People may dream of a flaming red Ferrari or a Titian-haired beauty. Joy may be synonymous with a red balloon, seductive clown-red advertisements (note the omnipresent and apparently irresistible red signage for Coca-Cola and McDonalds), or red red wine and the waxy residue deposited from a crimson lipstick kiss. Red can be linked to jealousy but also to love and commitment, as in a Valentine. Stephen King's and Stanley Kubrick's Red Room or Redrum is murder, but Dorothy's ruby red slippers carry us back to the safety of home. The devil is red, but so are cardinals' scarlet cassocks and papal red leather shoes. Shoes with high red heels have been considered both phallic symbols and symbols of fertility. Only the nobility was permitted to wear them in eighteenth century France. Hans Christian Anderson's prideful doomed dancing girl in The Red Shoes couldn't remove hers while today's red-soled Louboutin stilettos probably don't remain on their wearers' feet for long.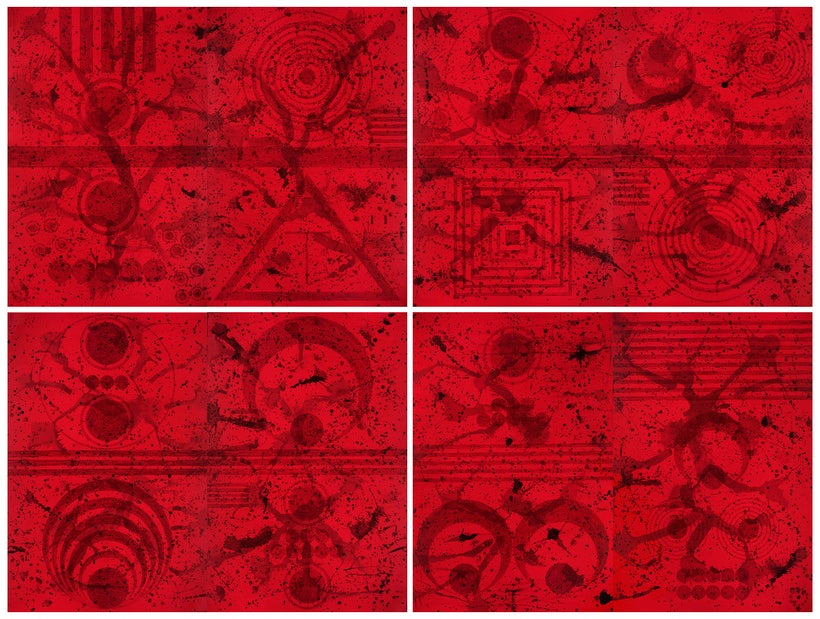 J. Steven Manolis, REDWORLD Self Portrait Quadriptych, 2017, Acrylic on canvas, 144 x 192 in. Four paintings. Photograph by Joseph Charles McCandless.
In Manolis' essay in the book, he mentions eight artists who have most influenced him, although he chooses to not explain how they have impacted his thinking and artistry. We can only guess that he shares high functioning right and left-brains with Leonardo De Vinci, fearlessness with Michelangelo, power and ambition with Pablo Picasso, sensuality with Georgia O'Keeffe, and a connection to color-field and abstraction with Hans Hoffman and Richard Diebenkorn. Manolis' other two favorites are contemporary master colorists he collects in depth, the whimsical painter of vivid-hued small animal patterns, Hunt Slonem, and the ninety-year-old virtuoso Wolf Kahn, Manolis' teacher for thirty years.
J. Steven Manolis is a most unusual artist in that he only began to show his work a few years ago, after he turned 60. Formerly a noted Midwestern rock star and then Salomon Bothers' youngest partner and head of real estate investments, a fervor for art-making had infected him from early childhood and he studied with Kahn until he was certain he had grasped the technique he needed, and was free to soar within his chosen watercolor and acrylic media and leave the business of business behind.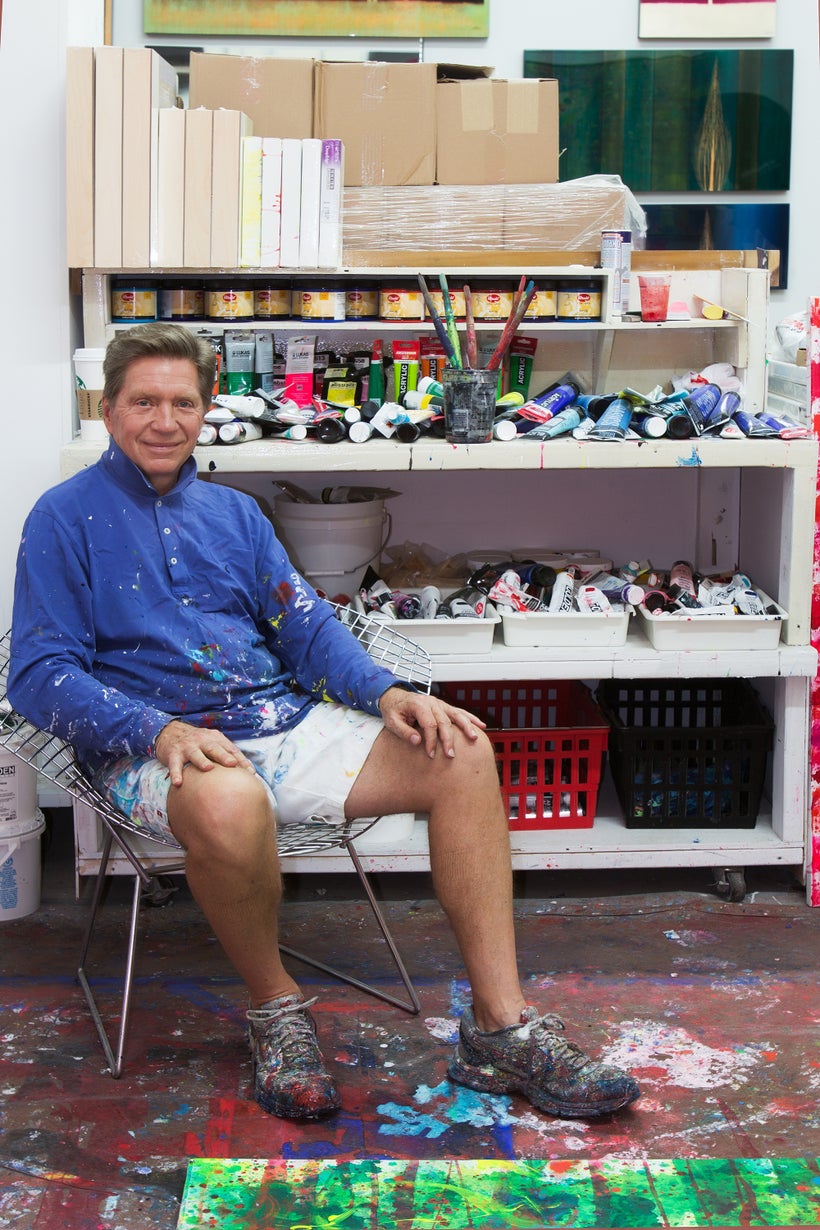 Artist J. Steven Manolis in his Miami studio.
Late blooming artists are not unheard of; second career artists, including Bob Dylan, have been granted major exhibitions. The post-impressionist Paul Gauguin was a successful stockbroker for more than a decade prior to pursuing painting full-time. But often latter-day painters are dabblers or primitives, such as the kitschy Grandma Moses. Manolis is something rare, a fully formed master emerging into public view. His splashes, dabs, and levels of saturation are anything but random. And there is a subtle eroticism that becomes apparent through lingering examination of the compositions.
The book features not only the REDWORLD of Manolis, but a handsomely illustrated history of the employment of red in art. From fascinating essays by artist/academic/curator Bruce Helander, we learn about the chemical composition of the red lipsticks worn by Queen Elizabeth I. We see illustrations and read about ochre coloration from Paleolithic times and pigments utilized by the Native Americans in Manolis' home state of South Dakota, onward through the Renaissance and into contemporary art. Exquisitely reproduced are such works as Rothko's Untitled (Red)-1956 , Jeff Koons' Balloon Dog (Red)-1994-2000 (Koons also had a prior career on Wall Street), Anish Kapoor's Mother as a Mountain-1985, and David Hockney's majestic A Closer Grand Canyon-1991. J. Steven Manolis' evocative and accomplished paintings hold their own alongside numerous other red creations by renowned artists displayed in the book.
The esteemed award-winning art critic Donald Kuspit writes, "When art has achieved lasting aesthetic glory, as Manolis' Redworld paintings do, it is a sign that it has successfully metabolized life, to use a psychoanalytical idea, imaginatively worked through lived experience – deeply personal experience, experience that forms and informs one's self, and the feelings associated with it, feelings otherwise difficult to work through, to come to terms with."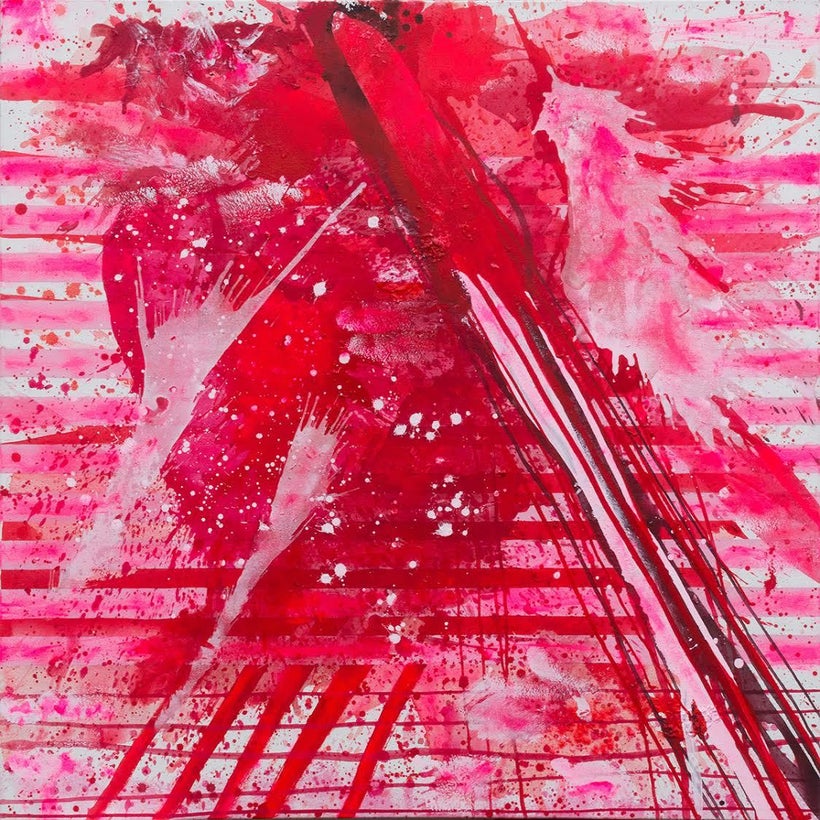 J. Steven Manolis, REDWORLD PARTY, 2015, Acrylic on canvas, 60 x 60 in.
Like its musical sibling jazz, abstract expressionism is an American original, an art form born in the USA. J. Steven Manolis is one of the foremost practitioners of AbEx today, his brilliant brushstrokes as bewitching as those of such forefathers and foremothers as Clyfford Still (originally from North Dakota), Morris Louis, Barnett Newman, Sam Francis, Joan Mitchell and Helen Frankenthaler.
Josef Albers told his classes at the legendary Black Mountain College that red was the most difficult color for a male artist, which is why his student, Robert Rauschenberg, proceeded to paint a red series, the only red series I know of prior to Manolis', and not nearly as extensive.
This tantalizing book arrives in a striking handmade red linen slipcase embossed in silver, containing all the voluptuous variances of red, the luminous layers painted by Manolis appearing on pages designed by Daniel Ellis and printed in Belgium.
J. Steven Manolis has painted in other colors and continues to do so in his Miami studio, producing a myriad of splendid painterly abstract gestures on often behemoth-sized canvases and in lyrical small watercolors, but many consider his REDWORLD monochromic paintings the summit of his achievements.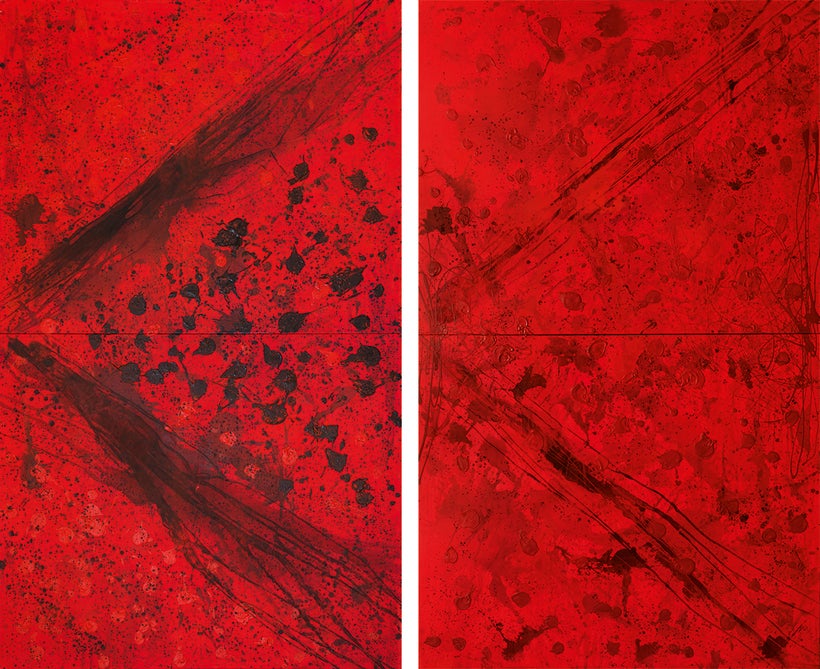 (left) J. Steven Manolis, REDWORLD (Masculine) (MLMJ), 2016, Acrylic on canvas, 120 x 72 in. Two panels.
(right) J. Steven Manolis, REDWORLD (Feminine) (MLMJ), 2016, Acrylic on canvas, 120 x 72 in., Two panels.
REDWORLD: RED PAINTING SERIES by J. STEVEN MANOLIS, with essays by Bruce Helander, Donald Kuspit, Dr. Larry Schou and J. Steven Manolis - Available at Amazon in Mid-November
J. STEVEN MANOLIS, PAINTING VERMILLION RED, John A. Day Gallery, Warren M. Lee Center for the Fine Arts, University of South Dakota, through October 9, 2017
REAL LIFE. REAL NEWS. REAL VOICES.
Help us tell more of the stories that matter from voices that too often remain unheard.
This post was published on the now-closed HuffPost Contributor platform. Contributors control their own work and posted freely to our site. If you need to flag this entry as abusive,
send us an email
.