Although you may not want to admit it, you probably spend a good amount of time in your bathroom. And when you're on a budget and looking for an apartment for rent, bathrooms tend to be one of those features that are often ... overlooked in the "recently updated" department. (And also? Grimy.) But renting is all about working with what you have. Luckily, the bathroom is such a small room that little changes can have a big impact -- and they don't have to cost a bundle.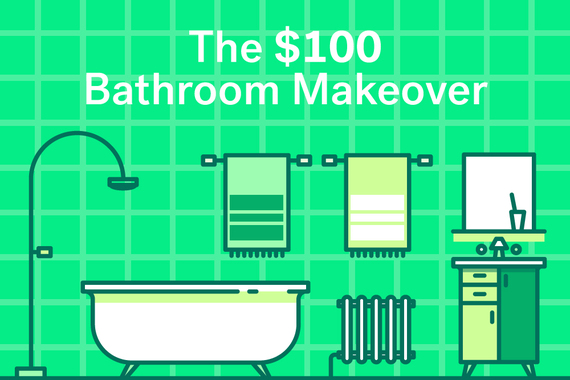 1. Hang a new shower curtain and liner
There are lots of pretty, affordable shower curtains out there (Urban Outfitters and Target are both great sources). If you decide on a curtain with a design, treat it like a wall tapestry, and play with colors from the design in the rest of your bathroom decor. Consider buying a new one and washing the liner you have: Even plastic liners can be washed in cold water in the washing machine, along with some towels. (The towels help scrub mold and mildew from the liner.)
To create even more drama, hang an extra-tall shower curtain; use a tension curtain rod to avoid adding holes to the wall. Elongated shower curtains will make the room look taller, not to mention hide any less-than-fashionable tiling you've got in the shower.
Total estimated cost: $10 to $20
2. Swap a standard showerhead for a raincan
A raincan showerhead is the ultimate quick fix when it comes to adding a little luxury to a ho-hum shower. It can transform your everyday lather into a lavish experience, which is why you'll almost always find them at spas and in luxury hotel rooms. Find an affordable one on sites like Amazon, install it yourself, and make sure to take it with you once you move out. (Read: Don't toss the one you're replacing, or be prepared to give up a chunk of your security deposit.)
Total estimated cost: $20 to $60; prices vary online
3. Get creative with temporary tile
Depending on the size of your bath, purchasing enough peel-and-stick vinyl tile to cover an entire bathroom floor could go over your $100 budget -- but contact paper tile can be a quick (and temporary) way to make a design statement. Hate the border of pink tiles circling your bathroom? Cover it, and other low-traffic surfaces, with contact paper! Just be sure to thoroughly clean before you stick (and wait until the bathroom is all dry); otherwise, it may start to peel.
Total estimated cost: $20 to $30
The wall space over your toilet is prime real estate to hang shelves. But once you hang said shelves, don't just throw your gigantic bottle of mouthwash up there. Artfully style them with bathroom canisters, soaps, rolled towels, and even extra toilet paper. Just remember: Always group items in odd numbers. Even TP looks chic when three rolls are stacked in a tiny pyramid. You can buy an over-the-toilet rack, or DIY some shelves with scrap wood for no cost at all.
Total estimated cost: up to $30
Stuck with an orange-y oak vanity with brass hardware from the '90s? Paint it. This one requires landlord permission, of course, but if you pick a neutral color like white or gray, you might stand a good chance of gaining approval. You can also ask to spray-paint the hardware for a quick fix, or skip the request altogether and swap the old hardware for adorable knobs or pulls from places like Anthropologie, Wayfair, and World Market.
Total estimated cost: paint, $3 to $5 (get the sample-sized paint can!), $2 to $10 for each knob or pull
Bathroom rugs can start looking dingy pretty quickly. Make sure to replace them every year or so, and machine-wash once a month to keep them fresh. If you have a large bathroom (lucky you!), opt for a 3-by-5 area rug instead of a bath mat. And, renters with narrow bathrooms may benefit by searching for runners or hallway rugs. You'll have a larger selection when it comes to pattern and color -- just avoid rugs made of wool, jute, and polypropylene, which can be rough on bare feet and are harder to clean.
Total estimated cost: $10 to $20 (for deals, check stores like T.J. Maxx or Marshalls)
Even in the most beautiful bathroom, dingy grout makes a bathroom look unkempt. The fact is, white grout can age over time; even if it's freshly cleaned, the grout may be permanently stained. Enter grout paint. This handy invention costs less than $15 at home improvement stores, and for just a few dollars and hours of your time, you can totally transform your grout. If you have white grout, you can choose just to freshen it up with white paint. Or, with your landlord's permission, you can paint your grout a new color -- gray grout with white tile is having a moment.
Total estimated cost: $13
Why would you upgrade your landlord's digs with your own money? Well, if you're planning to stay awhile (and that ugly hardware offends your design sensibilities), the real question is why wouldn't you? Faucets are shockingly easy to install (you just need a basin wrench and a YouTube tutorial). But if your landlord is just as particular as you are (or you've gotten attached to your pretty sink jewelry), hang on to the old faucet and reinstall it when you move out, so you can take your spiffy new one with you.
Total estimated cost: $10 to $40
9. Hang a (budget-friendly) masterpiece
Just because it's a bathroom doesn't mean it isn't worthy of wall art. Print out and frame a free space travel poster from NASA, or opt for an original from the National Gallery of Art or The Met, both of which provide free access to thousands of digital downloads from their galleries. Pick your favorite (we vote French impressionists for a bathroom), print out an 8-by-10 or 11-by-14 photo at your local pharmacy, grab a frame, and voilà! Your reflection won't be the only masterpiece to gaze at while you brush your teeth.
Total estimated cost: $0 (the art is free!), $3-$10 to professionally print depending on size desired, $10 for a frame
Many bathrooms have a hodgepodge of fixtures installed over the years: a brass toilet paper holder, white ceramic towel bar, and chrome faucet, for instance. Fixtures, unite! Pick one metal (satin nickel or oil-rubbed bronze are safe bets) and either spray-paint your current fixtures (again, seek landlord approval first) or, for a higher price point, install new ones to be removed when you leave (that is, if you can't persuade your landlord to give you a little discount on your rent to compensate for your work). It's oddly satisfying to have all the metals in your bathroom match.
Total estimated cost: $4 for spray paint
First, consider updating the metal base of your light fixture to match the finish of your aforementioned newly coordinated fixtures. Once that's complete, you can pick up new glass globes at home improvement stores for $5 to $10 each. Or, if you're stuck with the ever-popular Hollywood-style light fixture, buy some vintage-style filament bulbs for an instant industrial-chic upgrade.
Total estimated cost: $5 to $10 each for globes, $6 per filament bulb
Stuck with a builder-basic mirror in your rental? Fear not. Get some crown molding (or better yet, use some free scrap wood from another project or from a crafty friend) and cut it down to the dimensions of your mirror. Paint it to match your vanity or in a fun color to add a pop to the room. Attach with some heavy-duty Velcro, so you can remove it when you leave. Instant update!
Total estimated cost: up to $20, depending on the type of wood and how much you need
How have you updated your bathroom? Share in the comments!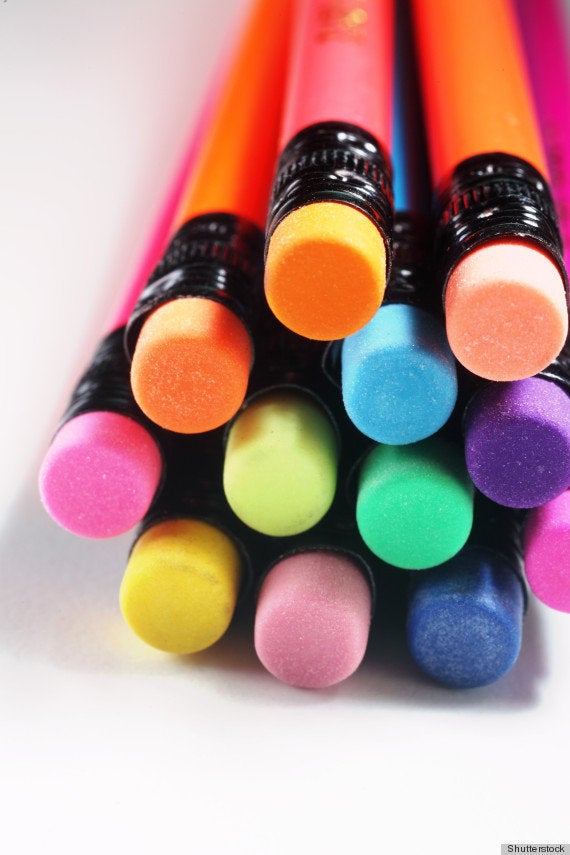 The Best Cleaning & Organizing Tips
Related