RESTAURANTS TO WATCH 2018: Cacio e Vino and Mokbar
Looking back on this year of boisterous dining, two neighborhood restaurants stand out – one Sicilian, one Korean -- as beacons of what many of us may crave in 2018. Food that has a sense of place and an air of authenticity; food that offers comfort and ease; and dishes we might want to make at home, if only we knew how!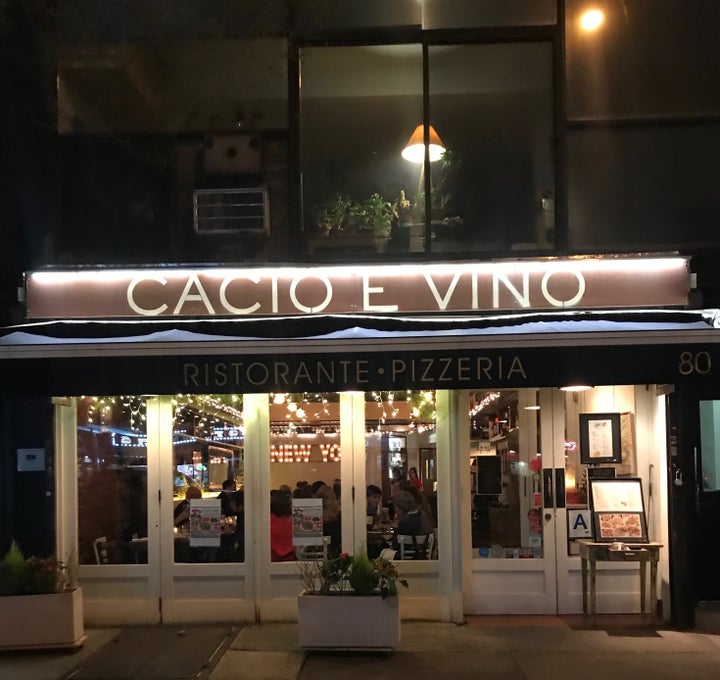 I was reminded of this during such a dinner at a home-style, almost home-sized Italian restaurant on Christmas Eve, a meal utterly devoid of clichés. The first bite of an eggplant timballo at Cacio e Vino, filled with creamy fior di latte, parmesan and pecorino cheeses, suggested that this place might be the real thing. A lusty mound of caponata made with first-rate olive oil confirmed it. Finally, their fresh sardines rolled around pine nuts, raisins and bread crumbs and plunked onto a bright yellow bed of sweet and sour onions transported us back to Sicily from this little storefront on Second Avenue in Manhattan.
What impressed us most, that is, aside from the fabulously urbane general manager Paolino, and graciously engaging waitress Gabriela, was the sense of restraint displayed by the chef. This food, deep from the soul and childhood of Giusto Priola (chef and owner of this restaurant and also of Cacio e Pepe located a few blocks away) proves that true Italian food is void of gloppy tomato sauces, excess amounts of molten cheese, and mis-reinterpretations of dishes that come from the classic regional repertoire. The canon of the authentic Sicilian kitchen is clearly in evidence here. It may be why Philip Glass, one of the world's most traveled, and revered, composers, comes often.
Pastas are made in-house with several shapes new to me. Busiate -- resembling long tightly twisted strands of telephone wire -- were sauced with a Sicilian pesto of basil, almonds, garlic and a touch of tomatoes, then topped with sautéed shrimp. Casareccia -- similar to cavatelli -- came in a homey sausage ragu with a modest background of tomato and topped with a most-tender braised whole spare rib. Cacio e pepe -- a trendy and much mistreated dish -- is well rendered here as homemade spaghetti, pecorino, black pepper and starchy cooking water tossed in a hollowed wheel of pecorino, the result being a creamy coating of each pasta strand and barely a drop of sauce on the plate.
One main course was all we could caloricaZlly absorb and we opted for a very large grilled calamari that was served over a toss-up of sautéed zucchini, onions, sweet peas and cherry tomatoes bound with salmoriglio, the latter being a zesty sauce of olive oil, lemon juice, garlic and oregano. A group at a nearby table was tearing into shortribs braised in white wine with grilled borrettane onions that had soaked up lots of balsamic vinegar in the cooking process.
The dining room seats about 50 and is anchored by a very serious pizzaiolo who turns out thin and nicely fragrant focaccia for the restaurant's bread baskets. We'll schedule a second trip to try his pancetta, porcini and mozzarella pie and his carpaccio rendition with bresaola, arugula, fior di latte, parmesan and lemon dressing, which sounds particularly intriguing. Also intriguing are Monday all-you-can-eat pizza nights ($20 including two Menabrea beers)! There are also food-and-wine pairing dinners (five courses and five wines), and Sicilian-style weekend brunches.
As our night was coming to an end, we chose two desserts, in true holiday spirit. A beloved cassata (Giusto's favorite) -- a Sicilian-Arab dessert of sweetened ricotta (imported form Palermo) and, here, topped with a green layer of marzipan; and a standout homemade cannoli punctuated with slivers of candied orange rind. A double espresso and parting shot of Passito di Pantelleria, reminded me of an adage suitable for 2018: "I eat very simply, I only want the best." Cacio e Vino/ 80 2nd Avenue, NYC/ 212-228-3269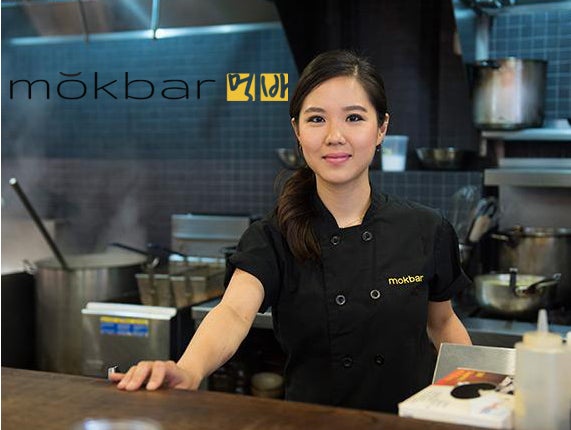 For three successful years, Esther Choi has been running a smash-hit Asian fusion takeaway shop with a small dining counter in New York's Chelsea Market. It is called Mokbar and specializes in Japanese soup-and-noodle bowls made with high flavor-profile Korean ingredients. Lucky for her, it is perpetually jammed with office workers and busloads of tourists. Lucky for us, her highly sought-after concept has recently found a simpler (and less raucous) home within walking distance of where we live in Park Slope, Brooklyn.
Ms. Choi has great respect for authenticity, and so may have little sympathy for delicate palates. Therefore, expect spicing to be at the level of "red alert." You may get an adrenaline rush and break into a sweat, but hang in there because the sensation gradually evolves into exceeding pleasure. A good defense against the onslaught of chili peppers is to top a dish with a poached egg whose yolk, when broken, will temporarily assuage your tastebuds.
We began with some sharables: crisp buns (ho' cakes) stuffed with pork belly; chicken wings in a mercifully mild sauce, and a Koreanized version of disco fries with ramen gravy, mozzarella and kimchi that was far more interesting than what's served at your local American diner. You can't leave without dumplings (called mandu) and we ordered all three varieties on the menu.
There are several outstanding ramen served in enormous bowls and we were "bowled over" by an ode to the pig called Army Budae: It was composed of kimchi pork broth, Spam (yes, Spam is becoming trendy in certain quarters), sausage, pork belly, bacon, kimchi, tofu, watercress and shreds of cheddar cheese.
For shunners of cooked animals, there are sufficient vegetarian items on the menu to keep things humming along.
If you are blessed with an endless appetite (as is my husband, often called Godzilla of the Dinner Table), you should direct your attention to Mokbar's Jipbap (meaning "whole meal" – which are full meals set on trays and consisting of a generous portion of protein along with assorted little dishes called banchan, market greens, five-grain rice and soup. It is perhaps this plethora of small offerings – spicy pickled things vegetables and tiny salads – that I adored most. These are staples of a typical home-style Korean meal and had our palates burst into a galaxy of startling tastes.
Their eight-vegetable Royal Jipjab was soulful, as was my favorite fried chicken curry katsu.
The 60-seat restaurant fronts onto Flatbush Avenue and has a back room that, away from traffic, seems a bit quieter – but we were happily seated at high tables near the window. Most dishes are in the $12-$16 range and service is kind-hearted and knowledgeable.
I remain a huge fan of Esther Choi who, this past year, opened a Korean gastropub called Ms. Yoo on Manhattan's Lower East Side. Her cooking is rooted deeply in her relationship with her Korean grandmother. Exactly the relationship with food I will crave in 2018. Mokbar/212 Flatbush Avenue, Brooklyn/347-987-3042
Related
Popular in the Community