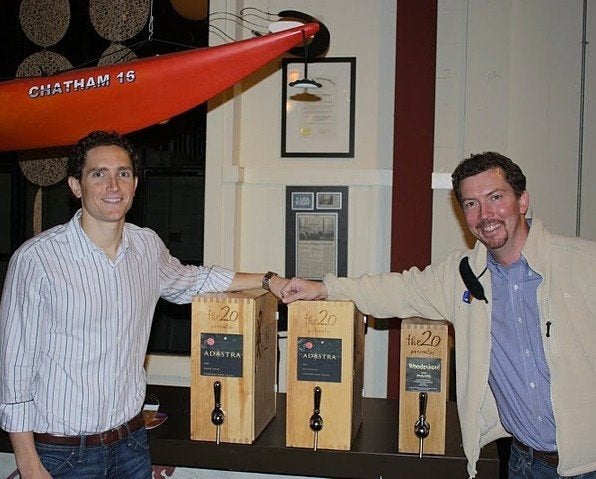 Rion Austin has spent his life on a quest to combine his entrepreneurial drive with a passion for helping the environment. His interest in saving the planet and creating a sustainable business developed at a young age, when he started a successful recycling program at his elementary school that eventually inspired a city-wide effort. But it wasn't until many years later, after a move from the East Coast to Stanford Business School, a series of corporate positions and many trips to California Wine Country, that he found his calling: to introduce wine lovers to an entirely new way to experience and enjoy wine in their homes and help save the environment in the process.
Austin, with business partner Chris Coleman, founded the20 in 2009 and officially launched the wine company in 2010. Through the20, Austin and Coleman introduce customers to handpicked artisan red and white wines delivered in 3-liter, eco-friendly bags that can be easily installed and kept fresh for up to a month inside reusable casks (which the entrepreneurs first designed in Coleman's garage). In less than two years, the20 has grown from cost-cutting solution for local restaurant owners into a nationwide movement.
One of the purposes of the20 is, of course, to connect people throughout the country to high-quality wine. But the company also encourages environmental responsibility. When did your passion for the environment begin?
The philosophy and awareness of the impact that our consumption has on the planet has always been a part of my life. I come from an environmentally conscious background and grew up in Connecticut in somewhat of a hippie household. My parents were both public school science teachers -- my mother taught environmental science, and my father, chemistry. We grew our own sprouts on our window sills. I remember taking trips with my dad to recycle glass and cans before recycling was available. We had to sort our own recycling at "recycling centers" that were set up ad hoc in vacant lots.
I actually did my first recycling project as early as the third grade: I started a paper recycling program in my elementary school that ended up being applied across the entire school. It was the first program of its kind there, and was one of the main impetuses for the first community-wide recycling program in that part of Connecticut.
And how did you develop an interest in business?
I went to Dartmouth and double majored in economics and environmental studies. I specifically focused my time and effort on resource utilization and how people's decisions impact their footprint. I think economics initially clicked with me as a field of study because I could see the connection between the economic decisions people make and how including or excluding specific externalities can cause an environmental impact.
After graduating from college, I went the business route rather than the science route. I worked at Oliver Wyman in San Francisco, then went back to Stanford for business school. And as part of the application process, Stanford asked me one big question that made me think again about my environmental roots: "What matters most to you and why?" My essay was all about having a positive impact on the environment through business. And ultimately, I decided that my goal was to found a company that was stable economically but also had a very strong positive impact on the environment in some form.
You're obviously located in a state that has a thriving wine culture. And you clearly have come to love wine. How were you introduced to California wines?
When I first moved to San Francisco, I discovered that California was this amazing little bubble with so many resources. It was very different from where I grew up. And Wine Country -- Napa and Sonoma -- is just an hour or two away. It's such a unique experience to be so close to the epicenter of an industry. Wine from this region is extremely important to the California economy, but it also puts the U.S. on the map globally. I found myself renting a driver or a car and popping into local wineries several times per year with friends. We often got to meet the purveyors and were able to try different varietals that I wasn't even aware existed.
To top it all off, the scenery is stunning and changes dramatically through the different seasons. This has influenced how I feel about the experience of enjoying, packaging and selling wine and also growing my business. I find the most beauty in nature and seeing things in their natural state.
You had some help combining all your passions into a fruitful business. When did you meet Chris, and how did you find the collective inspiration to start your own wine company?
Chris is the husband of my grad school classmate, Emily. I met her because she was in my group for the first exercise I did when I got to Stanford Business School. We created a mock greeting card company and became friends. Chris, Emily and my then girlfriend, now wife all started hanging out together.
From the moment I came to California, I was trying to find an idea for a business that would have staying power, because I had a burning desire to start something of my own. But initially, I didn't feel that I had an idea that encompassed all my values and was also promising enough to pursue.
No matter where I worked, I had always been evaluating concepts for different businesses in my spare time. On the weekend of Jan. 3, 2009, we all decided to hang out at Chris and Emily's house in Sonoma. One night, Chris and I were sitting outside and, after more than a few bottles of wine, started talking about business ideas. He was running a specialty sales company at the time and had been working with small wineries in the Bay Area, making his own wine and helping them with sales and marketing. He said, "I've noticed that the tasting rooms in the wineries get tons of traffic between Thursday and Sunday and then the rest of the week, they're lucky if they get one or two folks." So open, unfinished bottles of wine were getting poured down the drain, which meant restaurateurs were losing about $20 or so of revenue per bottle.
We talked about how we could address that issue. Chris had done some research and said that the packaging technology for bag and box wine had become much more sophisticated over the last couple years, but there was still a stigma attached to it -- a lot of companies selling bag and box wine were putting bad wine in something that wouldn't house it very well. We wondered how we could remove the stigma of the technology and put good wine inside new technology and find a superior way to deliver it to people. This new box and bag technology is much better from the winemakers' perspective, because they can eliminate cork taint, which kills 5 percent of the wine. And it also cuts out the weight of the packaging and is much better for the environment, because it has half the carbon footprint of the same wine packaged in a bottle.
We started thinking about whether or not there was a way to market this to restaurant owners, who were paying wholesale bottle prices and losing so much money by pouring wine down the drain. We realized that this was a real economic problem for restaurants, and if we could solve it, we would have a great business.
So your business was partially started because you felt you could provide a simple solution to a major problem faced by business owners who serve wine. But what is the overarching mission of the20?
Our goal is to expose people to amazing artisan wines in a more sustainable way. And this mission was inspired by Chris' passion for small-production artisan wines and my lifelong desire to create a sustainable business that is also kind to the environment.
Chris has really opened my eyes to how magical the experience of artisan wines can be. The deck is stacked against small producers. And that's a shame for them and for consumers, because the odds of the average person finding any small production winery are pretty slim. Most wines people buy come from massive wineries or groups that have millions of dollars in advertising budgets. In the U.S., unless you live in Washington, California or Oregon, you're probably not exposed to 99 percent of the producers out there. We wanted to throw a wrench in the system and give small guys a chance to expose their wine.
And how do you give your customers access to these small-production wines?
There are two ways people can get access to the artisan wines we offer. The first is through our online wine shop. We have 10 to 15 different wines available at any given time. Because we go to small producers, we get a very small allocation from an already small production. Each wine is available for about two to five months depending on how large the allocation is. So, every three to five months, our customers get a completely new portfolio. And Chris and I personally pick all the wines ourselves.
Secondly, we have a monthly club, which is pretty different from any other one that's out there. We only release a single wine -- the best wine available that month. Most wine clubs will send a shipment of two to six bottles at once. You don't know what you're getting. We don't like how that forces folks' hands. So we send an email to our wine club customers a week before the end of the month and showcase the wine that's going to be released. Then we give them a week to decide if they want it or not. We only want people to get wines that they'll truly enjoy.
I'm particularly interested in the technology behind your packaging. What gave you the idea for your wine cask system, and how did you develop it?
It was a process of iteration. It was a lot of woodworking in Chris' garage. We were trying to find as simple effective of a solution as possible to eliminate the oxidation of the wine and consistent flow. Our first system, which was our "Premier Cask," is hand-crafted out of red oak -- the same material used to make all wine casks. It has a stainless steel tap on it so it doesn't interact with the wine. We didn't want to make anything that required electricity or had a lot of pieces that would break and potentially cause extra cost. It was also really important to me that we designed something without an environmental impact.
Your "Chiller Cask" is relatively new and pretty unique looking -- it's metal and looks just like an ammo case. How did that idea come about?
There are a lot of great white wines out there, and we realized there was a call for a system you could put in the fridge. Metal conducts heat very well and is also a great insulator, so we knew that would be the best material to use. Initially, we were fabricating them ourselves through a local contractor, and they were costing us $300 a pop. But consumers don't want to pay that much for something new. We started thinking about which type of system would serve the same purpose as the metal one we were using but cost far less than $300.
We discovered an amazing number of people who have decommissioned army ammo cases around their home. You can even buy them at surplus. Chris had several of them that he had been using as storage devices and keeping in his garage, where he does all his tinkering. One day, he was thinking about the chillable cask production issue and noticed one of the cases. He wondered if it would fit and measured one of them. The specific ammo case he had was about 3 percent greater volume than 3 liters -- which is the size of each of the bags of wine we sell -- so it fit almost perfectly.
The Chiller Cask has been met with a very strong response. It actually blows people's minds that there is something that was once a device used in war and is now one of the coolest things you could drink wine out of. People loved that they can see the old details and the specs for the ammo on the sides. We also added a phrase to the side of it: "Make Wine, Not War." It's really exciting to see people's reaction to it, because it's very emotional, and that's something you don't often get to see as a business owner.
I heard the tap is somewhat tricky to install. How are you improving it?
There's always a learning curve with something new. We try to make all our tap systems as simple as possible. We produced instructional videos and a pictorial guide for all our casks and products that tell you how to get set up. As a bootstrap startup, you have to do the best you can with the resources available. And as the business has grown, we've been able to get more access to resources that help us make improvements. Our business philosophy -- and Chris has drilled this into me -- is that, as a startup, you have to be solutions oriented. We've hit every obstacle along the way. As an entrepreneur, whenever you hit an obstacle, you have to figure out how to get through it.
Wine is a crowded space, especially in California. And you have a unique product. Who are your main competitors, and what sets you apart from them?
Our biggest competitor is not another wine company, but rather a lack of awareness in who we are and what we're doing. There is finally some innovative stuff going on in the wine space. And it's not a space that has been historically categorized by innovation. A long time ago, someone said they should put wine in bottles, and it stayed there until screw caps came around a few years ago. Now people are putting it into other formats like kegs. I think when wine lovers see and interact with what we do, the typical response is, "Why did I not know about this? This is pretty amazing." But at the heart of it, we're a bootstrap startup with an innovative idea.
There's still a perception issue we have to overcome every day with our packaging. We chose our packaging in service to the wine. No one says, "I want a glass of bottled wine." We pour the wine directly from barrels into our eco-friendly bags, so it's the same product. But we've cut all the packaging waste. However, ultimately, we chose our packaging because it's better for the wine.
What are your plans to market your product more widely and grow the20's brand in the future?
Marketing has been a bit of a challenge, because there's a lot of minutiae when it comes to state liquor laws. When you're shipping and selling wine or any other alcohol, you have to figure out solutions state by state. In some states, you don't need a license. In other states, you have to work through multi-tiered networks. We plan to navigate these marketing and shipping challenges as we grow. Our ambition is to be in as many states as possible. We're always evaluating our options and what will enable us to be in different markets.
Locally, we try to do events to get people to experience our product. It's a tactile, experiential thing to touch our casks and taste our wines. Until you try the wine, you don't know how good it is. And once you taste it, you become aware of the value you're getting. These events are always going to be important to getting us out into the marketplace. I think at some point, we'll be going traditional. But as a startup, we want to be scrappy and interact to let people know how excited we are about the product.
The alcohol industry is a social space, so a huge part of our business comes from word of mouth. We would love if every one of our customers was vocal, because it adds a layer of credibility that we can't provide. I expect our happiest customers will be a big part about how the word gets out about us. Wine in and of itself is not that new or different. But if people walk into a friend's house and see one of our casks, it immediately starts a conversation.
Names: Rion Austin and Chris ColemanCompany: the20Ages: 33, 45Founded: 2009 (started selling in 2010)Employees: 2 full time (and a corps of hard-working volunteers)Website: www.the20wines.com
Related
Popular in the Community