Pretzel-bun burgers may be all the rage, but they couldn't keep casual-dining chain Ruby Tuesday from a double-digit debacle. For its fiscal quarter ended Sept. 3, 2013, the casual-dining chain reported an 11.4 percent plunge in same-store sales at company restaurants.
The dive came despite the chain's biggest menu rollout in the last seven years. On August 12, Ruby Tuesday introduced eight new products, including four burgers on pretzel buns, three Crispy Flatbreads and a tempura green bean appetizer. Six weeks of TV advertising that included national cable plus spot advertising in select markets backed the launch.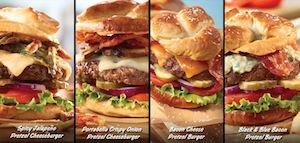 President-CEO James J. Buettgen said the results were "disappointing and did not reflect where we believe we can take the business as we execute our repositioning strategy." He offered several explanations including the popular "economic issues continue to provide significant headwinds" tack. Buettgen also suggested that a lower average check due to lower pricing for new menu items was a not-unexpected culprit.
"The new items are all priced at or below average, so the pretzel burgers are from $8.99 to $9.49, the flatbreads are $6.99 and $7.99, and the green bean appetizer was $5.99. So on an absolute menu level, or within the categories that they're featured in, they're attractively priced items," Buettgen told analysts. "And we knew going into the rollout that we are going to see some level of check decline to the degree we got strong preference on the items, and that was part of our effort to showcase a more casual and approachable items, but also to give more value and affordability to guests."
However, when pressed for details, CFO Michael O. Moore explained that only one percent of the 11.4 percent sales drop was due to check while 10.5 percent reflected guest-count decline. Added Buettgen, "Keep in mind that our guest declines have occurred over a number of years and will not be reversed overnight. Having said that, we believe we are on the right strategic path and that our efforts will lead to sales and guest count growth over time."
While Moore noted that only the last three weeks of its first fiscal quarter benefited from the pretzel burger rollout, he was hardly optimistic about the current quarter. "We anticipate same-restaurant sales to be down high single-digits in the second quarter, with sequential improvement in the third and fourth quarter, including positive same-restaurant sales in the fourth quarter, reflecting traction from our new menu offerings and marketing campaign."
He noted that more than 20 percent of diners ordered at least one of the eight new items on a menu with more than 60 dishes. He called that "significant and certainly a big step in the right direction. The initial high preference demonstrates how appealing the new items are to our guests."
The menu revamp will continue with the "new food platforms and items that we have in test," Buettgen said. Reflecting lessons learned from the introduction of lower-price pretzel burgers, the "products that we have in the queue are at a range of price points, some comparable to those we've rolled out, others that are more expensive and more premium," Buettgen said. Those products will get advertising support more evenly spread out across all 12 months, rather than front-loaded in Q1 as it did last year.
Todd A. Burrowes, COO and Ruby Tuesday Concept president, outlined changes made or planned to improve the brand. These include improving music programming "by offering more of a contemporary mix of rock, pop and Top 40" and exploring changes in lighting and décor "to more accurately reflect our brand positioning."
Finally, the sees a solution in making its employees more "genuine." Burrowes said the chain will be "testing an enhanced service platform that enables team members to share their personality and passion for our brand by connecting with guests in a more natural and genuine manner. What I mean by this is that we'll encourage our team members to make real connections with each and every guest in a fun and friendly atmosphere."
Postscript: The pretzel-roll infatuation continues to spread. Chili's this week added Pretzel Roll Sandwiches to its menu.