A survivor of Wednesday's attack on the Inland Regional Center in San Bernardino, California, that killed at least 14 said two gunmen opened fire on a room full of holiday partiers, sending people fleeing for cover under desks.
"Everyone dropped to the floor. It was during a holiday party," Denise Peraza, 27, told relatives after she had been brought to safety, according to the Los Angeles Times. "The guys opened fire for 30 seconds, randomly, then paused to reload and began firing again."
Peraza said she was then shot in the lower back while hiding under a desk in the environmental health services office of San Bernardino County.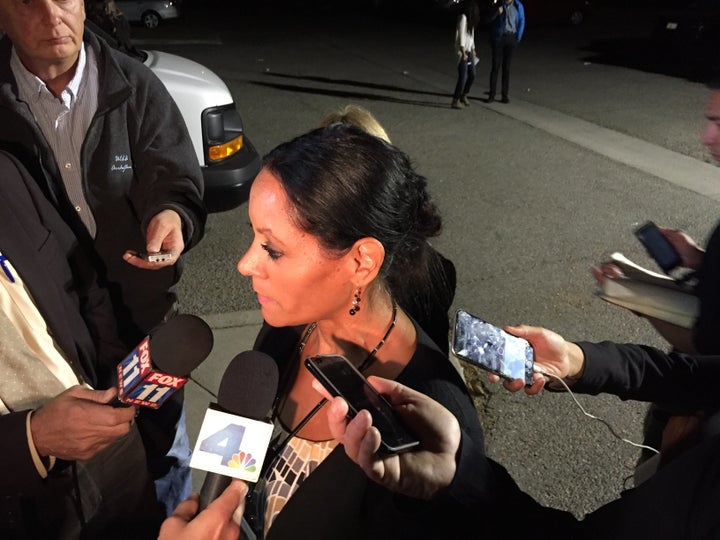 Melinda Rivas said she was on the third floor when the shooting began. She heard several loud booms, and began texting her twin daughters, who provided her with updates throughout the day from media reports.
"We were so scared to leave with our hands up, not knowing what would happen when we exit," Rivas said.
She said a colleague was in the conference room, where the shooting took place. 
"Two gunmen came in and opened fire on everybody," he told her, "taking the lives of innocent people, and nobody knows why. They didn't say anything." Rivas said her coworker "ran under a table for cover and stayed there until they could get out. When we were escorted out of the building, I saw people on a panic, and frantic screaming and yelling like a bloody warpath, just crazy."
"They're all geared up!" someone says in the background of picture. "Rifles and everything!"
Frank Montes said his 27-year-old niece, an employee at the facility, had been outside during her break when she heard gunfire. "She said there were three shooters wearing body armor and machine guns," Montes told The Huffington Post.
Several survivors said they hid under desks.
Terry Pettit said his daughter Holly was trapped inside the building during the shooting. He told KABC-TV that he received the following text messages from her: "Shooting at my work. People shot. In the office waiting for cops. Pray for us. I am locked in an office." 
"She was barricaded in her office under her desk and got evacuated," her sister-in-law, Ashley Pettit, told HuffPost. She added that Holly was shaken, but unhurt. 
Some fled instead of being locked in.
"We heard ch-ch-ch-ch" -- the sound of rapid gunfire -- and "we just started running," one witness told HuffPost.
Staffers said after they were evacuated that the shooters hid their faces with masks. "The shooting kept going on and on," one person said. 
Kevin Ortiz, the county environmental inspector in the building, called his wife and his father to let them know he was safe after being shot.
"I've been shot three times, Dad. I'm in pain," his father, Carlos, told the Los Angeles Times. "Don't worry. There's a policeman with me." Ortiz repeatedly told his wife that he loved her.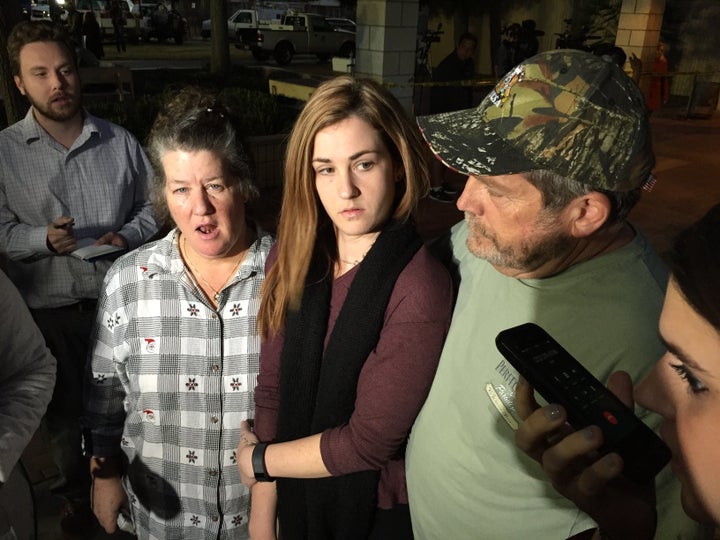 Megan Schive, who was in the building when the shooting began, told HuffPost she never saw the shooters. She said it took her about seven hours to get out of the building and reunite with her parents.
"This has been surreal, this is everywhere and unfortunately this happens more often," Schive said. "Everyone did a good job about getting us to safety. I didn't see anything, I didn't even hear anything -- it all seemed like a drill."
One witness hid behind a fence while bullets flew. The sound of bullets and a dog barking can be heard in a Snapchat video.
A few buildings over, at Inland Lighthouse Empire -- a school for the blind -- Elizabeth Mendieta was tasked with looking after her 50 students, most of them elderly. Mendieta said she and her students were scared. 
"We have the students inside and we're safe in here, thank God," Mendieta told HuffPost. "They're concerned, they're worried, but their families know they're here. They're calling to make sure they're okay."
David Danelski, a reporter for The Press Enterprise, was nearby when police fired a fusillade of bullets into a black SUV carrying what they believed were the shooting suspects. Danelski ran into a neighboring yard and lay in the grass as the shooting continued for about 10 minutes, he said. Finally, things became quiet.
"A couple police officers saw me and drew guns on me, and that was the scariest moment for me," Danelski told KABC News. "I yelled I was a reporter."
Danelski said he heard police say later they were planning to detonate potential explosive devices.
"It was a trying experience," he said. "It was not easy." 
PHOTO GALLERY
San Bernardino Shooting
Calling all HuffPost superfans!
Sign up for membership to become a founding member and help shape HuffPost's next chapter