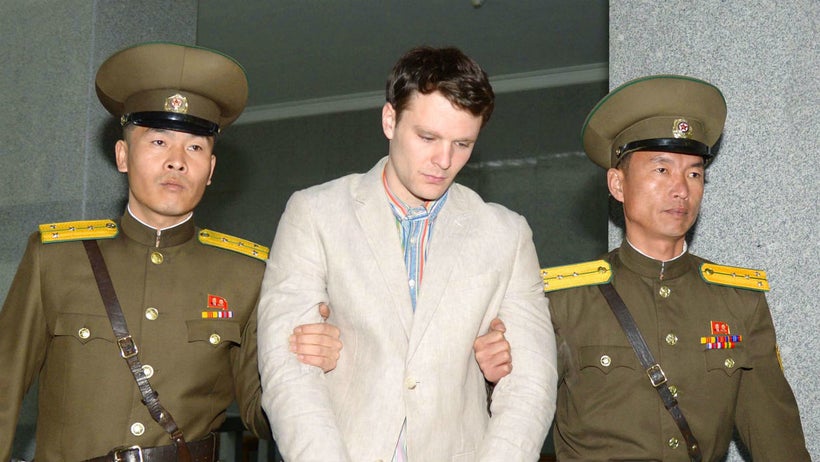 By Jose Ramos-Horta, Benedict Rogers and David Alton
The student Otto Warmbier visited North Korea on an entirely legal visa arranged by a Beijing-based Chinese Travel Agency. On departure he was detained, tried, and sentenced to fifteen years in prison for "stealing" a political poster. Otto Warmbier was not seen again. He was released last week in a comatose condition, and died in hospital in his home town. His tragic death symbolizes North Korea's crimes against humanity and epitomizes why this brutal regime must be removed.
While the full truth is yet to be established, the thugs who run the North Korean prison camps must have inflicted such appallingly brutal physical and mental abuse on Otto Warmbier, for him to have fallen into a coma for a year.
The North Korean regime is the most despicable on the face of the earth, one that must be confronted with every diplomatic, financial and commercial sanction tool available.  It is a regime that has incarcerated between 100,000 and 200,000 political prisoners, subjected them to slave labour, inflicted the worst forms of torture, denied them medical care and consigned innocents to horrific conditions in the prison camps. Hundreds of testimonies of escapees tell of prisoners forced to scavenge for rats and snakes because prison rations are so poor.
Four years ago the United Nations established a commission of inquiry to investigate North Korea's human rights record. Of course the regime refused to collaborate, but the inquiry – ably chaired by world renowned Australian High Court Judge Michael Kirby – conducted extensive hearings and heard from hundreds of North Korean escapees and international human rights experts.
The commission concluded, three years ago, that "the gravity, scale and nature" of the human rights violations in North Korea "reveal a State that does not have any parallel in the contemporary world". A catalogue of crimes against humanity, including "extermination, murder, enslavement, torture, imprisonment, rape, forced abortions", as well as severe religious persecution, enforced disappearances, and starvation, should lead, the inquiry recommended, to a referral to the International Criminal Court. North Korea's human rights abuses, Justice Kirby claimed, are on a par with the Holocaust.
In another separate report to the UN Human Rights Council in March 2016, before completing his term as UN Special Rapporteur on Human Rights in the DPRK, Marzuki Darusman – a former attorney-general of Indonesia – said: "The totalitarian governing structure in North Korea absolutely denies rights to its people and its unchecked power appears as strongly entrenched as ever throughout the whole country. In this extremely centralized and hierarchical ruling structure, where tight control is extended to the smallest unit of the society, the principle of command and superior responsibility should offer a plausible theory to hold the 'Supreme Leader' Mr. Kim Jong Un and most of the past and present senior leaders individually culpable." 
The former Special Rapporteur stressed that the international community must ensure that accountability for crimes against humanity must be part of any peace plan for the Korean peninsula. 
"As the term implies, crimes against humanity are a concern for all of humanity. Ensuring accountability for such crimes justly requires the international community to play a role," he said.
Predictably the UN has failed to act on the findings of the two landmark reports, beyond pathetically establishing a regional field office to continue research, a typical feeble diversionary tactic just to pretend it is doing something. The North Korean regime must be referred to the International Criminal Court, period. Crimes against humanity on the scale perpetrated in North Korea cannot continue with impunity.
Such is the regime's arrogance and audacity that it has rebuked China - its only diplomatic and economic lifeboat - when Beijing made rare public criticism of the regime's latest missile tests.  
Another Asian country, Malaysia, had a taste of the North Korean regime's propensity for disregarding basic international norms of behavior when it orchestrated the assassination of the ruling dictator Kim Jong-Un's brother Kim Jong-Nam in Kuala Lumpur airport earlier this year. The time has come for the international community to say enough is enough.
There is a debate to be had about the mix of engagement and pressure required. Justice needs to be combined with interaction, as far as possible. A state as isolated as North Korea cannot be kept isolated – it must be prized open. That can be done by breaking the information blockade in various ways: by increasing smuggling of USB sticks and DVDs across the border, providing North Koreans a glimpse of the outside world, and through increasing radio broadcasts. The BBC's recent decision to launch a Korean radio broadcast is especially welcome.
Foreign embassies stationed in Pyongyang should be incentivized to downgrade their presence in the country to the bare minimum – or simply close down. While dialogue is always important where possible, there has to be a red line. Would a dialogue with Adolf Hitler have prevented the Holocaust?
If the UN Security Council does not pass a binding resolution on total and comprehensive sanctions on North Korea, the United States, European Union and other like minded countries should impose such sanctions.
Regardless of the obligations arising from the New York-United Nations Convention, the City of New York should declare North Korean diplomats "persona non grata" and invite them to leave the city.
Water, electricity and all other services provided by the city to the North Korean diplomatic mission must be discontinued. Properties of the North Korean regime should be put under city control subject to final determination as to their use.
The judiciary in the US, EU, Japan, South Korea and in any other like-minded countries should issue arrest warrants for any North Korean regime official. Henceforth any representative of the North Korean regime traveling should be detained and tried for complicity in crimes against humanity.
North Korea deserves complete, comprehensive sanctions. Furthermore, just as we sanction those who support terrorism, we should sanction North Korea's backers. It is time to drive this brutal regime, and its backers, out.
Jose Ramos-Horta is a Nobel Peace Prize Laureate and former President of Timor-Leste.
Benedict Rogers is a writer and human rights activist working for Christian Solidarity Worldwide, and is a co-founder of the International Coalition to Stop Crimes against Humanity in North Korea.
Lord Alton of Liverpool is an independent cross-bench member of the House of Lords.
REAL LIFE. REAL NEWS. REAL VOICES.
Help us tell more of the stories that matter from voices that too often remain unheard.
This post was published on the now-closed HuffPost Contributor platform. Contributors control their own work and posted freely to our site. If you need to flag this entry as abusive,
send us an email
.