I recently had the opportunity to visit Mary Beth Edelson in her Soho studio to talk about her work and her long career. We began with a studio visit and then sat down to talk about Edelson's piece in Coming to Power: 25 Years of Sexually X-Plicit Art by Women at Macarrone and her dedication to the Feminist Movement.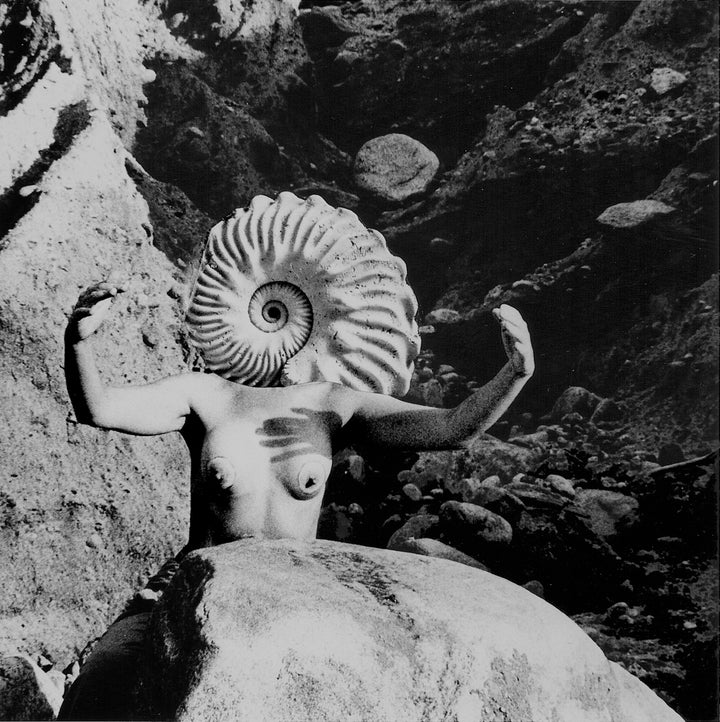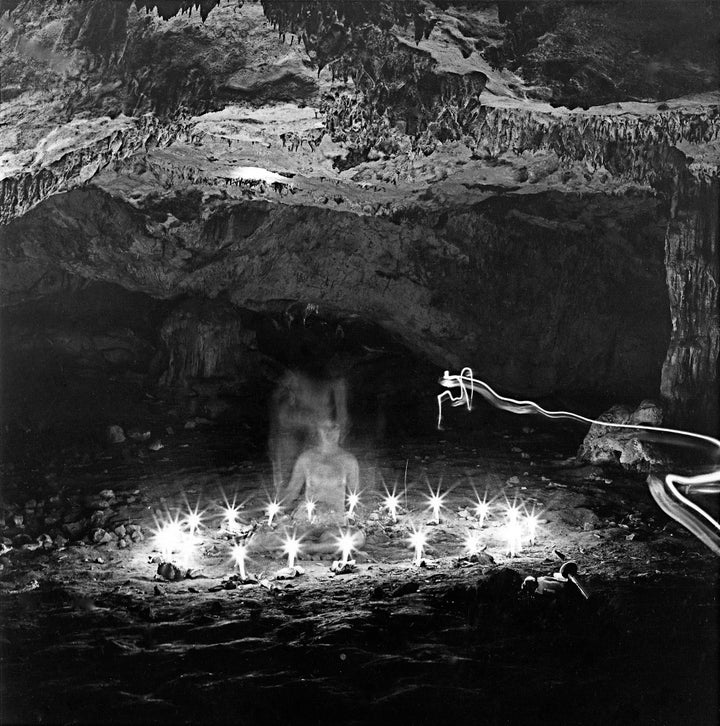 In your space I can see that you produce an incredible amount of work. Tell me about what we're looking at.
Most of the work that's up now is older work because people really haven't seen it. These are all photos from private performances. Some were done in a cave in Yugoslavia, others in another cave in upstate New York. I've been fascinated by caves for many years and made several special trips in Europe to seek out particular caves and then photograph in them. What was so amazing at that time was that I could have that space all to myself there and nobody interrupted what I was doing or questioned why I was there. I used fire so these were using the darkness of the cave, the light of the fire, and then I was making gestures using the fire. The thing about using fire, which I've done a lot, is that you can't see where you're at. The fire dominates the piece.
Did you do the same performance in each cave?
Always different. No reason to repeat it.
How did you begin your performance practice?
It was an outgrowth of painting and drawing and putting together exhibitions. You have to design a lot when you're putting together an exhibition so it reads well, so you're saying what you want to say. I think that was a very important part of bringing the performances together. What were you going to say and was it worth saying? Was it meaningful enough? Will people be able to understand what it is? Will they get it? Is it important anyway? All of these things you really had to examine.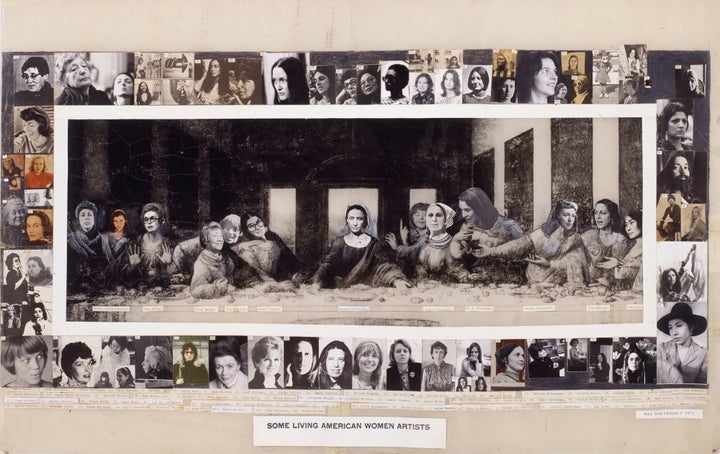 Of course I've used this baby a lot and I continue to use it and interpret it in different ways. I'll always put different layers of paint and emphasis on the poster. [referring to Some Living American Women Artists
Working across so many media, do you have painting periods and then collage periods? Does it happen all at once?
It flows into necessity sometimes. The next thing I need is a painting of this or the next thing I need is a photograph that I can paint on and add it to something else. It's a very organic process.
Also pieces where I'm outdoors, the outdoors definitely determines what's going to happen.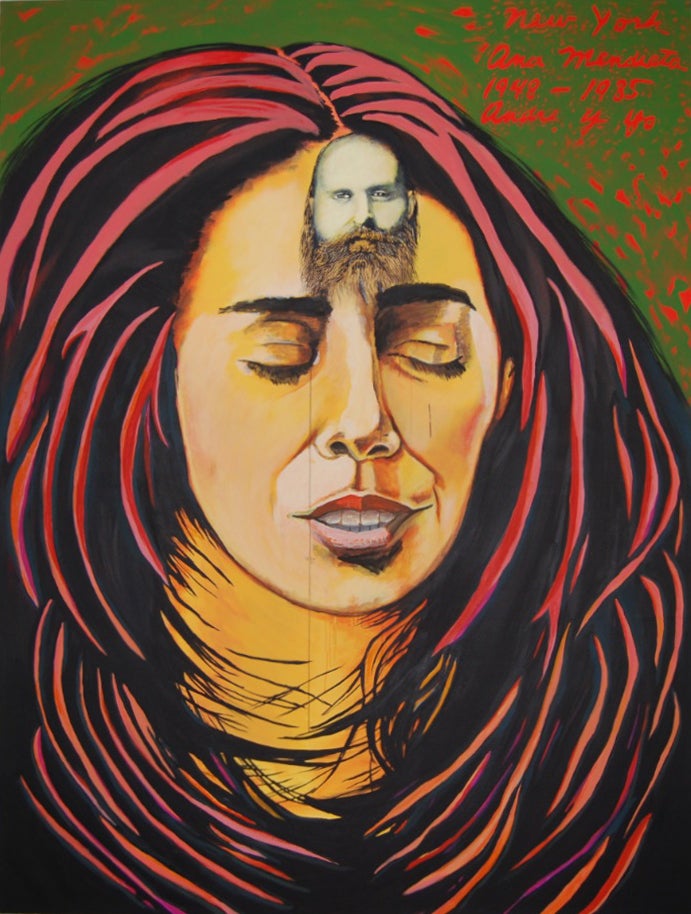 These paintings are very sculptural.
Why leave it flat? Might as well slap things onto it. This is Ana Mendieta, she was a good friend of mine. She was quite a bit younger than I. Do you know her story? I just don't want her to be forgotten and for Carl Andre to not be forgotten for what he did to her. He's off living a life of luxury in Europe and he never really got punished.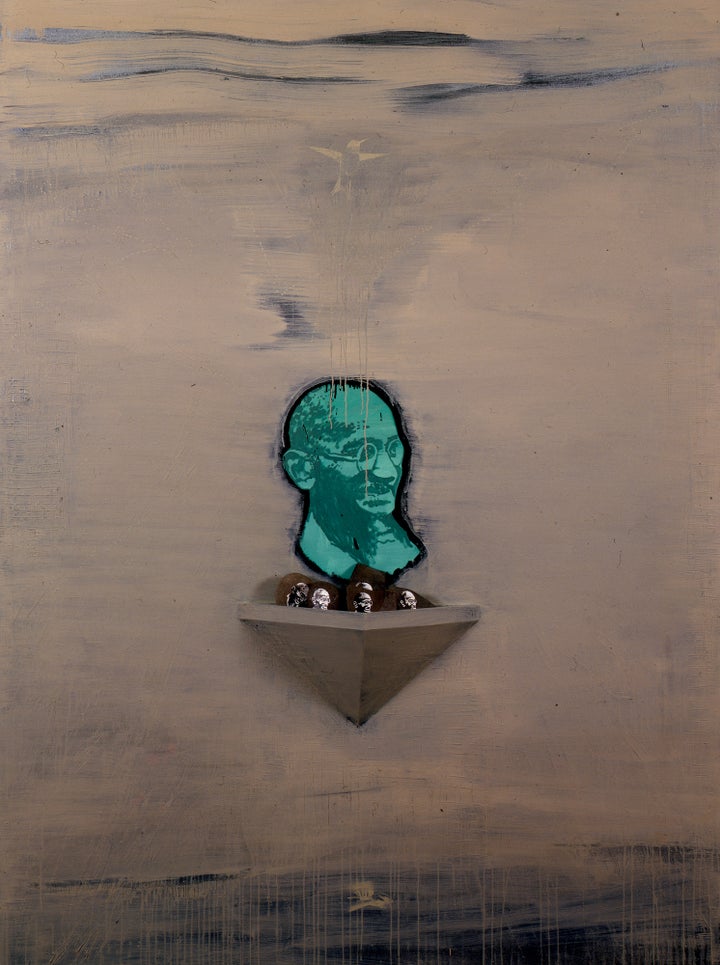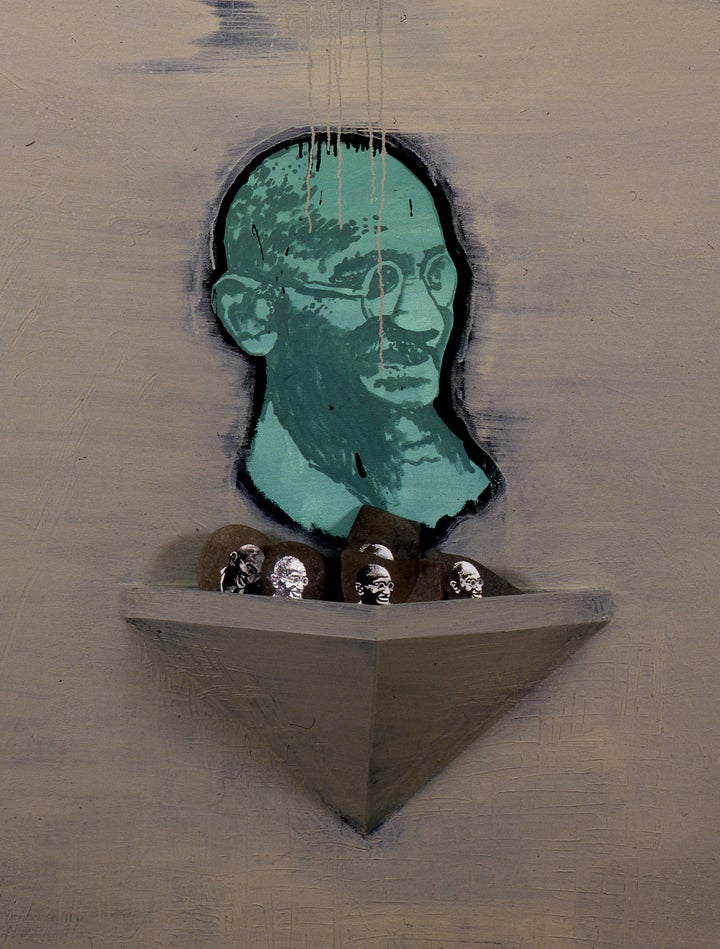 These are portraits of Ghandi painted on rocks. They just sit right there. [Laughs]
You laugh. Do you find humor in your work?
Oh of course. A lot. Like the Ghandi rocks.
Growing up, did you always want to be an artist?
I became an artist when I was in third grade. My mother was very supportive of that and she felt I needed a studio. So she cleared out the basement, cleaned it up, painted the walls white, and that became my studio. [Laughs] Good for mom. At the same time I was angling to get my parents to let me go to Chicago on Saturdays to take lessons at the Art Institute of Chicago. I was a little girl that nobody would let on a train by herself today. That was the highlight of my week. And at the same time I was a sassy little girl messing around with all the boys and getting in trouble.
My mother was very active in a lot of different social things. She was an extremely good organizer. She helped start up Meals on Wheels in Indiana. Both her parents were dead by the time she was five, she was then raised by a grandmother who had already raised fourteen children. She never went to college, never really got an education, but she jumped in and started organizing things. She became well-known in the state, she was president of all sorts of things. Mary Lou Johnson was her name and she was really something. Always doing good things for people. When you think about her background it's just amazing; she had no formal education and no one to pay the bills. She was an amazing woman. Good role model.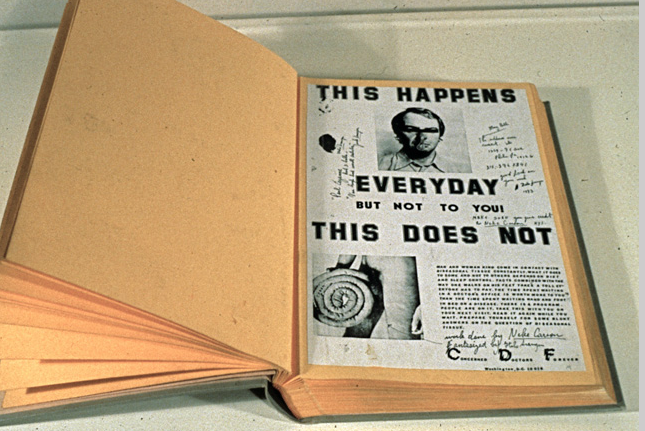 Let's talk about your piece currently on view at Maccarone, Sexual Fantasies. The show is a remake of a show from 1993. What is it like to show the work now versus then in this context?
About that book. I started it when I was in Washington D.C. so some of the fantasies are from there and when I moved to New York I continued collecting them and putting them in the book. Then I exhibited the book in New York, and also internationally because people love sex! [Laughs] And if it's someone else's sexual fantasies they get excited! So I've had a lot of fun with that.
I think initially people were a little suspect of it and not comfortable with it. And as time has gone by...talking about sex, nobody pays attention to it anymore. Everybody talks about sex. The times change so much that you go from comfortable to uncomfortable and the other way around.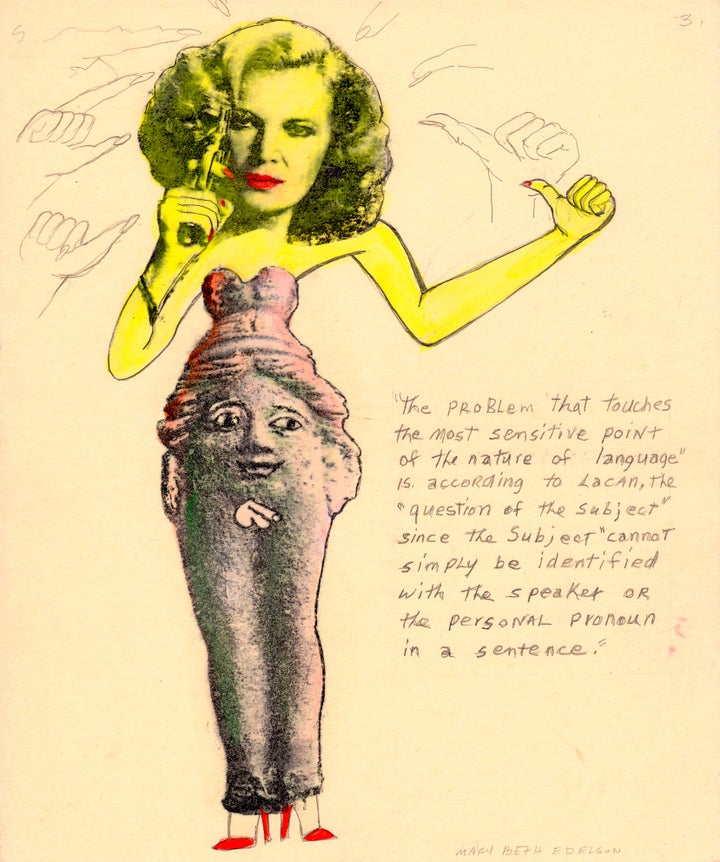 What kinds of reactions you've gotten to making work that is sexual in nature?
I think initially the fact that I was a woman made people kind of suspect. They were testy with me, "Are you oversexed?" And I had to explain, "you know, everybody has sex…" There were really not very many essays or anything from a woman's point of view. Certainly in visual images, the female body dominates everything but it's not from our point of view. Of course this was a time when feminism was very hot and heavy and everyone was wanting to diagnose anything that was going on that had to do with sex and women. That was the hot topic.
What was it like in the 1970s to be a part of such a strong community of artists?
I was in heaven the whole time that was going on. I loved working these women, we were all working, so focused on a goal together. The cooperation, the sisterhood, all those schmaltzy ideas - it was there, it was real. It was inspiring to be a part of it. People would say, "Oh, Mary Beth, you shouldn't be doing that. You should be doing your art. You're a good artist, don't do that." I would say, "I love doing this. We're making history here."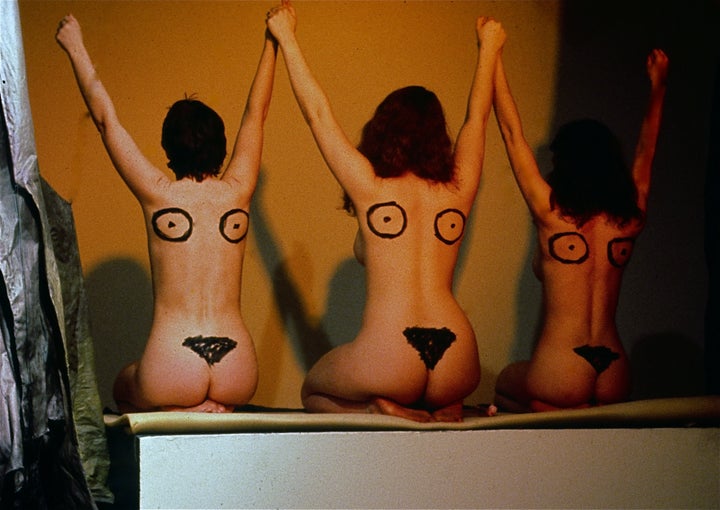 You were a founder of Heresies. Did you write for the magazine?
I wrote some, but I was more the visual person. We all wrote the articles together, very often. It was a collaborative thing. That's why we ended up with so many provocative new ways of thinking.
It was an extremely exciting time for those of us who were really committed feminists. Here was our stage, here was everything we could do. Especially here in SoHo, we had A.I.R. Gallery.
I do miss that time. There's nothing like it now. You have to give up your time to do it and be willing to follow through with it. The pressure of time that people feel now really destroys a lot of things.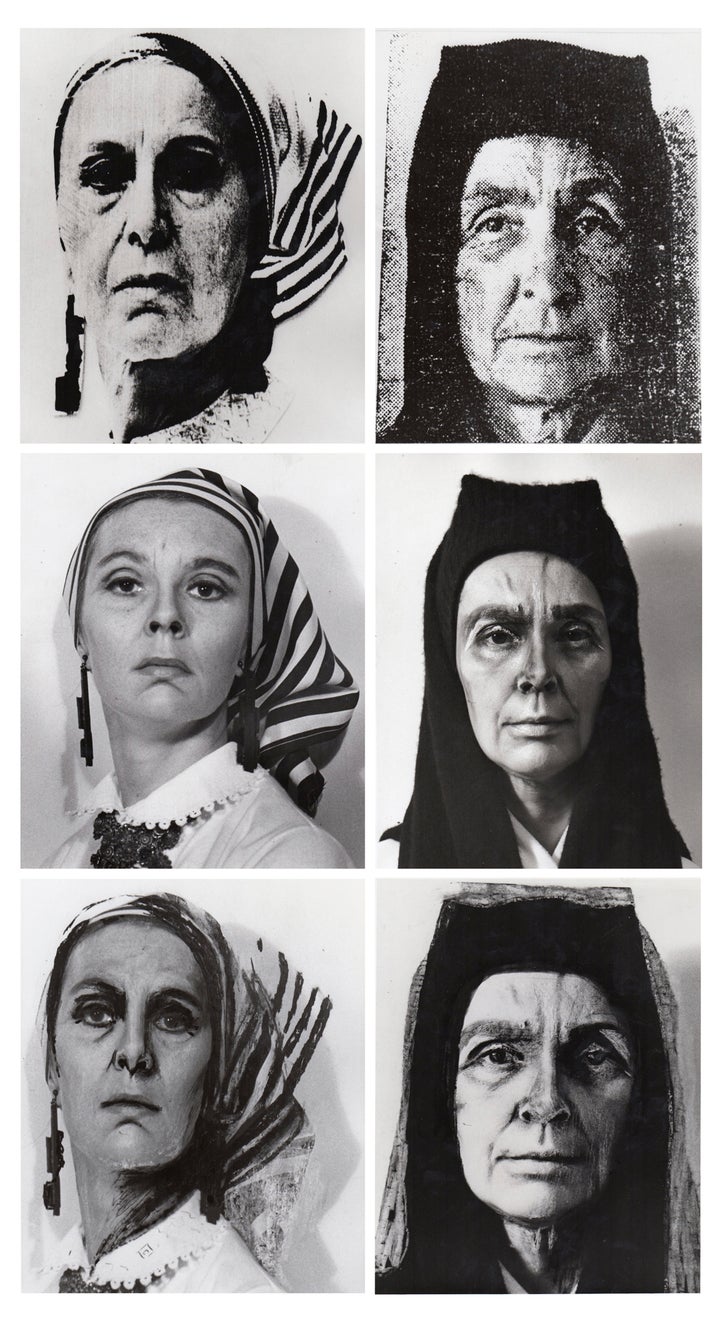 What was your involvement in the early days of A.I.R. Gallery?
I was heavily involved. I was A.I.R. Gallery! [Laughs] I'm kidding, there were many wonderful women working there. I lived like a half a block from the gallery so I was back and forth all the time. It was like a second home.
Nancy Spero was a wonderful person to work with. We often put together projects together because some political issues were crossovers that we were both interested in. Those were usually the most successful projects, when Nancy and I got together. We had more access together.
It was a wonderful time. If I start talking about it I get really nostalgic about it because nothing has come up to touch it since. I do whatever I can to encourage women to start up some of these things again, but I think it seems too overwhelming now to do that. We had a lot of women doing it at one time so you felt the strength of it and the camaraderie of a group of women. You didn't feel so vulnerable; the men didn't like what we were doing of course. And if they could get in our way, they would get in our way. So you really needed the backup of other women and support to give you the strength and courage. Courage was a big part of it.
I talk about the Internet - everyone is doing four things at once. I think it leaves less space for that kind of group strength that was so powerful.
That was what was so powerful, absolutely. You have to have eye contact with people, you have see them. You have to have meetings. At the meetings somebody gets an idea and the idea is passed around and it gets enlarged on or somebody says, "this is really not a good idea" and you stop doing it before you waste any more time. It was really the back and forth and the dialogue that helped to formulate what would be the next smart move for us to do. Without a lot of different voices, you don't get that.
With the Internet, it seems like you're communicating more, but actually the communications we had when it was face-to-face and we sat around a table and talked - that's real communication. It has to be a give and take that's immediate; there's no delay.
A pat on the back for us. [Laughs]
Yes, thank you. Well done!
To see more of Edelson's work visit www.marybethedelson.com. COMING TO POWER: 25 Years of Sexually X-Plicit Art by Women was on view at Maccarone in New York City from September 9 to October 16 of this year.
Related
Popular in the Community