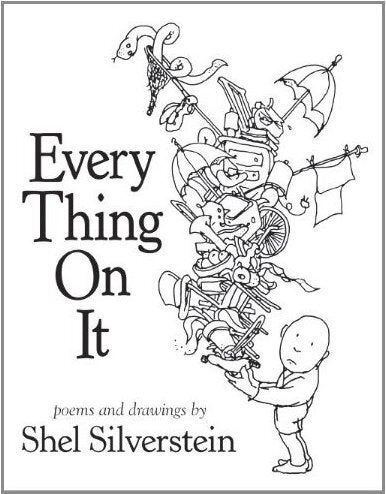 Apparently the sidewalk hasn't quite ended for Shel Silverstein's bibliography. Today marked the release of a new edition of previously unpublished poems and illustrations by the children's poet, who died 12 years ago. The collection is called "Every Thing On It," after a poem in the collection on the topic of a fully-loaded hot dog.
But the titular frankfurter isn't the only food mentioned in the volume. NPR gave listeners a sneak preview of "Every Thing On It," appending one poem, "Italian Food," that commemorates delicious pastas and antipastas, and their euphonic names. Here's the poem:
Italian Food

Oh, how I love Italian food.
I eat it all the time,
Not just 'cause how good it tastes
But 'cause how good it rhymes.
Minestrone, cannelloni,
Macaroni, rigatoni,
Spaghettini, scallopini,
Escarole, braciole,
Insalata, cremolata, manicotti,
Marinara, carbonara,
Shrimp francese, Bolognese,
Ravioli, mostaccioli,
Mozzarella, tagliatelle,
Fried zucchini, rollatini,
Fettuccine, green linguine,
Tortellini, Tetrazzini,
Oops—I think I split my jeani.
Jacket art, illustration and text © 2011 Evil Eye, LLC