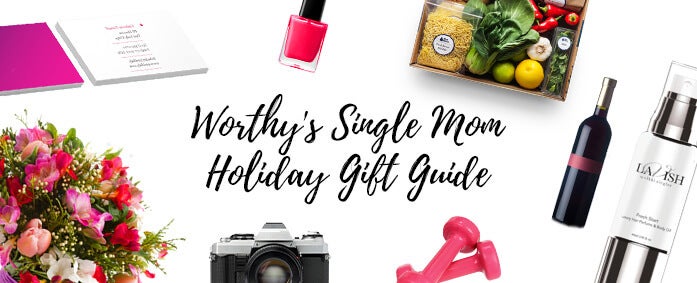 Now that the holiday season is here, you may be struggling with what to buy the women in your life who are single moms. Knowing how hard single moms work all year round, a perfect gift will be useful yet still special enough to bring surprise and happiness when received because single moms wouldn't purchase it themselves. For gift ideas, Worthy went straight to the source and asked a few of our favorite experts – each one of them strong influential women who are devoting their time and careers to empowering single moms – to weigh in. Here are their top picks for Worthy's first annual Single Mom Holiday Gift Guide and why they chose them.

EMMA JOHNSON
Founder of WealthySingleMommy, single mom, mom-mom, writer, journalist, business owner, small-town Midwesterner, New Yorker, world traveler, homebody, cook, friend, neighbor, and woman.
DANCE LESSONS. I love to bike, run, dance, and do yoga (though inside I'll always be that fat kid in gym class). I've felt ugly and gross, and I've felt wildly attractive. One pastime that makes me feel beautiful is Latin dancing, so I know what a great gift a package of dance lessons can be. Latin dancing is a wonderful source of exercise and can help a woman feel sexy.
SEX TOY. Speaking of sexy, how about buying your single mom a new vibrator? A sex toy can be a fun gift and one that keeps on giving. And giving. And giving.
FAMILY PORTRAIT SESSION. A single momma who feels sexy is also photogenic. So why not give her a session for a family portrait to commemorate how successful a single mom she is? Single moms don't always believe they are doing a good job parenting. Some days I'm sure I'm the worst mom in the world. But my kids are so awesome, which means I must be doing something right.
GIFT CERTIFICATE FOR MOO OR WIX. Finally, if that single mom friend of yours is in the process of getting back on her feet, consider supporting her professional ambitions and inspiring her with a gift card to Moo Business Cards or Wix.com, a website design service, to help turn her career dreams into reality.

VIKKI ZIEGLER
Star of Bravo TV's "Untying the Knot," Founder & CEO of DivorceDating, Author, Attorney, Television Personality, Volunteer, and Divorce Success Story.
GYM MEMBERSHIP. After a divorce, the temptation can be to hide under the covers with a remote control in one hand and a pint of ice cream in the other. But that need not be the case. A gym membership makes a great gift for any single mom looking to take control of her life.
ONLINE DATING MEMBERSHIP. If you think your single mom friend is ready, help her set up an online dating membership. Check out DivorceDating, my hip and sophisticated dating app devoted to assisting like-minded individuals affected by divorce find love again. The best part is membership is entirely free!
A NIGHT OUT WITH YOU. What better gift than the gift of your time? While on the subject of time, a night out with you can also be an effective way to show a single mom you care. Pick a few dates on the calendar and ask her to commit to one. Then go ahead and plan a fun day or evening.
FRAGRANCE. A quick spray of a favorite scent before going out can be an instant mood changer. For the single mom friends in your life, pick up a bottle of Lavish hair perfume and body fragrance for an affordable yet luxurious holiday gift. Whatever gift you choose, the point is to remind single moms that they are not alone and better times are on the horizon.

MANDY WALKER
FRESH FLOWERS. I feel too guilty buying fresh flowers for myself so I love receiving them, and they always make me feel special. I prefer fresh flowers because I'm not very good at taking care of plants and, honestly, plants seem like more work. And I certainly have enough of that!
GIFT CERTIFICATE TO A NAIL SALON. In the same vein, I am forever appreciative of a gift certificate to a nail salon, especially if I can use it on a pedicure because that's something I can't and don't do for myself.
MOVIE TICKETS. Movie tickets mean a fun night out, with the kids or without, and given how expensive going to the movies has become, is a luxury.
YNAB SUBSCRIPTION. For a more practical gift but one that is hugely helpful for the single mom trying to get a handle on her finances, consider buying her a subscription to YNAB (www.youneedabudget.com). This site provides useful software for tracking expenses and creating a budget. The best part is it comes with tons of tutorials on managing household expenses, which can bring peace of mind, perhaps the greatest gift of all.

MY PERSONAL PICKS
BABYSITTING. As lifestyle editor at Worthy.com, founder and managing director of Write On Track, LLC, and a single mom for nearly five years, I know how important it is to have time to myself. Gifting a few hours of babysitting to a single mom means allowing her to enjoy some much-needed moments of self-care, whether mental or physical.
MERRY MAIDS GIFT CERTIFICATE. The same can hold true for cleaning help, and a gift certificate to Merry Maids also makes a thoughtful holiday gift. For a single mom, time is tight, particularly during those after school hours when she typically finds herself juggling the end of her workday with children's activities and homework.
BLUE APRON GIFT CERTIFICATE A gift certificate to a meal preparation delivery service such as Blue Apron can ease the stress a single mom often feels when trying to cook a healthy dinner for her family while on the go.
A BOTTLE OF WINE AND YOUR COMPANY. To step this last gift up a notch, consider pairing it with a bottle of wine and your company for a Sunday evening meal that will send her into the week feeling she isn't going it alone. Remember, if we all take just a few moments to look out for each other, none of us should ever have to.
REAL LIFE. REAL NEWS. REAL VOICES.
Help us tell more of the stories that matter from voices that too often remain unheard.
This post was published on the now-closed HuffPost Contributor platform. Contributors control their own work and posted freely to our site. If you need to flag this entry as abusive,
send us an email
.