Finally! After an eight year hiatus Showtime at the Apollo will return to television as the premier platform for soulful creativity and talent. While Steve Harvey effortlessly reclaimed his role as the host for the revival special, his reign as the most fashionable man on stage may well have ended. In fact, menswear moments were so plentiful during the multi-day taping that this fashion review will be limited to men's outerwear.
T.I. dominated the stage in three impeccably styled fall/winter ready looks making him the uncontested outerwear champion of the show. The hautest of the Grand Hustle rapper's hat-trick? Easily the single breasted, 3/4 length, camel-wool coat with contrast collar taken straight from Alexander McQueen's latest runway presentation. The hand embroidered brown butterflies and moths that migrated across the body of the coat were darkly evocative, echoing the mood of Black Man performed by T.I.P. alongside Meek Mill, Quavo and RaRa.
*Fashion Genre Salute: Alexander .Paak/Beige on black floral, knee length blazer
Busta Rhymes styled on the crowd in a jacket only rivaled by his lyrical style in its baroque boldness, exquisite craftsmanship and innovative texture. The jet black Toure Designs moto-hoodie-jacket, featuring velvetized, embossed python with luxe fox fur collar, blended sartorial elements from three groups: the rich, the rockers and the real ones -- and they loved it. Indeed, the Conglomerate front man had fans screaming "Touch it!" and trying to do so with his one-of-a-kind piece by "The Leather King."
*Fashion Genre Salute: Swizz Beatz/White jacket with black checked side panels
Rakim took over the stage in an oversize Pelle Pelle black leather, croc embossed, Soda Club jacket with burgundy/gold appliques and studded accents. If the Microphone Fiend were to ever ask me, 'Wardrobe-wise Yasmine, how can I move the crowd?' I would answer: keep rocking eye catching, high quality, durable attire that reiterates the urban classic that you are. It's simple ain't it? But quite clever.
*Fashion Genre Salute: Ja Rule/Black fabric field jacket
Bell, Biv, DeVoe closed the 90's R&B music set with outer gear so ill it left one wondering if the designer mixed the dye with a little…Poison. BBD's Celtic green leather, cream shearling collared vest, jacket and ¾ coat were exciting, butter smooth and on point. Just like the group's performance! If you are a musical group who loves to match, look to this well tailored triumvirate to show you how to stunt cohesively. Sidebar: Steve Harvey's jacket was also green (teal or "pimp green" as he put it) and well tailored.
*Fashion Genre Salute: Jodeci/White jackets with gold military band details
Meek Mill wore a rose wool Saint Laurent varsity jacket with off white leather shoulder trim and striped neck/wrist/waist bands. Why Meek chose to make a pink imprint on the world's most judgmental audience is open for debate. It foolishly opens the door for Drake fans to meme questions like: is that a stage jacket or your bae jacket? It may also be a brilliant nod to Cam'ron, who bestowed street cred unto the Pepto pigment while repping the Apollo's hood in the hardest of fashions. I prefer the latter interpretation as it could lead to Harlem's Diplomat neutralizing the Drake vs Meek situation, providing immunity on the streets of Philly and the 6 for both parties. Or Mr. Millz could just be playing us all for the press points, in which case his varsity jacket is both apropos and well earned.
*Fashion Genre Salute: John Legend/Black velvet bomber with striped wrist & collar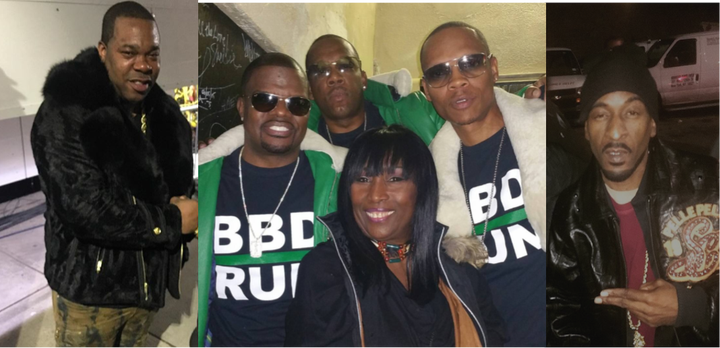 Showtime at the Apollo Special
Whether it's for the fashion or the music, you don't want to miss all of the aforementioned stars who lit up the stage alongside Ashanti, Capone, Chaka Khan, Doug E. Fresh, En Vogue, Flo Rida, Gabriel Iglesias, George Lopez, Jay Pharoah, Jodeci, JoJo, Mike Epps, Rob Stapleton, Spliff Star and Tracy Morgan. It may inspire you to take a trip to 125th street and audition to enter the 82 year old Amateur Night at the Apollo competition or join the audience in the tradition of judging its contestants via vociferous boos and cheers.
Related
Popular in the Community