That message comes via a neon sign featuring the outline of a fit dancing sailor, wearing only a hat and briefs, installed late last month just off the coast of Stockholm by the Swedish Peace and Arbitration Society.
The sign, which reads "Welcome to Sweden. Gay since 1944." in Russian and English, is part of their "Singing Sailor Underwater Defense System." The underwater sonar system also sends out a Morse code message saying, "This way if you are gay" that could be picked up by any submarines in the area. (The year 1944 refers to the year Sweden decriminalized homosexuality.)
(Story continues below.)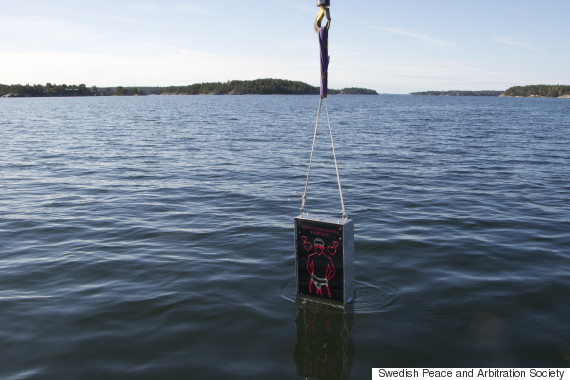 The "Singing Sailor Underwater Defense System" is installed in the Stockholm archipelago, near where a possible Russian submarine was allegedly spotted last October.
Anna Ek, SPAS' president, told The Huffington Post by phone that despite the system's humorous tone, her group's message is absolutely serious. Their goal is to call out the Russian government for the "awful" conditions for LGBT people in their country and to urge the Swedish government to consider an alternative response to Russia's alleged violation of its borders besides further costly militarization.
"The aim of the campaign is to try and take back the discussion to where it should be. Military rearmaments haven't created stable peace. We have tried for many years and still we see wars and conflict," Ek told HuffPost. "Some people may think it's a bit silly but it's also about making love, not war. It's as simple as that."
In late October last year, Sweden carried out a high-profile search for a Russian submarine after a retired lieutenant colonel reported seeing one in the Stockholm archipelago. The Swedes came up empty handed in their hunt, which cost the country 23 million Swedish kronor (about $2.8 million) and resulted in international "mockery" for the nation, Ek said. She is optimistic the group's campaign will flip that script, even as the Swedish government prepares to spend 11.2 billion Swedish kronor ($1.4 billion) on new underwater defense projects.
"We're actually trying to create a mockery out of the idea that having countries and militaries with armaments pointing at each other is a sustainable way to live," Ek continued. "If everyone just decided to resolve conflict with diplomacy or support for democratic developments and human rights, I'm pretty sure we'd see far less conflict in the world."
Calling all HuffPost superfans!
Sign up for membership to become a founding member and help shape HuffPost's next chapter
BEFORE YOU GO
PHOTO GALLERY
Putin And The Night Wolves