I love to shop for clothes, but with my 5'6" frame shopping excursions often turn into scavenger hunts because most stores offer few or no choices for body types like me. I'm just a few inches shy of the height of an average American male who stands at approximately 5'8", yet the average extra small or small is often too big, and most men don't realize it. Over a lifetime of struggle to find clothes that not only look good, but fit right, and designing a fashion line for guys 5'9" and under, I've discovered five essential things every shorter stature guy needs to know about clothes, but was afraid or didn't know to ask.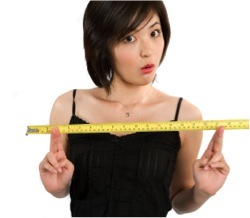 1. Shirts -- Not All Smalls Are Created Equal.
When is a small not a small? There are a lot of size discrepancies between brands. One designer's small may be another's extra small or even medium, so make sure you check out these five critical parts of the shirt to make sure it fits you the way it should.
Cuffs should fall where your palm meets your wrist or about three-quarters of an inch beyond the wrist bone. The cuff should not hang over your hands, not even
a little.

Sleeves should not be loose or billowy. If you can grab more than two inches of fabric near the bicep area, either the shirt is too big or you need bigger biceps. Also, check out the armholes. They should sit higher and closer to the armpit for a more streamlined fit and to avoid the batwing effect, unless of course you
are Batman.

The shoulder seam should sit on top of the shoulder bone. If the seam extends beyond the shoulder bone, go for a smaller size or a different shirt.
If you can fit more than two fingers inside your buttoned collar, the shirt is too big. If you can barely fit your finger inside, unbutton the shirt immediately and keep breathing until your color returns.
Finally, pay attention to shirt length. Many standard sizes have shirttails that are too long. This can create bunching when tucked and almost a dress-like effect when worn untucked. The length of the shirt should end midway down your
pant zipper.
2. Pants -- Proportion is Everything.
Men 5'9" and under should avoid trousers that are too saggy or bulky. Wear pants that have modern flat fronts. Pleats are bulky and can make you look wider and shorter than you really are. Too many guys wear pants that bunch at the bottom and pant legs that are too wide for their body type, even you Tom Cruise. Pants should fall to the top of the shoes and have just a little break. Also, remember the rise. A standard or low rise on men with shorter legs can create an unnecessarily top heavy and disproportionate look. Try to find something I call a "short rise," where excess fabric is eliminated and the distance from the inseam between the legs and the top of the waistband is in proportion to your height and waist.
3. Blazers and Suits -- Wear the Suit, Don't Let the Suit Wear You.
Blazers and suit jackets with narrow peak lapels and a tapered waist work well for shorter stature men. Two inches or less should separate your torso from the front of the jacket to create a slim fitting, elegant look that is both comfortable and stylish. The jacket must be long enough to just cover your backside and the button in front should sit just above the belly button. Any longer, and you can look like you're wearing your father's suit. If the jacket puckers around the shoulders or pulls when buttoned, try a different size or see a tailor. Remember though, tailors can do minor fixes of off-the-rack clothes, they can't completely redesign them for your body type. For that, go custom, or find a designer who makes clothes that not only match your style, but your fit.
4. Colors and Fabrics -- Things are Looking Up.
Look for styles and patterns that draw the eyes up to your face and not down to your shoes. Narrow vertical stripes or pinstripes, micro checks or small prints work well on shorter guys. Avoid major color contrasts between shirts and pants. This visually cuts you in half. You want colors and fabrics to work together to create a clean and fluid look from top to bottom.
5. Quality Comes in All Sizes.
I don't have anything against fast fashion. In fact, some of the better-known fast fashion retailers offer a greater selection of smaller sizes for guys than traditional stores. I applaud them for this, but sometimes quality is compromised for speed. Fast fashion is fun and will always have a place in someone's closet, but high quality garments never go out of fashion. Look for high quality
cottons and blends, tailored construction and attention to detail. These clothes may cost a little more, but I'd rather have two or three great pieces than a dozen items that fall apart faster than the fashions change.
Keep these things in mind no matter what your height or body type. What was made for someone six foot or taller, probably won't look as good on someone who is 5'6" and vice versa, so be careful when buying clothes off the rack. Don't accept sizing imperfections that cannot be addressed with simple tailoring. Find the designers who design for your body type and your lifestyle. They are out there, you just have to know what you're looking for. Nobody care what your height is, as long as you look good.
Jaden Lam is a menswear designer. Learn more about his work and see his collection at www.jadenlam.com
Be sure to visit Jaden Lam
Related