It's here again. For those who manufacture and innovate in the contract office furniture space, it comes once a year (and usually too quickly.) This year is no exception. June 12-14, the MART in Chicago will host more than 50,000 international architects, designers and C-suite executives who want a first look at new products and prototypes transforming commercial design.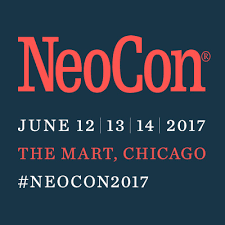 As the one of the most pivotal annual tradeshows, one could look at NeoCon as a measure of overall health of the industry, and indicators are overall positive. Registration is on par or slightly ahead of last year, according to Byron Morton, Vice President of Leasing for the Merchandise Mart Properties, but one interesting piece is that we are seeing a slightly unique makeup of the attendees; "We really have targeted corporate end users and decision makers in our marketing and we are seeing those audiences on the rise as an overall percentage of the audience. In fact, end user attendance is approaching 20% of the overall NeoCon audience.
Morton adds, "This year we have more than 425 Best of NeoCon submissions, which is the highest number of submissions in the history of NeoCon." Additionally, more than 25% percent of floor 7 will represent new to NeoCon brands, including brands like A. Zahner (architectural metal and glass) ATU, Gantner, Boral Stone, H Contract, MU Form, National Wood Solutions, Jabbrrbox, JUMPSPORT, Friant & Associates, The Edge Desk,and windmöller, to name a few. Cutting edge International designs from Italy, Spain and Portugal can be found in the Italian Trade Commission, Interiors from Spain and APICER booths all located on the 7th floor.
So, if we take all of this as indicators of strength in the market, what else can we learn about shifts in the industry as we look toward NeoCon 2017? Here are a few predictions about trends we will see at the show.
Industry focus continues to shift to enhance and expand options within the ancillary category.
The Mart is at capacity, and many manufacturers are on wait lists to get into showrooms. This is indicative not only of the key role the Merchandise Mart plays, but also the key role Chicago plays as a central location for the industry. The Mart will welcome six new permanent additions to the building including two seating companies focused on the forefront of evolution in seating design; UK-based office brand Boss Design (359) and via seating (10-148). Both companies will showcase new products that emphasize trends in shifting work styles, and Via will have a special emphasis on products focused around health and wellness. The third floor will feature the ROTTET Collection (3-107) from Lauren Rottet, a celebrated interior designer extending her interiors talents to the furniture world. Carvart (11-136) opens its doors on the 11th floor with its extensive array of facility-wide glass solutions, which is reflective of the ever-increasing use of glass in commercial spaces, even extending to lockers and storage solutions.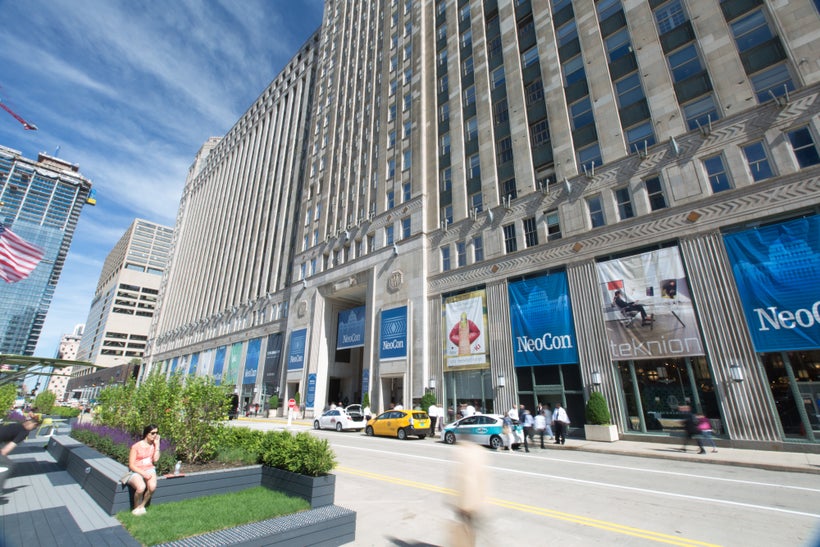 But perhaps showroom moves within the Mart are even more indicative of the breadth of shifts of the industry's ancillary focus. Knoll's December 2016 acquired company, DatesWeiser (1119A), will be setting up shop just across from Knoll. According to a December press release from Knoll, the acquisition of the brand is an enhancement of Knoll's arsenal of 'ancillary' offerings to build its global capability as a constellation of go-to resources for high-design workplaces and homes. Similarly, Janus Et Cie, recently acquired by Haworth, will be moving closer to its new parent company on the 3rd floor, expanding the Haworth presence and offering. These acquisitions are representing the shift in mindset of the major manufacturers to focus much more strongly on their ancillary offerings.
The ancillary category is expanding to the outdoors.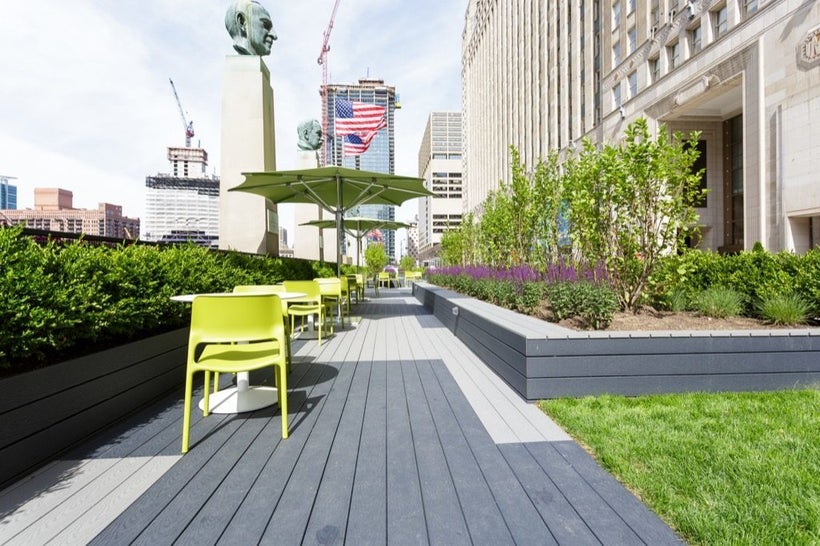 The Mart's recent investment toward renovations of the outdoor space at the front of the Mart is just one indicator that "contract interiors" is expanding its focus to the exterior. Morton comments on his views of this rising trend. "Haworth's purchase of Janus Et Cie was not just for hospitality, but also as an indicator of the rising workplace trend of outdoor workplace. Herman Miller and Knoll also are rolling out outdoor lines that are directed toward the workplace and smaller living environments."
But this activity is not limited to the major manufacturers and their acquisitions. Via seating, with its new showroom, is making a statement with many new introductions focused on outdoor spaces. Chas Helper, President & CEO at Via Seating says, "As the workplace expands outdoors, we now offer a range of outdoor seating, tables and benches. We are launching a new range at Neocon called Tahoe. All of these products are made with a unique hot anodization process that allows us to offer a five year warranty against any rust or corrosion even in saltwater environments – which is very uncommon. Additionally, while outdoor furniture typically is sold through contractors and landscape companies, we will be enabling our dealer network to expand its service into the outdoor offering."

A focus on wellness and the influence of hospitality spaces will continue to expand.
At NeoCon 2016, you couldn't go ten feet without running into another height-adjustable table. This year is likely to be no different, but hopefully with even more innovative products that enhance wellness in the workplace. While there are hundreds of examples of new products launched with a more casual hospitality feel or a specific focus on health and wellness, perhaps the programming of the show is indicative of even more future product launches we will continue to see in 2017 and beyond. Morton says, "We are inviting this year's keynote speakers to address this question: How can a better tomorrow be achieved through design and wellness"? Keynotes will include Arianna Huffington, Jessica Green and John Ronan. From business to science to architecture, this programming will explore a healthier future for workers from multiple standpoints." This year's keynotes will be in the NeoCon theater in Motorola's space on the 19th floor with live streaming to a projection wall on the new grand stair allowing for more casual viewing. Also open this year will be Marshall's landing, an all-day lounge at the top of the stairs that opens June 1 and will reflect the industry's ideas of additional casual spaces to meet and collaborate. With easy, no-pressure ordering from morning coffee to chef-inspired menu items and after dinner drinks, this new space will create a new experience for showroom employees and visitors.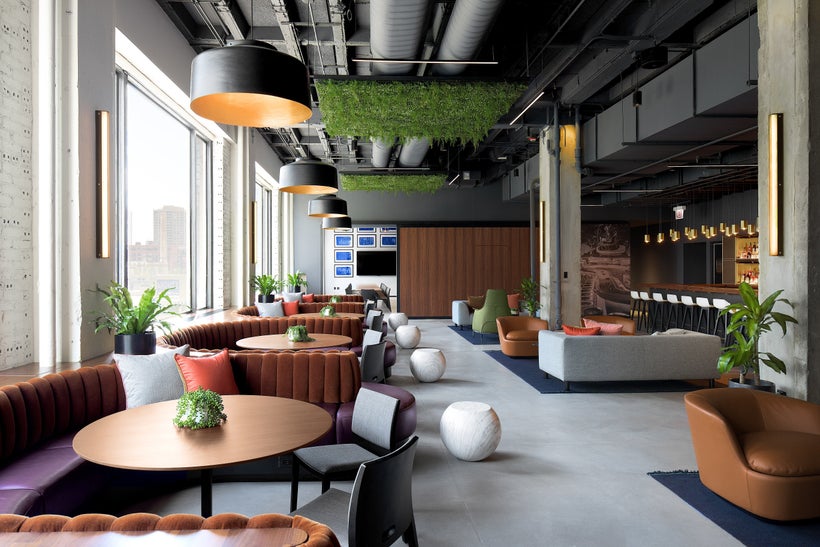 Morton says, "Everyone is redefining themselves to match the need of generational qualities in the workforce and traveling public (business or non). When you look at that level of diversity in the workforce and what is happening in our industry, it is easy to understand where these shifts are coming from. Corporations and smaller companies alike are finding new ways to appeal to hot, young, new talent. At the same time, they must accommodate nearly equal percentages of Gen Xers and Baby Boomers who, in many cases, remain in decision-making roles. What I love about what is happening is that the workplace is designed with more entertainment and whimsical ideas than in the past. The designs feature fun applications including practical to outrageous ideas from the various furniture manufacturers, and NeoCon 2017 will be no exception."
This article originally published in the Business of Furniture, a division of Bellow.Press on June 7, 2017. It is republished here with permission.
About the author: Amanda Schneider, LEED AP is a researcher, writer, consultant, and the founder of Contract Consulting Group, a research-led strategy firm serving the Contract Interiors market. Want to participate in PAID market research opportunities? Click here to Join In.
Calling all HuffPost superfans!
Sign up for membership to become a founding member and help shape HuffPost's next chapter
This post was published on the now-closed HuffPost Contributor platform. Contributors control their own work and posted freely to our site. If you need to flag this entry as abusive,
send us an email
.