The typical definition of an entrepreneur, I think, misses the mark by focusing on business risk instead of communication. Entrepreneurship works when it listens to customers and targets products or services toward growth. This deeper meaning has extended well beyond 19th century French origins.
"It's a story of perseverance and a lot of twists and turns," Wille says in reflecting on his company's launch in 2001 around a simple idea: "There's got to be a better way to monitor the information that matters to you."
Sixteen years ago, our email accounts were stored in what we now call "the cloud," but the Web was still new. "We approached it from a personal or consumer type angle," Wille says.
Thousands of users built and shared widgets for making their personal dashboards better content aggregators, but it was so "massively popular" that Wille could not pay his hosting fees. There was no business model: news publishers didn't have money to pay the start-up to build them a desktop channel. Even though there were about 250,000 users, the company could not find "a repeatable, scalable business model," Wille says.
In 2004, Lufthansa recognized that large numbers of staffers were using the personal dashboard and asked a game-changing question: "Can we use it to push business data to our employees?" Wille's team worked through the night and responded with a successful pitch. The $35,000 annual contract "was like a huge windfall for us."
More importantly, it was the first time they were paid well "to solve a real business problem using our product," Wille says. Intel, Staples, American Express and other enterprise customers followed, as Klipfolio invested in developing business functions.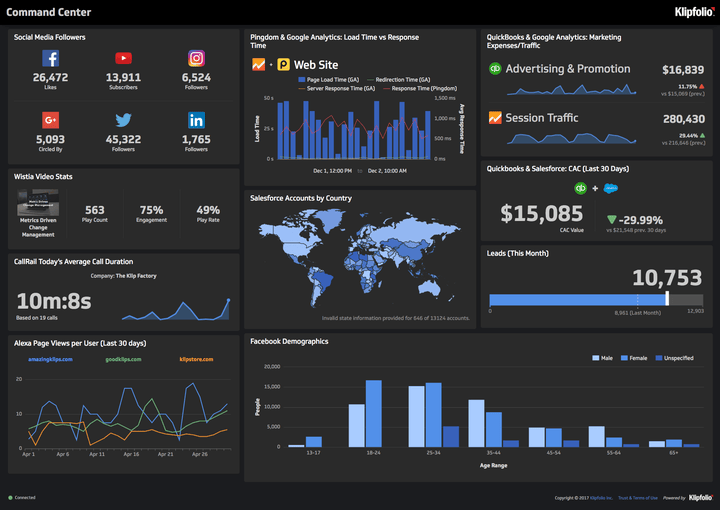 Even with more than 100 information technology customers at the time, Klipfolio had not yet found its space. "It felt like we were pushing string," Wille says. In 2010, an insurance company helped define three needs – mobile cloud-based, easier self-serve use, and less expensive. The new app grew from 350 business customers in 2012 to more than 9,000.
"Here's the difference: that product felt like there was pull," Wille says. "When you have product market fit, you feel it; there's a fundamentally different feeling that you get throughout the company, and the way the company scales and asks questions."
Klipfolio's current focus is on small and mid-sized business found through search engine optimization, content and inbound marketing. "Truly, every company should be monitoring their metrics, if they want to grow, and scale, and be efficient," Wille says. "I think there has to be an authenticity or a genuine core belief that your company is doing something and is backing something that is important.
Klipfolio, for example, uses its dashboard to identify and measure key performance indicators for growth. One KPI metric is what it calls "true trials." Klipfolio defines it through the marketing funnel. "If we can get a trial user to come back, even a second day, their probability of turning into a customer is something like 50 percent," Wille says. "A true trial is somebody who comes back after one day of using the application, and we're optimizing around that." The metric can be combined with engagement rate, spending and conversion data.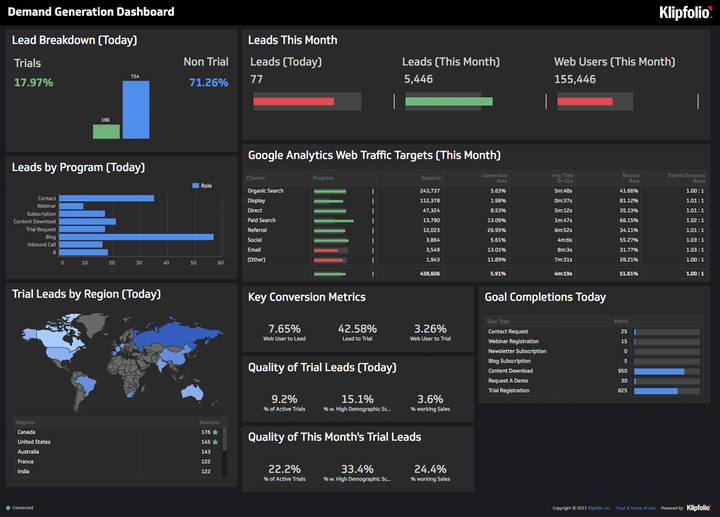 Klipfolio also serves broader business functions – monitoring warehouse and logistical data that include predictive models and alerts to avoid problems. Dashboards help users combine data sources and view real-time change from a control center. One important example is creating a ratio to compare social media activity and spending on advertising. Hootsuite or Buffer data can be combined with Quick Books data, Wille says. Current Klipfolio customers are combining as many as seven data sources into a single metric.
That's where things get really interesting… that ability to not only see everything in one screen, but then also be able to mash up and calculate more meaningful metrics, I think, is really important" – Allan Wille, Klipfolio.
Most customers, though, are monitoring sales, finance or social media data for the first time. "That's an infinite improvement in how they control and how they move forward, how they make changes," Wille says.
Wille admits there is a learning curve for using Klipfolio, but the company emphasizes user support. The focus should be on a few metrics that change and spark conversation about why data are going up or down, and what can be done about it.
The shift toward visual display of real-time data reflects a direction that now drives social media planning. We need to build flexible tools that allow for matching real-time, meaningful social media monitoring with employee and customer behaviors.
Social media are useful tools for businesses when the communication reflects relationship-building inside and outside companies. However, the emergence of artificial intelligence and chat bots represent challenges and opportunities for enlightened companies deploying meaningful and predictive social media data.
It's great that Klipfolio offers free educational licenses, and I'm using it this semester to teach data analytics to my Social Media Measurement & Management students in the UNO Social Media Lab.