In the early 1960s, lyricist Cynthia Weil was writing songs with singer/songwriter Teddy Randazzo, when a composer named Barry Mann stopped by to play a song for him. Weil was instantly smitten. "The way Barry played and sang was amazing. He looked awfully cute. Barry wasn't classically handsome. He was rugged and had a craggy face that I always liked. And he was a genius," recalls Weil. "Who is he? I asked the receptionist. Does he have a girlfriend? What's his story? I fell in love at first sight."
Weil learned that Mann wrote songs for legendary music publisher Don "Donnie" Kirshner, who had a stable of writers working for him to create hit songs for his company Aldon Music. The receptionist told Weil, "I don't know if Barry has a girlfriend, but why don't you go up there? I'll call Donnie. You can show him your lyrics and maybe you'll bump into this guy again."
Armed with her song lyrics, Weil went to Kirshner's office. The music publisher said he had the perfect song writing collaborator. As Weil explains, "In comes this little girl who looks like she's not old enough to have a bike, and Donnie says, 'her husband works as a chemist during the day, so they can only write at night. You should write with her during the day.'"
The young woman was a songwriter named Carole King who lived in a basement apartment in Brooklyn. Weil, a Manhattanite, stepped out of her comfort zone and took the subway to King's apartment deep in Brooklyn. "Carole played a melody that I thought was really good. I couldn't believe how young and talented she was," says Weil. "But I was so nervous about getting back on the subway to go home that I said, 'I really can't think, but write it down for me because I read music. I'll go home, work on it and call you.'"
When Weil arrived home the phone was ringing. It was Carole King who said, "I know this is not a good way to start a writing relationship, but my husband Gerry came home from work and he really likes that melody and he has a good title for it. "I said, 'yeah, what's the title?'" recalls Weil. "Carole said, "Take Good Care Of My Baby." I said, 'yeah, that's a good title.'"
After that, Weil hung around Aldon Music until Barry Mann noticed her. "I was stalking him," she jokes. Eventually they began dating and then Mann asked to see her lyrics. "He felt I needed a rock and roll education. I was very musical theater, but Barry thought that combining my sensibility with edgier rock and roll would make an interesting combo," she explains. "I listened to everything he told me to and studied my contemporaries at Aldon." They began to write together. Soon after they had their first chart record, "Bless You" by a 16-year-old Tony Orlando.
And so began the songwriting team Cynthia Weil and Barry Mann."Carole always used to say that Barry and I are the yin and yang," says Weil. "Our dysfunctions fit each other perfectly--and that's why we're still together."
The duo, who married in 1961, would go on to write hit after hit and some of the most adored pop songs of the 20th Century including, "He's Sure The Boy I Love," "You've Lost That Lovin' Feelin'," "On Broadway," He's So Shy," "Don't Know Much," "We Gotta Get Out Of This Place" and many others. "When they are successful, songs are like little novels. They have a beginning, a middle and an end. You feel what the person is feeling who's singing it and it paints a picture of the human condition," says Weil who has won many Grammy awards and was inducted into the Rock and Roll Hall of Fame with Mann.
Weil and Mann's story is chronicled in the Tony-winning production Beautiful: The Carole King Musical. For a time Weil and Mann wrote next-door to Carole King and her then-husband Gerry Goffin at Kirshner's Aldon Music at 1650 Broadway in New York City. "Aldon Music was like a school for songwriters," says Weil. "We had no fear of being experimental because we thought nobody was listening but the kids. We wrote some really terrible songs and some good songs. And now they're all out there. The good, the bad, the ugly."
Weil has branched out into writing a book. Her debut Young Adult novel, I'm Glad I Did, about a 16-year-old budding songwriter working in the 1960s, was just released in paperback by Soho Press. Offering insider insight into the music business and its many characters, the heroine, JJ Green finds her voice and herself through music. "The novel is based on me to the extent that my family didn't value my being a songwriter," says Weil. "They thought it was crazy. My mother was very traditional and she wanted me to marry a doctor or lawyer and give good dinner parties."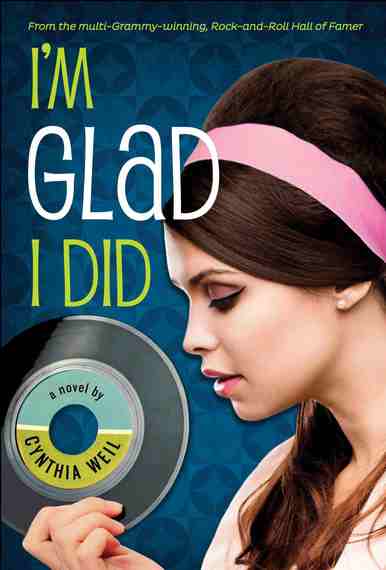 REAL LIFE. REAL NEWS. REAL VOICES.
Help us tell more of the stories that matter from voices that too often remain unheard.