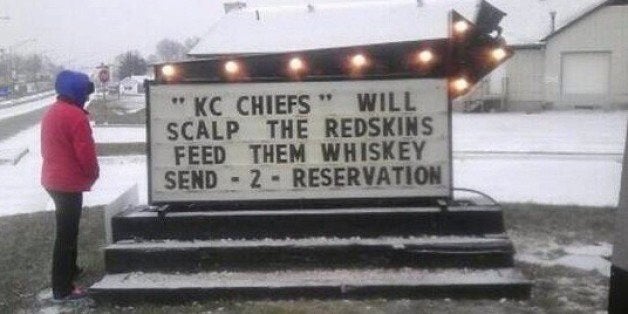 A Missouri fast-food restaurant's attempt at humor fell very flat over the weekend, prompting outrage and an eventual apology from the chain's management.
While the heavily favored Chiefs ultimately prevailed over the Redskins, it was the sign's mocking reference to Native American stereotypes that angered Twitter user Dolores Schilling. The sign read, "KC CHIEFS' WILL SCALP THE REDSKINS FEED THEM WHISKEY SEND - 2 - RESERVATION."
Sonic quickly apologized to Schilling over Twitter, saying the popular burger chain did not condone the franchisee's message.
"The remarks posted on this message board were wrong, offensive and unacceptable," Lenow told NBC in a statement. "In a misguided effort to support his football team an independent franchise owner allowed passion to override good judgment. The owner has reinforced with his employees the boundaries of what is acceptable and unacceptable. On behalf of the franchise owner and our entire brand we apologize for the offensive remarks."
Popular in the Community